Graham Reid | | 3 min read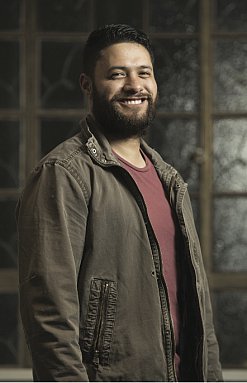 Each year the University of Auckland's School of Music holds a songwriter competition with contestants drawn from their Popular Music courses, this year ther are five contestants and Elsewhere is pleased to be able to offer them the chance to answer our Famous Elsewhere Songwriter Questionnaire.
Every year the show sells out so bookings are advisable (through www.maidment.auckland.ac.nz). All five contestants will perform two original songs with their band. The generous prizes are $1,000 of MusicWorks product, from MusicWorks, for the winner plus four finalist awards of $200 each of MusicWorks product, a mixed and recorded single at Roundhead Studios, mastering of the recorded single by KOG Studio, produced by Godfrey De Grut and promotion of the single by Kiwi FM.

Five additional awards will also be announced including NZ Music Commission Best Vocalist, APRA Best Arranger, MusicWorks Best Instrumentalist, Mushroom Music Publishing Best Lyricist and NZ On Air Best Song, acknowledging the highest quality in each category.

The judging panel includes Vicky Blood (artist Manager for Gin Wigmore, ex-BMG UK), Don McGlashan (artist, The Mutton Birds) and Jason Huss (Roundhead Studios engineer).

We introduce you to Sio Andrews, a second year music student at the University of Auckland majoring in Popular Music. He is set to graduate in 2016 with hopes of gaining a teaching diploma at the Epsom Campus in 2017.

The first song which really affected you was . . .

This would have to be 'Diamonds on the Soles of her Shoes' by Paul Simon. My uncle would play Paul Simon throughout the house and it was always the opening a capella introduction that grabbed me, not to mention the opening guitar line."

Your first (possibly embarrassing) role models in music were . . .

Eminem and Snoop Dogg. My big brother used to always blast up Snoop and Eminem and then ask me to go out to the letterbox and see if i can hear his speakers"

The one songwriter you will always listen to, even if they disappointed you previously, is?

Again- Paul Simon. Although I don't enjoy all of his music, i definitely couldn't go without his Gracelands album."

As songwriters: Lennon-McCartney or Jagger-Richards; kd lang or Katy Perry; Madonna or Michael Jackson; Johnny Cash or Kris Kristofferson?

Lennon-Mc Cartney, Michael Jackson and Johnny Cash

The three songs (yours, or by others) you would love everyone to hear because they are well crafted are . . .

Diamonds on the Soles of her Shoes by Paul Simon, We Didn't Start the Fire by Billy Joel and Dance Dance Christa Paffgen by Anberlin

Melody first? Words or phrase first? Simultaneous?

Usually melody first for me. If the melody grabs me, only then do i lean in to hear the words. However if the lyrics are metaphorical and used in an interesting way it could very much capture me first, but very rarely."

The best book on music or musicians you have read is . . .

The only book on music i have actually read would be Jon Fitzgerald's Popular Music Theory Book"

If you could co-write with anyone it would be . . .

Bruno Mars. Apart from the fact that he is just AWESOME, i think i could really learn alot from him, both as a songwriter and instrumentalist."

The last CD or vinyl album you bought was . . . (And your most recent downloads include . . .)

The last CD i actually paid for was 'The Final Riot' – Paramore. Was on my 'To Do before i grow up' list."

One song, royalties for life, never have to work again. The song by anyone, yourself included, which wouldn't embarrass you would be . . .

London Oh London- Original. It is very catchy and I can imagine people covering it."

One line (or couplet) from a song -- yours or someone else's -- which you think is just a stone cold winner is . . .

"And then she kissed me, and I realise she probably was right" - 50 Ways to Leave Your Lover, Paul Simon."

Songwriting: what's the ratio of inspiration/perspiration?

I'd say 30/70. I believe the inspiration is very important but sometimes you need to create the atmosphere for the inspiration to flow out freely."

Ever had a song come to you fully-formed like it dropped into your lap?

In 2012 I wrote a song called 'When Daddy's Away' which carried a message of the dangers and effects of family violence. From experience, it was just one of those songs that just happened without force to find a suited melody or lyrics.

And finally, finish this couplet in any way you like: "Standing at the airport with an empty suitcase at my feet . . ." (You are NOT allowed to rhyme that with "meet" however)

Pushing through the crowds as if to have some place to be.
To see other young musicians in the competition answering this questionnaire go here.