Graham Reid | | 4 min read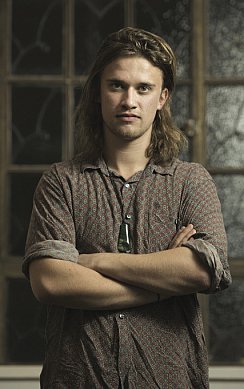 Each year the University of Auckland's School of Music holds a songwriter competition with contestants drawn from their Popular Music courses, this year there are five contestants and Elsewhere is pleased to be able to offer them the chance to answer our Famous Elsewhere Songwriter Questionnaire.
Every year the show sells out so bookings are advisable (through
www.maidment.auckland.ac.nz
). All five contestants will perform two original songs with their band. The generous prizes are $1,000 of MusicWorks product, from MusicWorks, for the winner plus four finalist awards of $200 each of MusicWorks product, a mixed and recorded single at Roundhead Studios, mastering of the recorded single by KOG Studio, produced by Godfrey De Grut and promotion of the single by Kiwi FM.
Five additional awards will also be announced including NZ Music Commission Best Vocalist, APRA Best Arranger, MusicWorks Best Instrumentalist, Mushroom Music Publishing Best Lyricist and NZ On Air Best Song, acknowledging the highest quality in each category.
The judging panel includes Vicky Blood (artist Manager for Gin Wigmore, ex-BMG UK), Don McGlashan (artist, The Mutton Birds) and Jason Huss (Roundhead Studios engineer).
We introduce you to Henry Beasley aka Baloo who we are told "continuously pushes the boundaries of the popular music scene with an insatiable desire for musical innovation which sees him blend styles together to create some- thing entirely new. Elements of alternative rock meet hip hop beats and blues licks to allow a quirky amalgamation of his favourite genres to consistently impress audiences and leave catchy melodies ringing in their ears. With influence ranging from Kings of Leon to Kanye West, Henry and his primary project 'Baloo' prides itself on its ability to harmoniously blend such contrasting styles together".
The first song which really affected you was . . .
Where Is My Mind' by the Pixies was probably one of the earliest songs I really clicked with. I don't know if the first time I heard it was in the 'Fight Club' soundtrack, but since I first watched it, the song and the movie have both been two of my favourites.
Your first (possibly embarrassing) role models in music were . . .
It's hard to pinpoint the moment when I started looking up to artists and musicians but i'd say 'No Doubt' was one of the earlier role models.
The one songwriter you will always listen to, even if they disappointed you previously, is?
As long as the line up of 'Red Hot Chili Peppers' doesn't change any further then I'd happily track their evolution.
As songwriters: Lennon-McCartney or Jagger-Richards; kd lang or Katy Perry; Madonna or Michael Jackson; Johnny Cash or Kris Kristofferson?
Lennon-McCartney; Katy Perry; Michael Jackson; Johnny Cash.
The three songs (yours, or by others) you would love everyone to hear because they are well crafted are . . .
Maps' by 'Yeah Yeah Yeahs', 'Thinkin About You' by 'Frank Ocean', and 'Buy Me, Love' by 'Baloo'/Me - (Might as well slip a cheeky Plug in there)
Melody first? Words or phrase first? Simultaneous?
I tend to start with a melodic idea or a harmony and groove. If these ideas are exciting enough to be played in a loop 400 times and still be interesting, i'll babble out some nonsensical phrases that will eventually morph into lyrics and guide the song.
The best book on music or musicians you have read is . . .
Scar Tissue'. (The Anthony Kiedis biography) As much as I wish I wasn't, I am a terrible reader. 'Scar Tissue' is the only book I have read from cover to cover voluntarily and I couldn't put it down. I'm ashamed to admit I even gave up on the Keith Richards bio part-way through…blasphemy.
If you could co-write with anyone it would be . . .
Probably Andre 3000. He's written some ridiculous stuff and even when he features on tracks i'm always blown away by how he can take a song that I despise and turn it into a song I want to put on my playlist.
The last CD or vinyl album you bought was . . . (And your most recent downloads include . . .)
My most recent download was actually 'REEL' by an awesome Kiwi artist, 'Fazerdaze'. I think the last physical album I bought was 'Visions' by 'Grimes' … Turns out the only tracks that I really liked were the two that I had already been listening to obsessively before I bought the album.
One song, royalties for life, never have to work again. The song by anyone, yourself included, which wouldn't embarrass you would be . . .
I Want You (She's So Heavy)' by the Beatles. Imagine if you wrote that song. Filled with sass and grit, snazz and nastiness.
One line (or couplet) from a song -- yours or someone else's -- which you think is just a stone cold winner is . . .
We might be here for a late night, Stuck in a lava flow of brake lights' is a line on Julian Casablancas' 'Phrazes for the Young' album and although it's not really super enlightening or philosophical, i've never forgotten it and am reminded of how perfect a comparison it is every time I'm stuck in traffic.
Songwriting: what's the ratio of inspiration/perspiration?
Probably about 70%-30% in favour of inspiration. I'll often find myself sweating over a song in times when I'm not inspired and the result is almost always terrible.
Ever had a song come to you fully-formed like it dropped into your lap?
The initial idea of one of the better songs I've written came to me in the shower and by the time my hair was dry I had made a pretty decent demo of it. I've only been graced with that experience once though.
And finally, finish this couplet in any way you like: "Standing at the airport with an empty suitcase at my feet . . ." (You are NOT allowed to rhyme that with "meet" however)
Can you tell me how to get, how to get to Sesame Street"
To see other young musicians in the competition answering this questionnaire go here.