Graham Reid | | 3 min read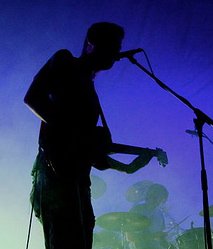 Here's a clever compliment: Zeitgeist magazine in the UK said of the Julian Temple Band they were "like the loudest blues band in the world whispering".
And Indie Music in the States said of Temple's songs they were "as dark as the grave and as hopeful as spring, this music is a wonderful and unexpected contradiction of emotions".
It's surprising therefore to find that the band – now four albums and a decade into their career – aren't widely known in their homeland.
Formed in Dunedin around singer-songwriter Temple – who has also released a solo album Nowhere Fast – they have spent considerable time touring overseas and – after a line-up change – have now relocated to the US. They played 200 shows across California to promote their most recent album Upsidedownbackwards which went to number seven on the New Zealand music charts, and the title track was in the finals of the International Songwriting Competition and nominated for best alternative song in the Hollywood Music In Media Awards.
But they are returning home for a lengthy national tour (dates below) which will also raise funds for the recording of a new album.
Time then for alt.folk-cum-noir bluesman Julian Temple to answer the Famous Elsewhere Questionnaire . . .
The first piece of music which really affected you was . . .
Maple Leaf Rag by Scott Joplin. My mum used to play it all the time and I'd play with my toys under the grand singing along.
Your first (possibly embarrassing) role models in music were . . .
David Bowie, Kurt Cobain.
Lennon or Jagger, Ramones or Nirvana, Madonna or Gaga, Jacko or Jay-Z?
Lennon, Nirvana, pass, if Jacko means Michael Jackson then definitely, Jacko.
If music was denied you, your other career choice would be . . .
pro surfer.
The three songs (yours, or by others) you would love everyone to hear are . . .
Sugar by Left Or Right, Love Inside by Matt Langley and Billy Ray by Alizarin Lizard.
Any interesting, valuable or just plain strange musical memorabilia at home?
Grew up with lots of original, vintage Ragtime and Dixie Land sheet music lying around... besides that, sadly not.
The best book on music or musicians you have read is . . .
Not so much of a read but more of a picture book with captions. Charles Peterson's Screaming Life: A Chronicle of the Seattle Music Scene.
If you could get on stage with anyone it would be . . . (And you would play?)
I'd love to sing and play guitar with Fiona Apple and band.
The three films you'd insist anybody watch because they might understand you better are . . .
Treasure of the Sierra Madre, True Romance, Groundhog Day.
The last CD or vinyl album you bought was . . . (And your most recent downloads include . . .)
Buzzy by Left Or Right.
One song, royalties for life, never have to work again. The song by anyone, yourself included, which wouldn't embarrass you in that case would be . . .
Our latest single "Burning In The Sun", not out yet, but I'm just putting it out there for good luck!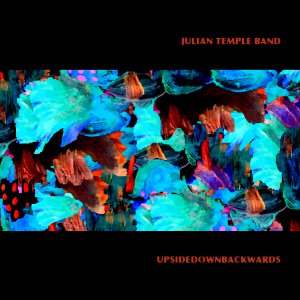 The poster, album cover or piece of art could you live with on your bedroom forever would be . . .
Any of my eldest son's artwork... he did our last album cover for Upsidedownbackwards at the ripe age of 7.
You are allowed just one tattoo, and it is of . . .
a seascape.
David Bowie sang, "Five years, that's all we've got . . ." You would spend them where, doing . . .? Indonesia, surfing.
And finally, in the nature of press conferences in Japan, "Can you tell me please why this is your best album ever?"
Our upcoming album sounds like nothing you've EVER heard in your entire life. In fact in the words of the Killers' front man, "this is the best fucking thing I've ever heard". I hope that answer seems as ridiculous as the question.
You can buy the Julian Temple Band's Upsidedownbackwards from bandcamp here
TOUR DATES:
Nov. 27 Chick's Hotel, Dunedin w/ Matt Langley
Nov. 28 Hilltop Tavern, Little River w/ Anthonie Tonnon
Nov. 29 Moon 1, Wellington w/ Amiria Grenell & Ed Zuccollo
Nov. 30 House Concert, Masterton
Dec. 1 Village Inn Kitchen, Palmerston North
Dec. 2 Cabana, Napier w/ Old Man's Beard
Dec. 4 Eggsentric Cafe, Flaxmill Bay
Dec. 5 YOT Club, Raglan
Dec. 6 Funky Fish, Baylys Beach
Dec. 7 Schnappa Rock, Tutukaka
Dec. 10 Portland Public House, Auckland w/ Ha The Unclear
Dec. 11 RIverside Bar, Wanganui
Dec. 12 Deville, Nelson
Dec. 13 Roots Bar, Takaka
Dec. 18 Darkroom, Christchurch w/ High Street Blues Collective
Dec. 19 Last Post, Methven
Dec. 20 Strawberry Tree, Kaikoura
Dec. 27 Louie's Bar, Invercargill
Dec. 30 Vinyl Underground, Queenstown w/ Left Or Right
Dec. 31 Redcliff Cafe, Te Anau w/ Left Or Right