Graham Reid | | 2 min read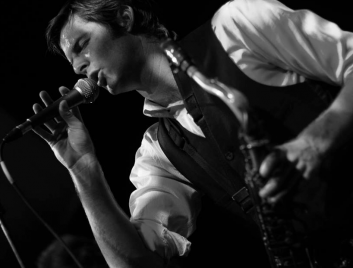 With influences from across the pop and rock spectrum within the context of their jazz, the large ensemble Spiral -- which had its origins on Auckland's West Coast -- present something rather different than the expected.
The collective experience of the members includes time with Batucada Sound System, the Rodger Fox Big Band and Hayley Westenra, as well appearances at Montreux, the Monterey Jazz Festival, the Melbourne Fringe Festival and performances across New Zealand.
Formed in 2011, they cite influences from sources as diverse as the Police, salsa, the Cat Empire and of course the lineage of jazz giants.
With their debut album What's That Sound? now out it was timely to flick singer/saxophonist Andrew Hall who also produced the album -- to see what he might make of the Famous Elsewhere Jazz Questionnaire . . .
The first piece of music, jazz or otherwise, which really affected you was . . ?
Joshua Redman - Jazz Crimes. Very intense, groovy, expressive music like I had not previously heard
When did you first realise this jazz thing was for you?
High school performing the joy of improvisation and live group interaction and interplay.
What one piece of music would you play to a 15-year old into rock music to show them, 'This is jazz, and this is how it works'?
Well anything from Snarky Puppy such as "Skate U" will hopefully jolt someone in to seeing what, where and how jazz is truly evolving.
Time travel allows you go back to experience great jazz. You would go to . . ?
Watch John Coltrane and Charlie Parker just to hear there tone in real life!
Which period of Miles Davis' career do you most relate to, and why: the acoustic Fifties; his orchestrated albums with Gil Evans; the acoustic bands or fusion of the late Sixties; street funk of the Seventies or the Tutu album and beyond in the Eighties . . .
Acoustic and Fusion bands. Why? Hmm, I just like the tunes written in this period of his life.
Any interesting, valuable or just plain strange musical memorabilia at home?
I have 12 Saxophones all of which are pre 1965 ... one is an Olds Super, from the 50's built with strange flute style key's and a "Lord of the Rings" like ring under the bell, legend has it there were 2000 made half of which sunk on there way to the American navy so its very rare and mint condition.
The best book on the jazz life you have read is . . .
I try not to read as once I pick up a book I don't move until its finished...thus I now only read research papers which are far easier to put down :)
If you could get on stage with anyone it would be . . . (And you would play?)
Snarky Puppy, Saxophone
The three films you'd insist anybody watch because they might understand you better are . . .
Eric Clapton Unplugged - Just for the "hang on hang on hang on" quote I use all the time
Star Wars films (old ones) and Oceans 11,12,13
The last CD or vinyl album you bought was . . . (And your most recent downloads include . . .)
Michael Brecker -Tales of the Hudson, most recent downloads, Snarky Puppy, The Cat Empire, Aaron Parks,
One jazz standard you wished you had written . . .
Crystal Silence, great tune, great chords
The poster, album cover or piece of art could you live with on your bedroom forever would be . . .
Well to be honest I like the Spiral album artwork, or Pink Floyd artwork
Three non-jazz album for a desert island would be . . ?
Led Zep 2
Chicago Second Album
Maria Schneider - Concert in the Garden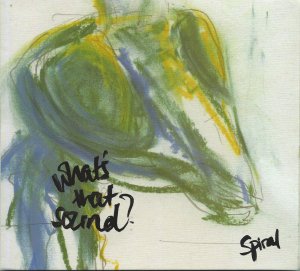 Your dream band of musicians (living or dead) would be . . ?
I would say Snarky Puppy, rip out the horn section and put in Maceo Parker, Fred Wesley and perhaps Freddie Hubbard
And finally, is there a track on your most recent album you would love people to hear. And, if so, why that one?
Pick Me Up, I like how it turned out, represents the direction we are heading in. I like the catchy 6 4 melody at the end :)
For more on Spiral you should check out their website where you can get a free download.