Graham Reid | | 2 min read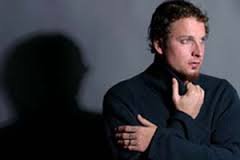 Now we here at non-profit (actually none-profit) Elsewhere don't have a lot of time on our hands.
So when NYC-based German keyboard player Benny Lackner -- who is returning to Auckland with his trio for the inaugural Auckland Jazz Festival this month (see programme here) -- answers everything in capital letters we don't have time to rewrite and are going to be generous and say . . .
Nope, it isn't a NooYawker/German shouting at us, it's just he's got his laptop on CAPS LOCK.
That's what we say, anyway.
Which is why we haven't done lowercase below . . .
Lackner is a child of his/our time: he references Radiohead, Prince and Bowie as much as Monk and Mingus and the grand jazz tradition (we see no Bill Evans in there, if you get our drift) so this group is going to be one to see.Meantime let's have him SPEAK for himself . . .
The first piece of music, jazz or otherwise, which really affected you was . . .?
NIGHT TRAIN BY OSCAR PETERSON
When did you first realise this jazz thing was for you?
WHEN I WAS 8 YEARS OLD
What one piece of music would you play to a 15-year old into rock music to show them, 'This is jazz, and this is how it works'?
BRAD MEHLDAU'S VERSION OF RADIOHEAD'S EXIT MUSIC
Time travel allows you go back to experience great jazz. You would go to . . ?
1965-PLUGGED NICKEL SESSIONS
Which period of Miles Davis' career do you most relate to, and why: the acoustic Fifties; his orchestrated albums with Gil Evans; the acoustic bands, the fusion of the late Sixties; street funk of the Seventies or the Tutu album and beyond in the Eighties . . .
THE QUINTET WITH HERBIE AND TONY AND RON AND WAYNE...THE LEVEL OF INTERACTION WAS UNPRECEDENTED. I ALSO LOVED THE BAND WITH GEORGE COLEMAN.
Any interesting, valuable or just plain strange musical memorabilia at home?
WHEN I WAS 14 MY BEST FRIENDS GRANDFATHER GAVE ME 1 HOUR AND 4 CRATES TO PICK OUT ALL THE RECORDS I WANTED FROM HIS RECORD COLLECTION THAT HE WAS DESOLVING. I TOOK ALL THE MILES, COLTRANE, PARKER AND KEITH JARRETT I COULD FIT INTO THESE CRATES.
The best book on the jazz life you have read is . . .
A BOOK THAT REALLY HELPED ME IS CALLED "FREE PLAY" BY KENNY WARNER, MILES' AUTOBIOGRAPHY WAS ENTERTAINING
If you could get on stage with anyone it would be . . . (And you would play?)
WAYNE SHORTER, ME ON PIANO
The three films you'd insist anybody watch because they might understand you better are . . .
I'M NOT SURE HOW THIS RELATES TO ME BUT STEPBROTHERS BY WILL FERRELL AND ANY MARTIN SCORSES MOVIE!
The last CD or vinyl album you bought was . . . (And your most recent downloads include . . .)
THOM YORKE'S SOLO ALBUM: TOMORROW'S MODRN BOXES
One jazz standard you wished you had written:
ROUND MIDNIGHT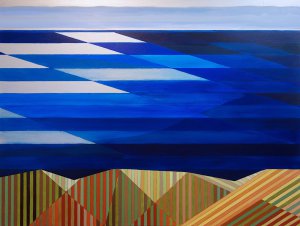 The poster, album cover or piece of art could you live with on your bedroom forever would be . . .
I love my sister's paintings: JULIKA LACKNER www.julikalackner.com/
Three non-jazz albums for a desert island would be . .
OK COMPUTER, RADIOHEAD...GOLDBERG VARIATIONS, GLENN GOULD...BRAHMS - RADU LUPU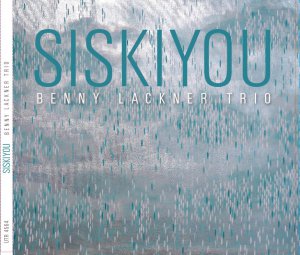 Your dream band of musicians (living or dead) would be . .
BRIAN BLADES ON DRUMS, JIMI HENDRIX ON GUITAR, HERBIE HANCOCK ON KEYS AND MESHELL NDEGEOCELLO ON BASS
And finally, is there a track on your most recent album you would love people to hear. And, if so, why that one?
PALAU ON THE NEW ALBUM SISKIYOU...ITS JUST TURNED OUT SIMPLE . . . UNEXPECTED!
.