Graham Reid | | 6 min read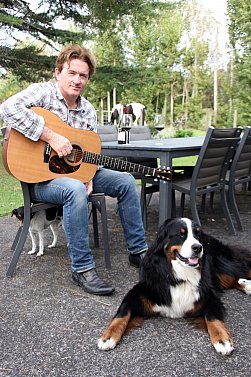 Auckland singer-songwriter Guy Wishart has been missing in inaction for far too long. But we forgive him, for the past four years he has been living in India and Thiland.
Those with long memories however wil recal that 1990 was his year: he won the Silver Scroll for his song Don't Take Me For Granted (from the album of the same name) and also picked up Most Promising Male Vocalist at the music awards.
Until his new album West by North recorded at Roundhead and released this week he had produced four albums under his own name and two with his band Salon Recliner.
But that was a while ago and now he is back.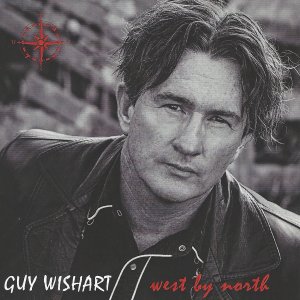 The forthcoming tour and album features a cracking band of Alan Brown (organ), Glenn Ross Campbell (pedal and lap steel), Peter Diprose (electric guitars), Andrew Horst (bass), Jenny Horst and Darlene Te Young (backing vocals), John Olding (guitar and pedal steel) and Michael Te Young (drums).
The tour dates are below.
Elsewhere has always held an affection for Wishart's work so it is a pleasure to ffer him our Famous Elsewhere Songwriter Questionnaire . . .
The first song which really affected you was . . .
My Father by Judy Collins. It affected me as it mirrored some of my own life, growing up in a small town, having all your older brothers and sisters move away, imagining the future in some other place. In her song, she is the youngest daughter of an American coal miner. He tells her they will one day live in France and go boating on the Seine. In my life, my father died when I was one, and his dreams were passed on by my brothers and sisters. The sense of sadness created by the father's inability to fulfill the dream, is softened as the daughter describes her life in Paris.
Your first (possibly embarrassing) role models in music were . . .
Crosby Stills and Nash, as they were melodic, their harmonies were exceptional, and they had a sense of romantic mysticism that appealed to me. "Renaissance Faire" was my favourite album, I still have the vinyl. Other artists that were important at the time were Elton John (gasp!) for his self titled album and "Madman across the Water". Sandy Denny "The North Star Grassman and the Ravens", Carol King "Tapestry", Neil Young (Harvest), Yes (Close to the Edge), Steely Dan, "Can't buy a Thrill", Sgt Peppers as for everyone,
The one songwriter you will always listen to, even if they disappointed you previously, is?
Shayne Carter has produced some of the most innovative and exciting music here or anywhere. He pushes himself forward into new territory and leaves the past behind. Dimmer is my favourite of his and the bands incarnations.
As songwriters: Lennon-McCartney or Jagger-Richards; kd lang or Katy Perry; Madonna or Michael Jackson; Johnny Cash or Kris Kristofferson?
These are very hard. The synergy between Lennon and McCartney is so good, it produced startlingly good songs that pushed forward over time. I tend to prefer Richards solo albums over the Stones ones, so I obviously don't rate their partnership as highly. I would pick kd lang. She writes very well, but the delivery sometimes makes me want to lift the needle before the end of the album. Perry is a pop princess with very refined pop sensory awareness. Michael is the stand out winner against Madonna, but I have never loved either to any depth as so many have done. Johnny takes the lead against Chris, although I prefer Roy Orbison's unhip vulnerability much more.
The three songs (yours, or by others) you would love everyone to hear because they are well crafted are . . .
"All that heaven will allow "-Bruce Spingsteen, "Both Sides Now"- Joni Mitchell, "Fast Car"- Tracey Chapman.
Each of these songs somehow stays in the moment, leading the listener along, revealing a coherent and compelling story or revelation. Springsteen steps into the shoes of a young guy desperate to impress his girl, pleading with the bouncer to let him in. He repeatedly describes her as "all that heaven will allow" to show the degree of his infatuation. "Both Sides Now" is an equally unified song of regret and retrospective understanding, the 2000 version is so achingly beautiful it's hard not to be moved by it. "Fast Car" is an equally unified song that conjures the desperation to get away from what seems an intolerable situation for a young girl.
Melody first? Words or phrase first? Simultaneous?
Melody is always first for me, usually using guitar, but sometimes bass or piano. Once a tune makes an emotional or physical connection, various possible vocal phrases are attempted using any words that scan ok. The general structure of the song is worked through repeatedly, while searching for memorable phrases that match the emotional direction of the song. From here it seems to be just hard work, trying to develop the song around the central idea/emotion, which tends to be the chorus. Sometimes it's fast, sometimes painfully slow, sometimes it never comes together...the moment has gone.
The best book on music or musicians you have read is . . .
Sadly, I don't read many books on musicians. I know Keith Richards "Life" is really good, as is David Crosby's "Long Time Gone", because my wife Michelle reads me sections of the books she loves the most. It's usually online articles about artists that I find myself reading.
If you could co-write with anyone it would be . . .
Ron Sexsmith. I loved his self titled 1995 album, and played it heaps. His beautifully crafted songs with their lazy delivery appeal to me greatly, and he's Canadian.
The last CD or vinyl album you bought was . . . (And your most recent downloads include . . .)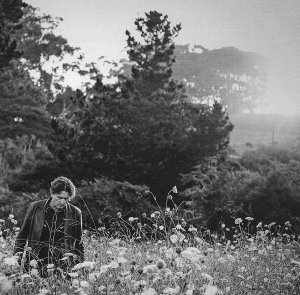 The Broken Heartbreakers-"How we got to now", was the last CD I bought. I met Rachel Bailey, who is in the band, on a flight to Dunedin. She is very passionate about NZ music and described how the album was made and the story behind some of the songs, as well as the bands history. I like the album a lot, with the stand out song for me being "Swipe Card Valley". The most recent download was Tiny Ruins and Hamish Kilgour's EP, "Hurtling Through". It has a haunting percussive minimalism, creating loads of space around Hollie's vocal. Cool dark indie folk.
One song, royalties for life, never have to work again. The song by anyone, yourself included, which wouldn't embarrass you would be . . .
"Don't Give up"- Peter Gabriel. It has been around long enough to know if it has embarrassment potential. Possibly because the version on "So" with Kate Bush is so intimate and fragile, it exposes the insecurities most of us feel at some time.
One line (or couplet) from a song -- yours or someone else's -- which you think is just a stone cold winner is . . .
"Standing on the water, casting your bread. While the eyes of the idol with the iron head are glowing" The roaring start to Bob Dylan's "Jokerman". He follows up with "Distant ships sailing into the mist. You were born with a snake in both of your fists while a hurricane was blowing"
Songwriting: what's the ratio of inspiration/perspiration?
For me, it's largely the later (2:8), although no amount of effort seems to save a bad idea. In the process, you rely on inspiration to redirect you out of a dead end road, where the song is being run over repeatedly, with no new ideas, and generating new levels of frustration. A good song might hopefully have a road worn appeal from all those tyre marks.
Ever had a song come to you fully-formed like it dropped into your lap?
Not really. I hear of people that wake up and write lyrics all over their sheets, then quickly record a rough demo, but that has never happened to me. Songs seem to be written fast or slow, there isn't much in the middle. When there is a very clear idea for a song, and that moment is not broken by events around you, songs can be written in 20 minutes. What is strange about this is that subconsciously, the song has usually been developing for some time. The writing of it seems to be the joining of the parts of a puzzle that until that moment was not possible.
And finally, finish this couplet in any way you like: "Standing at the airport with an empty suitcase
at my feet . . ." (You are NOT allowed to rhyme that with "meet" however)
some memories you throw away, some others you can keep.
Guy Wishart 'West By North" Tour
30th April Auckland Ponsonby Baptist Church 43 Jervois Rd
27 May Hamilton Meteor Theatre with Derek Lind
10 June Dunedin New Edinburgh Folk Club,with Derek Lind
11 June Oamaru Grainstore Gallery, with Derek Lind
21 June Auckland Corelli's Cafe, with Derek Lind
2 July Hamilton Nirvana Lounge, with Derek Lind
23 July Auckland Wine Cellar - with Caitlin Smith, Donna Dean and Derek Lind