Graham Reid | | 2 min read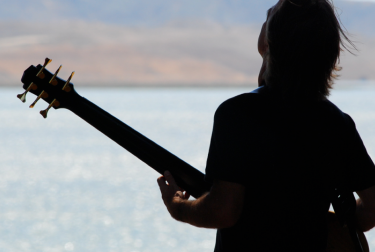 Jazz bassist DeWayne Pate from San Francisco has played with some of the most famous musicians of the past 30 years, and across an impressive musical spectrum: bluesmen like Duke Robilliard and Charlie Musselwhite, pop and rockers like Pat Benetar and Huey Lewis, country legend Sneaky Pete Kleinow, Boz Scaggs . . .
Jazz of course remains his first love and as a technically gifted player (check him out on You Tube) he is demand as a teacher, writer (he pens a column for Bassics Magazine and touring. He was recently out with trumpetr Arturo Sandoval.
He's recorded his own music (the album Melting Pot) and has made a series of well-received instructional videos.
He also comes to New Zealand in October for the Auckland Jazz festival where he will play with Rodger Fox's FunkBone Experience (see details here)
Pate took time out to answer our Famous Elsewhere Jazz Questionnaire . . .
The first piece of music, jazz or otherwise, which really affected you was . . ?
Jaco's first solo CD.
When did you first realise this jazz thing was for you?
High School Jazz Band
What one piece of music would you play to a 15-year old into rock music to show them, 'This is jazz, and this is how it works'?
So What -- Kind Of Blue
Time travel allows you go back to experience great jazz. You would go to . . ?
June 25, 1961 Village Vanguard-Bill Evans Trio
Which period of Miles Davis' career do you most relate to, and why: the acoustic Fifties; his orchestrated albums with Gil Evans; the acoustic bands, the fusion of the late Sixties; street funk of the Seventies or the Tutu album and beyond in the Eighties . . .
The Tutu Album---because it was one of my first exposures to Marcus Miller.
Any interesting, valuable or just plain strange musical memorabilia at home?
Unfortunately no....I'll get busy on that!
The best book on the jazz life you have read is . . .
Miles' Biography
If you could get on stage with anyone it would be . . . (And you would play?)
Stevie Wonder …. Overjoyed
The three films you'd insist anybody watch because they might understand you better are . . .
Amadeus, Spinal Tap, Ray.
The last CD or vinyl album you bought was . . . (And your most recent downloads include . . .)
Can't remember the last CD I bought its been so long.....last download-Afrodeezia--Marcus Miller
One jazz standard you wished you had written . . .
"Wave" Antonio Carlos Jobim
The poster, album cover or piece of art could you live with on your bedroom forever would be . . .
Herb Alpert...Whipped Cream And Other Delights
Three non-jazz albums for a desert island would be . . ?
Anjo De Mim-Ivan Lins, 24 Nights-Eric Clapton, The Definitive Collection-Stevie Wonder
Your dream band of musicians (living or dead) would be . . ?
Dennis Chambers, Marcus Miller, Herbie Hancock, John Scofield, Miles Davis, John Coltrane
And finally, is there a track on your most recent album you would love people to hear. And, if so, why that one?
Probably "Lembra De Mim". I'd like more people to be exposed to the wonderful music of Ivan Lins!