Graham Reid | | 3 min read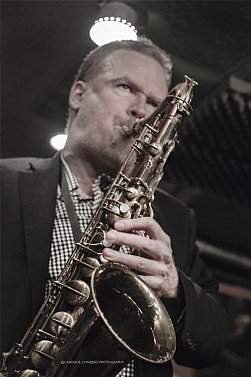 New York-based Australian jazz saxophonist Nick Hempton has a clever link to his bio on his excellent website, it reads "Nick Who?"
It's a fair question in this busy marketplace of music in the 21st century and getting your name out there has probably never been harder amidst the noise of people clamoring for attention.
But Hempton is a player who deserves to be heard for his classic style ("new music in the modern/mainstream tradition" he says) and original, swinging music.
He's also played with Victor Lewis, Roy Hargrove and Larry Willis, has appeared on TV and radio, is a tutor and much more.
His band under his own name has now become Trio Stonk and they have had a long residency at Smalls Jazz Club . . . which explains the title of their new album,. Live at Smalls.
In early October he and the band launch it on their New Zealand dates (see below).
Time then to say "g'day Nick and what do you make of this Famous Elsewhere Elsewhere Questionnaire" in which we ask . . .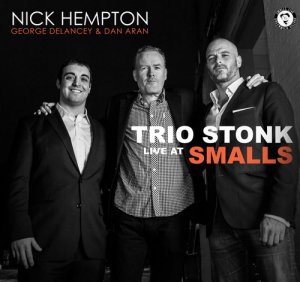 The first piece of music, jazz or otherwise, which really affected you was . . ?
The Queen of the Night's aria from Mozart's Magic Flute. It always got a run on long family car trips when I was a kid, and I still enjoy singing along. There was a lot of Rolf Harris on those trips too, but I tend not to bring that up.
When did you first realise this jazz thing was for you?
Can't say. I never made a choice to do this- I never felt there was another option. Shame really- I might have turned out to be good at something more lucrative.
What one piece of music would you play to a 15-year old into rock music to show them, 'This is jazz, and this is how it works'?
Something direct and groovy. Gene Ammons, Horace Silver, something like that.
Time travel allows you go back to experience great jazz. You would go to . . ?
Late '40s. Gotta hear Bird.
Which period of Miles Davis' career do you most relate to, and why: the acoustic Fifties; his orchestrated albums with Gil Evans; the acoustic bands, the fusion of the late Sixties; street funk of the Seventies or the Tutu album and beyond in the Eighties . . .
At school my friends and I were really into the late stuff- Tutu and You're Under Arrest. But it was the Working/Steaming/Relaxing/Cooking records that had the most impact on me. I listened to those things endlessly.
Any interesting, valuable or just plain strange musical memorabilia at home?
I have one of Ricky May's old cummerbunds which I use as a hammock for my afternoon nap.
The best book on the jazz life you have read is . . .
Art Pepper's Straight Life. Makes my own chaotic mess of a life seem relatively sane
If you could get on stage with anyone it would be . . . (And you would play?)
I'd love to play with Kenny Barron. I'll play whatever he says.
The three films you'd insist anybody watch because they might understand you better are . . .
Withnail & I; then The Naked Gun twice.
The last CD or vinyl album you bought was . . . (And your most recent downloads include . . .)
I bought The Specials' second album on vinyl recently. That's bloody good. Downloads- Groove Holmes' Soul Message, and Arnett Cobb with the Red Garland Trio. That record is killing!
One jazz standard you wished you had written . . .
I don't care that I didn't write Body and Soul. I'm just glad someone did.
The poster, album cover or piece of art could you live with on your bedroom forever would be . . .
I think your day's off to the right start if the first thing you see is some Salvador Dali. Melting clocks, fried eggs, swarms of ants- gives me a reason to get up in the afternoon.
Three non-jazz albums for a desert island would be . . ?
1) Albert King- Born Under A Bad Sign
2) Some classical piano music- maybe Richter playing Beethoven ('cause I'm listening to that as I write this...)
3) Huey Lewis and the News- Fore
Your dream band of musicians (living or dead) would be . . ?
The Count Basie band with Lester Young. As is. I'll just play second alto and keep my head down.
And finally, is there a track on your most recent album you would love people to hear. And, if so, why that one?
Let's choose "When I Grow Too Old To Dream". We had some extra time at the end of the gig and decided on that tune on the spot. The work was out of the way and we could relax, and it turned out to be my favourite track.
NEW ZEALAND TOUR DATES