Graham Reid | | 3 min read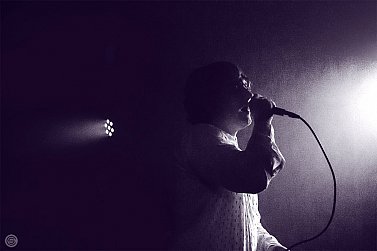 Ed Knowles, singer with Racing, has what the authorities call "prior form". A decade ago he and Racing guitarist Sven Pettersen were in the hugely popular North Shore rock band the Checks who knocked out three albums in little more than four years and endeared themselves to audiences everywhere they played.
They opened for REM and picked up nominations and awards . . . then split five years ago.
But you can't keep energy like that in a bottle so when the band Racing appeared – Knowles and Petterson with drummer Izaak Houston and bassist Daniel Barrett (both of whom, also have prior form, Space Creeps and Sherpa respectively) – expectation was high.
And met.
They worked their way from the small Whammy Bar to a big stages at Rhythm and Vines and the first Austin City Limits, released an EP earlier this year (The Bass), did a nationwide tour and are now scheduled to play the Splore festival (see dates below).
Racing are a band to watch . . . and to listen to. Their spacey, psychedelic rock with electronics is something to behear.
Time then for Ed Knowles to answer one of our questionnaires . . .
The first piece of music which really affected you was . . .
'I Will Always Love You' by Whitney Houston from 'The Bodyguard' soundtrack was one of the first times a song really stopped me in my tracks. I would have been about 5 or 6. Actually, another might have to be Bryan Adam's 'Everything I Do' from Robin Hood.
Your first (possibly embarrassing) role models in music were . . .
My first would probably be Elvis. He definitely meant something to me from a very young age. Tina Turner was a big one too.
Lennon or Jagger, Ramones or Nirvana, Madonna or Gaga, Jacko or Jay-Z?
Wow, I don't think I can pick between Lennon and Jagger because I love them both too much. For the rest I would go Nirvana over The Ramones, Madonna over Gaga and Jay -Z over MJ.
If music was denied you, your other career choice would be . . .
I would like to live in a small fishing village and be the guy who's job it is to wake up early in the morning, row out into the bay and catch the fish for the various restaurants. Then I could have the rest of the day to mill about.
The three songs (yours, or by others) you would love everyone to hear are . . .
Hey Negrita - Rolling Stones
Try For Sleep - Van Morrison
Meet Me in the Morning - Bob Dylan
Any interesting, valuable or just plain strange musical memorabilia at home...
We have a bottle of wine gifted to us by REM stashed away somewhere.
The best book on music or musicians you have read is . . .
I haven't really ever delved into that whole world. I would rather read fiction.
If you could get on stage with anyone it would be?
I would like to get on stage with The Last Shadow Puppets because it looks like they take it to some pretty strange places. Looks like a good time.
The three films you'd insist anybody watch because they might understand you better are . . .
Romeo and Juliet - Baz Luhrmann
There Will be Blood - Paul Thomas Anderson
Lost in Translation - Sofia Coppola
The last CD or vinyl album you bought was . . . (And your most recent downloads include…)
Wow, the last CD I bought was probably a really long time ago. I think it may have been Era Vulgaris by Queens of the Stone Age.
The last vinyl would be T.B Sheets Van Morrison. (One of my favourite musical purchases of all time)
My most recent download was the album Suck it and See by the Arctic Monkeys.
One song, royalties for life, never have to work again. The song by anyone, yourself included, which wouldn't embarrass you in that case would be . . .
INXS - Devil Inside. Far out. So good.
The poster, album cover or piece of art could you live with on your bedroom forever would be . . .
The Strokes - Is This It.
You are allowed just one tattoo, and it is of . . .
A shark fin.
David Bowie sang, "Five years, that's all we've got . . ." You would spend them where and doing what?
I would spend them sampling pasta dishes around the world.
And finally, in the nature of press conferences in Japan, "Can you tell me please why this is your best album ever?"
Recency bias?
For details on the Splore Festival including the line-up and ticketing go to their website here.