Graham Reid | | 6 min read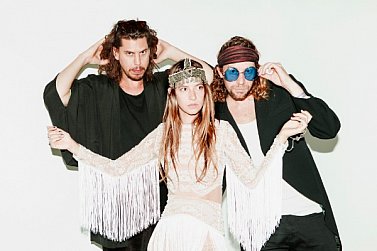 The Dutch-Kiwi band My Baby has appeared at Elsewhere previously when guitarist Daniel "Dafreez" Johnston answered a Famous Elsewhere Questionnaire in advance of their tour in early 2016, on the back of their 2013 album My Baby Loves Voodoo .
Playing a blend of dance-directed roots, blues, funk and with touches of world music (gnawa, raga, desert blues etc) My Baby have hit the global trance-dance festival circuit.
They note that MY BABY is more than just the band's name. It's a title that refers to an allegorical figure, a central character in the band's musical story. She is in part a phantom muse, a result of the combined imagination of the band members.
She's often described as, 'a girl in the Seventies fantasizing about being a flapper girl and dancer in the Twenties" which might explain the cover of their latest album Mounaiki/By the Bright of Night.
They return to New Zealand for an extensive tour starting in December (dates below) playing venues and festivals and end up at Womad . . . which would seem like their natural home.
Time then for singer/guitarist Cato Van Dijck to answer a few questions . . .
The first piece of music which really affected you was . . .
Wicked Game - Chris Isaac. I could really feel his pain as a 4 year old child. I was asking my parents to play the tape over and over again. I called him 'the Crying Man'.

Your first (possibly embarrassing) role models in music were . . .
I listened to a lot of music that my dad used to play, and that was fine by me because he had a good taste in music. A lot of Bob Dylan, Aretha, the Beatles and Joni Mitchell. But there was also a period that he played a lot of ABBA. You could call that a bit embarrassing and we could all see the humor in it, but we all secretly loved the well written pop tunes and spot on harmonies.

Lennon or Jagger, Ramones or Nirvana, Madonna or Gaga, Jacko or Jay-Z?
Lennon, my dad was a Beatles fan, Nirvana, I've listened to that a lot since my older brother and sister were addicts, Madonna was one of my first interests as a very young girl and..
I haven't heard of Jacko .. so then I'd rather choose Jay-Z

If music was denied you, your other career choice would be . . .
I have thought about this a lot recently but God I have no clue what I would do without music.. I do like to play a role on stage so maybe I would be into acting.

The three songs (yours, or by others) you would love everyone to hear are . . .
Long Distance Love - Little Feat
You're not Alone - Mavis Staples
Mother Beautiful - Sly & the Family Stone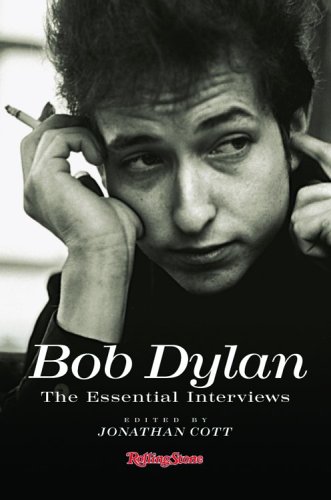 Any interesting, valuable or just plain strange musical memorabilia at home...
I have a small Ngoni at home which I got from an old wise man in South-Africa. I'm still learning to play it

The best book on music or musicians you have read is . . .
Bob Dylan: The Essential Interviews, he is such a fascinating man

If you could get on stage with anyone it would be?
Sly Stone, he is been such a inspiration to all of us in the band. But I would prefer to go into a time machine and let it take place in the seventies. Man, the guy was a miracle.. mixing so many styles, being a contemporary artist and spreading such powerful messages

The three films you'd insist anybody watch because they might understand you better are . . .
That's a hard one. I love to watch a film now and then but I always forget titles..
But 3 films I really loved are Leaning into the Wind, Call Me By Your Name and Monsters inc. (I'm not gonna feel embarrassed by that last one)

The last CD or vinyl album you bought was . . . (And your most recent downloads include...)
Oumou Sangare - Mogoya Remixed, just makes me happy

One song, royalties for life, never have to work again. The song by anyone, yourself included, which wouldn't embarrass you in that case would be . . .
Just a song that pops up:
Love is a losing game by Amy Winehouse

The poster, album cover or piece of art could you live with on your bedroom forever would be . . .
Something of Rousseau. His paintings are comprehensible and direct yet very curious and peculiar

You are allowed just one tattoo, and it is of . . .
A tiny dot! No I don't think I would ever consider having one.. The more tattoos I see around me the happier I am that I'm almost becoming special without them.

David Bowie sang, "Five years, that's all we've got . . ." You would spend them where and doing what?
I would continue the path that we've chosen to take with the band, and take on even more shows around the world. It's great to combine work with traveling and exploring the world. Kinda boring to not want something radically changed but I probably don't know a better life style. That's a good thing to realise ;)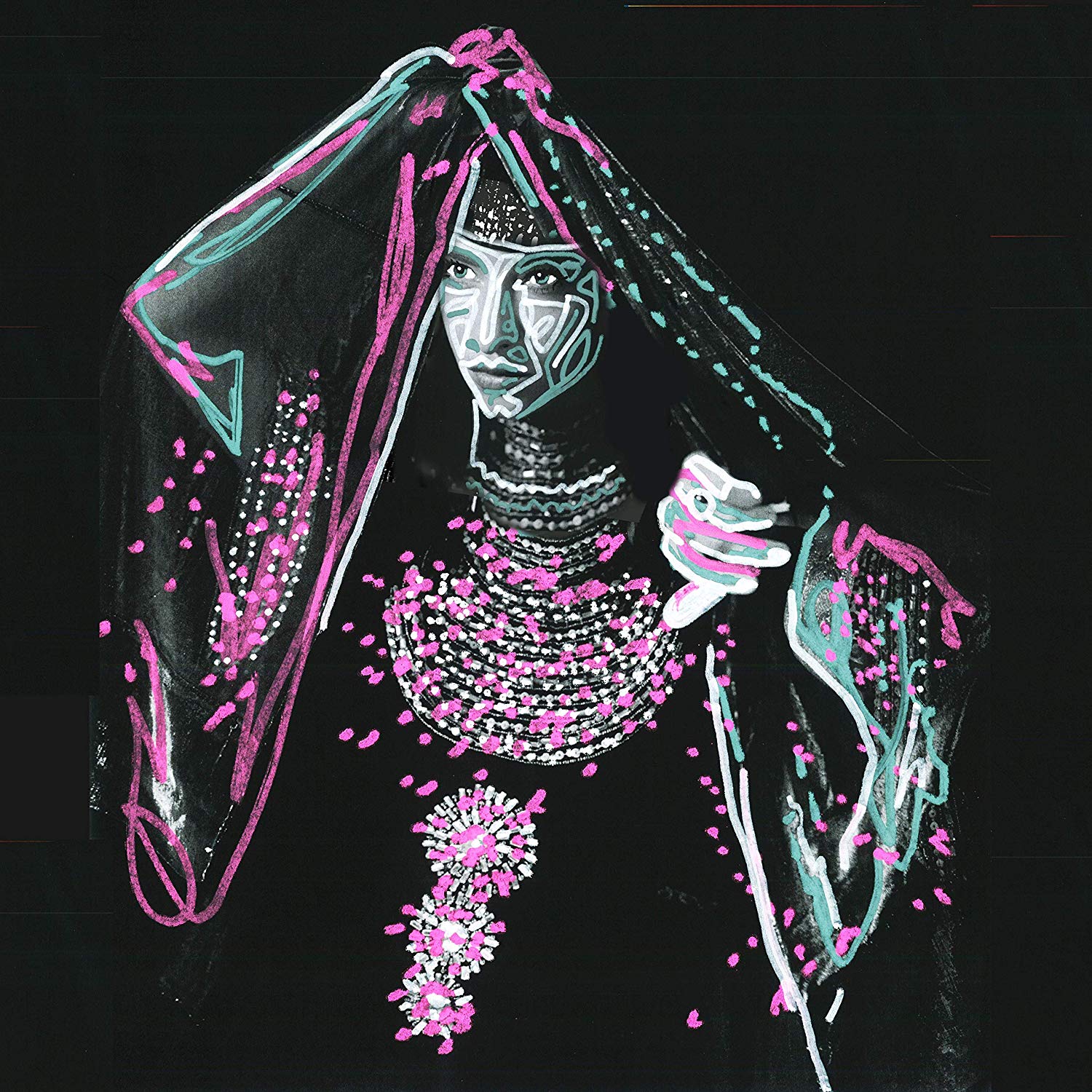 And finally, in the nature of press conferences in Japan, "Can you tell me please why this is your best album ever?"
While making Mounaiki/By the Bright of Nigh' we decided to make an album that accompanies a story we allowed ourselves to enrich our sound even more and be limitless about the musical output.
The music tells the story of a young girl going on an adventure on the course of a night and every song tells a chapter. We just had to think, what does this chapter sound like?
So we allowed ourselves to sound more diverse than before and the album can take you on a journey following the main character into the bright of night.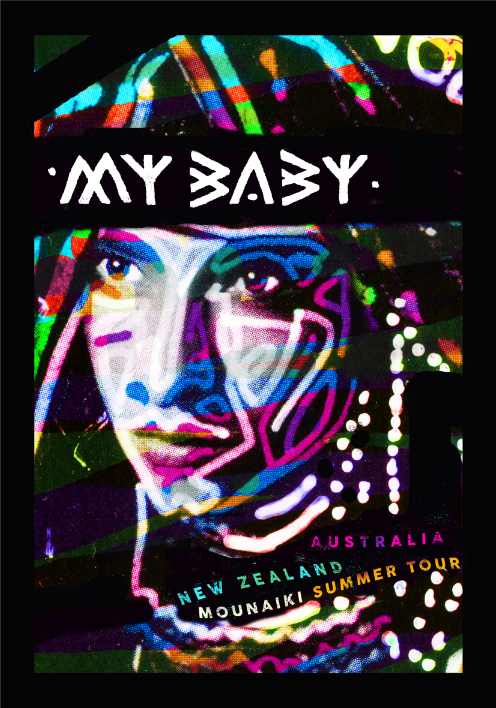 MY BABY - NZ TOUR
Sun Dec 30 – AUM, Auckland
Sat Dec 31 - Rhythm & Alps, Wanaka

Sat Jan 5 - Blue Smoke, Christchurch

Fri Jan 11 – Meow, Wellington

Sat Jan 12 – Cabana, Napier

Sun Jan 13 - Smash Palace, Gisborne

Thur Jan 17 - Yot Club, Raglan

Fri Jan 18 – Soundsplash, Raglan

Sat Jan 19 – Galatos, Auckland

Sun Jan 20 - Totara St, Mt Maunganui

Wed Jan 30 - Luminate Fest, Golden Bay

Sat Feb 9 - Marlborough Wine and Food Fest, Marlborough
Fri March 15 - WOMAD / New Plymouth