Graham Reid | | 4 min read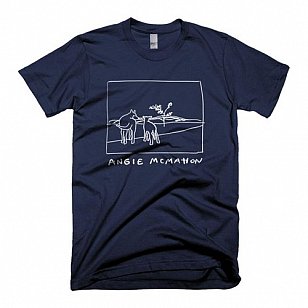 Melbourne's Angie McMahon won a few awards before she even releasing her first single. In her late teens she won a competition to open for Bon Jovi and then a mentorship for an unsigned musician in 2017.
Five of her six singles (her first Slow Mover in '17 certified gold in Australia and nominated for the APRA song of the year) appear on her impressive debut album Salt about which we said "debut albums don't come much more authoritative than this".
She makes music for adults which is smart and thoughtful, so it is a pleasure to have her answer a few personal questions for Elsewhere . . .
Where did you grow up, and with who?
In Melbourne, with my siblings, parents, dogs and chickens
Was music an important part of your childhood?
Yes, it was always in the background, always in the car. I had a piano teacher who was lovely, I never practiced, but I never wanted to quit. Music is just something I've always wanted beside me.
What are your earliest childhood memories of music which really affected you . . .
I think Dad blasting Springsteen albums in the family car while we all sat in the back, travelling to various parts of Aus. I remember the total terror of playing a classical piano concert, feeling very out of my depth. I remember Mum having us sing Christmas carols as a family, and I remember my aunty gifting me a Britney Spears album one year, which I cherished.
Was there a time when you felt it was going to be music and nothing else?
Yes, pretty much from age fifteen onwards.
When you started on your music career were people around you supportive or did you have to find those people?
Actually I've been lucky, I've always been supported by the people around me. I don't take that lightly, because it's not true for everyone, and it has such a huge impact on how you get up the hill.
The first song of yours which you really felt proud of was . . .?
It was called What Are We Fighting For.
And why that one?
It just felt like a real song with real feeling. Even though I just copied a Ray La Montagne song, and I was singing about a breakup when I'd never been in a relationship. I just loved creating my own melancholy moment.
Any one person you'd call a mentor, angel on your shoulder or invaluable fellow traveller?
I can't pick one. Surrounded by Angels.
Where and when was the first time you went on stage as a paid performer?
Paid….I think it would've been a pub gig in Hawthorn, Melbourne. Acoustic guitar, covers, a really ugly skirt, and only my parents listening. Maybe I got $50.
Ever had stage fright or just a serious failure of nerve before going on stage?
Oh yes. I think the worst was Albert Hall in London, I was doing a solo support slot, and I'd just come off a tour with my band, and I had forgotten to practice solo. I just got off the plane, went to the gig, walked on stage and freaked out. The room is so enormous, it's very grand. I don't remember playing, guess I was just singing while having an out of body experience.
As a songwriter, do you carry a notebook or have a phone right there constantly to grab ideas they come? Or is your method something different?
Yes! It's usually at terrible times. Sometimes I get inspired at other people's gigs, because they sing something that sends me down a lyric rabbit hole, and I have to be the dickhead who pulls out my phone and writes things in my notes in a dark crowded room. And I'm like trying to hide my phone so no one sees the rubbish I'm jotting down.
What unfashionable album do you love as a guilty pleasure?
Breakaway - Kelly Clarkson. I used to sing along to that so much.
Any piece of advice you were given which you look back on which really meant something?
Even if you're talented, you still have to work really hard.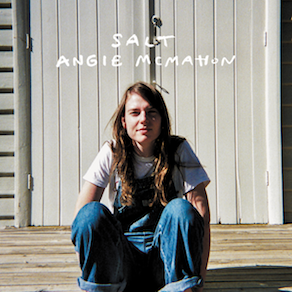 It's after a concert and you are in a hotel room or back at home, what happens then?
Hot water bottle and bad TV show or immediate sleep.
Is there any fellow artist you admire for professional and/or personal reasons?
So many! I admire Angel Olsen, Oh Pep!, Bruce Springsteen, Big Thief, oh man there are so many.
And finally, where to from here for you do you think?
Going on tour for a couple of months, then I want to hibernate from everything and write a whole bunch of songs :)
You can find out more about Angie McMahon at her website here.
Her album Salt is on Spotify here.