Graham Reid | | 3 min read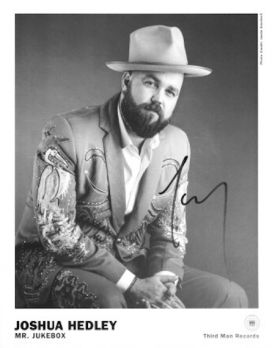 Although only his mid Thirties, fiddle player Joshua Hedley who appears at this year's Southern Fork Americana Festival at the Tuning Fork in Auckland (see details below) has got a lot of road miles on him already.
He got his first violin when he was 8 and at 12 was playing with older country musicians around his hometown of Naples in Florida.
Before he was 20 he'd relocated to Nashville and since then has been the in-demand fiddle player for the likes of Willie Watson, Justin Townes Earle and Jonny Fritz (who appears on the Southern Fork bill with him).
The fact he can also sing sets him apart in a mighty crowded field.
Last year he released his acclaimed debut album Mr Jukebox (on Jack White's Third Man label) on which he wrote all of the songs bar one (the exception being When You Wish Upon a Star as a tribute to his dad) and he is part of the tradition which honours the likes of Chet Atkins and Billy Sherrill.
He's old school country in other words.
And now in his own words . . .
The first song which made you think, 'Now that's a well crafted piece of work' was . . .
Hell I can't remember, but let's say Gentle On My Mind.
Complete this sentence: The first song I wrote was . . .
Shitty
The one songwriter you will always listen to, even if they disappointed you previously, is?
Harlan Howard
As songwriters: Lennon-McCartney or Jagger-Richards; kd lang or Katy Perry; Madonna or Michael Jackson; Johnny Cash or Kris Kristofferson, Beyonce or Janelle Monae?
Tom T. Hall
The three songs (yours, or by others) you would love everyone to hear because they are well crafted are . . .
The Ronettes - Be My Little Baby
Tom T. Hall - I Love
Notorious B.I.G. - Juicy
Melody first? Words or phrase first? Simultaneous?
Usually I get a line first then everything else comes at the same time.
The best book on music or musicians you have read is . . .
Just listen to the Cocaine and Rhinestones podcast.
If you could co-write with anyone it would be . . .
Willie Nelson
The last CD or vinyl album you bought was . . . (And your most recent downloads include . . .)
I've been listening to a lot of Gary Stewart lately.
One song, royalties for life, never have to work again. The song by anyone, yourself included, which wouldn't embarrass you would be . . .
Dolly Parton - I Will Always Love You
Or Happy Birthday
One line (or couplet) from a song -- yours or someone else's -- which you think is just a stone cold winner is . . .
"I love leaves in the wind, pictures of my friends
Birds of the world and squirrels" - Tom T. Hall
Songwriting: what's the ratio of inspiration/perspiration?
I don't know how to answer this lol
Ever had a song come to you fully-formed like it dropped into your lap?
All the time. I dreamed Mr. Jukebox chords and all.
And finally, finish this couplet in any way you like: "Standing at the airport with an empty suitcase at my feet . . ." (You are NOT allowed to rhyme that with "meet" however)
Why's the suitcase empty? That's weird. Luncheon meat.
You can here Joshua Hedley's Mr Jukebox on Spotify here.
.