Graham Reid | | 8 min read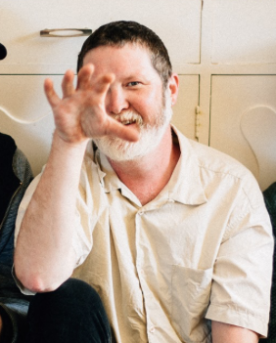 Many years ago we threw a mainstream Questionnaire at the enormously gifted multi-instrumentalist Vorn Colgan of the band Vorn because not only did he make great music but we guessed he'd have something intelligent and/or witty to say.
And he didn't disappoint.
What is disappointing though is the announcement that after eight albums and about 20 years Vorn (the band) seem to be winding up with a Last Chance to Catch Vorn tour (dates and reasons below)
Critically acclaimed for his often droll songs and fierce insight (check out Vorn at bandcamp here), Vorn Colgan is one of the key figures on the margins of the mainstream, so we are pleased to have the opportunity of introducing him to you through his scrupulously honest and self-analytical answers to this Highly Personal Questionnaire . . .
Where did you grow up, and with who?
I grew up in rural Taranaki in the 80s and 90s, surrounded by tens of thousands of blood relatives. My mother married a man from Auckland, meaning I was among the very few at my school who had ten fingers and ten toes, which led to relentless bullying. Imagine my surprise in 1999 when rural Taranaki finally got television and I discovered that ten is considered the normal number!

Was music an important part of your childhood?
Yep. I started playing the organ (that's the electronic organ, wash your brain) aged 4, so I really can't remember a time when I wasn't making music in some form. Though I didn't start writing songs until my late teens; I kind of didn't realise it was an option for a long time. That sounds dense. I guess the answer is that music was an important part of my childhood and I am dense.
What are your earliest childhood memories of music which really affected you . . .
Apparently my first favourite album was Profokiev's Peter and the Wolf, but that's more one of those memories your parents supply you with - apparently when I was three I used to demand the record be put on then curl up practically inside the speaker and fall asleep. The first album I clearly remember being impressed by was Bad Jelly the Witch - all the orchestral music on that album seemed so evocative that I could vividly see all the ridiculous events being recounted as if they were real. It is a complete mystery to me why I should enjoy hearing a bunch of highly-trained and well rehearsed musicians providing the backing for the rantings of a madman. But there you go...
Was there a time when you felt it was going to be music and nothing else?
Pretty late in life really. I had always thought I was going to be an author someday; I guess when I was about 21 I realised I'd written a whole bunch of songs and no books so maybe it made more sense to call myself a musician. I dunno about 'nothing else' - deciding to be a musician is also necessarily deciding to be a waiter or a chef or some damn thing to pay the rent. It's like the first question you ask someone when they tell you they're a musician: "Oh, so what do you do for a living?"
Hm. I think I've declared this question unanswerable. It's always music, it's always something else, and I don't feel like I had a choice; neither do lots of artists I've spoken to. There's my answer: I diss your question. How rude.
When you started on your music career were people around you supportive or did you have to find those people?
I remember once taking some German friends to an open mic night and after a few acts they said "Oh, this is so wonderful - the people give applause even if the musician is not good. So kind." God knows what they do in Germany; they seem too polite to throw crap; I guess they just sit in stony Teutonic silence unless you're Nick Drake.
I think most NZ musicians find their friends very supportive, and also are really looking for an audience beyond forcing their mates to come to their gigs every damn weekend.
Everything you need to know about being a New Zealand musician can be found in the lyrics to All Laid On by the Verlaines - 'people praise you thick and thin. . . and that's a ditch if you listen to it/ You think yourself amazing and all the time you're falling in' - there's this idea that your mates are always going to tell you you don't suck, so to find out if you don't suck you have to find someone who's not your friend to tell you so.
How ungrateful. I'd like to thank all my friends who've faithfully come to my gigs and told me they didn't suck. I still assume you're lying, but you're all very kind.

The first song of yours which you really felt proud of was . . .? And why that one?
Smegmatic for the People from my first solo album Normal the Normal Normal. I was stupid into Pavement at the time (still am I guess) and it sounded like Pavement so I was very pleased with myself. I am ultimately a man of simple pleasures.

Any one person you'd call a mentor, angel on your shoulder or invaluable fellow traveller?
According to the DSM-IV's definition I have Oppositional Defiance Disorder, which means don't tell me what to fuckin do, it's annoying. So I don't really do mentors. But everyone who has played in my band, and they are quite legion now, has been a total inspiration and an invaluable source of support. Work with people more talented than you and you will never need mentors. I'm lucky in that it's easy for me to find people more talented than I. Hey, wait a minute...

Where and when was the first time you went on stage as a paid performer?
I tried to put together an O-week tour in support of Normal the Normal Normal; the only University that picked me up was Canterbury. I was living in a tent and busking for a living at the time so I borrowed some cash for a ferry, slept in a park in Picton, and hitch-hiked to Christchurch.
When I arrived I had no money and nowhere to stay so I had to hit up the music director for UC's Orientation events and ask if I could sleep on their couch - which is how I met Paul Kean, the bassist for the Bats. He did not seem overjoyed at hosting a smelly homeless man he didn't know, even a smelly homeless Bats megafan.
The next day I played a 45-minute solo acoustic set to an audience of about 60 people who had gathered because they wanted to hear Nandor Tanczos speak. The biggest applause I got was when I stopped and went away so they could see Nandor. I then went directly to the student union office and asked for my $150 cheque so I could cash it and buy some cigarettes.
They did not seem overjoyed at my demand for instant payment, but I guess I was stinking up their office so in the end they relented and I cashed the cheque, bought some rollies, and immediately commenced hitch hiking back to Picton. Rock and roll?

Ever had stage fright or just a serious failure of nerve before going on stage?
Nah. I run a music quiz on Thursday nights and I did a round last week where I played power ballads on the recorder and the punters had to guess the song. About halfway through I suffered a fit of giggles which made my breath-control somewhat sub-par.
Then I had one of those vivid moments where the camera zooms out and you see what you're doing - in this case making a terrible hash of Total Eclipse of the Heart on a descant recorder in front of a crowd of confused trivia buffs - and you ask yourself, "What the fuck am I doing with my life?"
But I wasn't nervous, just confused. In general I think my audiences suffer much more fear than I ever have to. Which is weird, because I have to listen to the music andmake it. so I dunno what they're so worried about.

As a songwriter, do you carry a notebook or have a phone right there constantly to grab ideas they come? Or is your method something different?
I used to, religiously. What I find now is that if a really good line comes to me I won't forget it, at least not until I've had a chance to get to an instrument or a computer and play around with it.

What unfashionable album do you love as a guilty pleasure?
INXS Kick. Is that unfashionable? It sold millions of copies. Michael Hutchence had tens of millions of adoring fangirls. It seems a little weird to call something so popular unfashionable.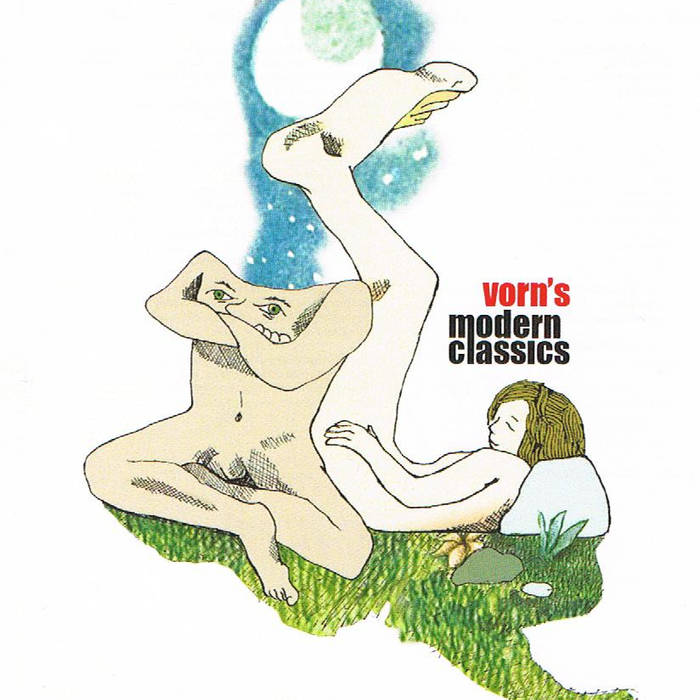 Brian Eno's Here Come the Warm Jets? I don't think that sold millions, and I can't imagine Eno having a fangirl. And it may not be fashionable but I think it's kind of got some hipster cred, so probably doesn't count.
Lots of Radiohead fans think The Bends is a dumb Radiohead album, whereas I think they are dumb and The Bends is an excellent album. But again, millions of sales. Hardly unfashionable.
I'm going to plump for Vorn's Modern Classics. I think that album is amazing, and as far as I know no one has ever listened to it for pleasure.

Any piece of advice you were given which you look back on which really meant something?
I don't tend to ask for advice (see my DSM-IV self diagnosis above). But my ex-bass player Simon Bayliss once noted that I had good people around me, which I think is important. I'm going to convert that into advice. Make sure you have good people around you. This may mean moving.

It's after a concert and you are in a hotel room or back at home, what happens then?
I have a whiskey and go to bed. I'm old, man.

Is there any fellow artist you admire for professional and/or personal reasons?
Chris Howard from Model Train Wreck and the Sproutts is one of the great (mostly-)unsung songwriters of my generation, and a genuinely nice man. Most of the really great songwriters I've had the luck of working with - EDIE and JP Young also spring to mind - are also really fundamentally nice, decent people.
You know all those American movies where the genius is an arsehole to everyone around him but it's okay because he's such a genius? Bullshit.

And finally, where to from here for you do you think?
The cancer ward!! And also on tour!!! Come to the tour, the cancer ward is boring. Also, come to the tour, you might not get another chance!
LAST CHANCE TO SEE VORN TOUR
1 Nov - New Plymouth - Govett-Brewster (All Ages)
2 Nov - Whanganui - Lucky Bar and Kitchen (R18)
15 Nov - Auckland - Cassette 9 (R18)
16 Nov - Auckland - UFO (All Ages)
21 Nov - Mapua - The Playhouse Theatre
23 Nov - Dunedin - 50 Dundas (Dunedin Folk Club)
Other dates to be confirmed so keep an eye out.