Graham Reid | | 10 min read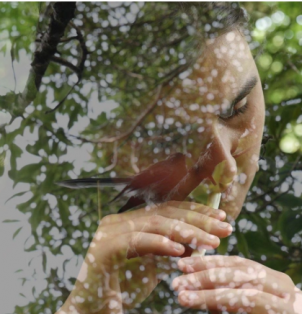 When Ruby Solly released her debut album Poneke (Wellington, in te reo) some months ago it barely raised a ripple in most circles. There were no clubland bangers, no radio-friendly pop songs, nothing to immediately engage those looking for a new name to alight upon.
But the album got very good critical notices, not the least at Elsewhere where we were quick off the mark to acclaim it for its experimental, multi-layered, almost art-project, nature.
Solly from Wellington would go to interesting sites to record herself on taonga pūoro and then take that back to the studio where she would embellish them with discreet cello to create an evocation of the place, it's pre-colonial history and so on.
One of the few women we are aware of playing taonga pūoro, Solly has worked with Whirimako Black, Al Fraser and others.
And in our opinion is someone to keep an ear out for.
Lockdown and so on has prevented her from getting her album greater attention to we are pleased to ask Ruby Solly (who is also a poet and script writer) questions to get her backstory . . .
.
Where did you grow up, and with who?
I moved around a bit as a kid and teenager, but mostly lived around the central plateau. I lived in Whakapapa Village at the foot of Mount Ruapehu when I was born, then in Raurimu which was probably my favourite place I've lived, then Turangi and Rotorua with a few patches of other places in-between. I'm an only child in a way, but I also have a brother who passed away when I was seven. I lived with lots of different family members and family friends at times too, sort of a village raised kid.
Was music an important part of your childhood?
Definitely. There weren't a whole lot of after school activities living on a mountain, but I learnt guitar at school and we did some work around taonga pūoro with one of our teachers Maria Kuppa which gave me some basics on koauau. I was a good singer and would often get singled out to sing for things or do waiata tautoko.
Then when I was a bit older when we lived in Turangi I learnt cello and a few other instruments at a music school in Taupo. I loved music from a whole range of genres and disciplines and as a kid and would mix them all together. I played cello in metal bands, punk bands, reggae bands… a bit of everything which meant that I ended up with quite a wide vocabulary on the instrument so now I can usually express what I need to. I couldn't have wished for better musical foundations really, but the competitive nature of music during high school was a real bummer for me… I really just wanted to make the best music I could for me and expand what I could do. But there was a lot of focus on exams and competition and who was the best. It feels good to be more out of that now and just make things for me and those close to me first, then if they serve other people, so be it.
What are your earliest childhood memories of music which really affected you?
I was a big fan of country and bluegrass as a young kid and could also sing all the songs off The Singing Detective soundtrack. Wizard of Oz was a pretty big one for me as a pre-schooler and I was really good at imitating people's voices which was a combination of adorable and terrifying. Because of that I often feel like I don't know what my voice actually sounds like, so it's good for me to sing on my own and create my own sounds to see what that feels like and where it comes from.
But then I think about concepts like whakapapa and think that maybe multiple voices can make up a voice which is a nice way to look at it, especially for the ones I don't recognize from hearing them out loud before.
Was there a time when you felt it was going to be music and nothing else?
I've always been into multiple things, and a lot of the time that seemed to really piss people off. It's only been in the last few years that it's worked for me and even now people can struggle to get their heads around it. When I was in my teens, in a bedroom I had for a while there were a few different stacks of books on the floor.
There was a literature, writing and poetry stack, an art and design stack, a mythology, te ao Māori and history stack, a music stack, and a psychology stack. I said that whichever stack reached the ceiling first would be what I'd study. The music stack reached the ceiling first.
However I've ended up doing a little bit of all those things. I blame music dictionaries for making that stack so tall.
When you started on your music career were people around you supportive or did you have to find those people?
When I was fourteen I got to play with the Wellington International Ukulele Orchestra and that was huge for me, and showed me that Wellington was a place I wanted to get to because it was a lot of people doing a lot of different things and all working together.
When I was at jazz school I was super lucky to be in the last generation of players with Roger Sellers who was an incredible tutor not just in jazz, but in the values of music and how to look after yourself in the industry.
I always try to act with kindness as he did and stand up for what's right and ensure that music is a fair place where people can express who they are and what they bring to the music in a way that really holds them and supports them.
In taonga pūoro I'm kind of like everybody's little sister which can be really nice, but I occasionally have a small tantrum telling people I'm actually a real adult, but then I usually go back in line.
I'm lucky to have been taught and supported by so many amazing players and holders of our knowledge such as Ariana Tikao, Alistair Fraser, Jerome Kavanagh, Rob Thorne and Tamihana Kātene.
The first song of yours which you really felt proud of was . . .? And why that one?
This is an interesting one, because nowadays I wouldn't really consider myself a songwriter. But songwriting was a huge part of music for me as a teenager and it's also something I use a lot with clients in music therapy. Song writing is such a great way of processing things and saying things which can be difficult to say without the support of music.
I was in Play It Strange as a teenager so got to record a song at The Surgery with Lee Prebble each year which was a great motivator for honing my craft as a songwriter, a musician, and a lyricist / writer during that time. The one I'm most proud of is called 'Russian Doll People' and I still think it's one of my favourite things I've ever made.
It sums up a lot of what my life was like at the time and how I was feeling about taking a resilient approach rather than a trauma approach to my life as a teenager, which I think in the long term just meant I learnt to work hard to distract me from any deeper problems in my but hey, we're working on that.
Russian Doll People, by Ruby Solly
Any one person you'd call a mentor, angel on your shoulder or invaluable fellow traveller?
There are so many people I could put into this category, and a lot of them are in the supportive people at the start of my career I described before. But aside from them, my uncle Matt Wildbore payed for all my lessons as a kid and gave me my cello which I still use.
We weren't from the kind of family or community where kids played instruments like that, so having the instrument and being able to have lessons was the difference between me being where I am today, and me being somewhere very different. That taught me a lot about resourcing and makes me think a lot about all the wonderful players who are out there without instruments or time on their hands which makes me want to work hard every day to help make that possible. I also had some amazing music teachers at high school including Paul Sanders, Ryan McIntyre and Adam Hague at Western Heights High School who I owe a lot to within my music and my wider life.
Where and when was the first time you went on stage as a paid performer?
Ok, I actually can't remember this because I did a lot of performance based things as a teenager. But I do remember playing cello at some sort of fundraiser when I was about thirteen and they gave me a koha of thirty tubes of toothpaste that had been donated for the event but were surplus to what they needed. So I basically got paid in all of this tooth paste. Everyone got one for birthdays, Christmas, Thursday… you name it; toothpaste.
Ever had stage fright or just a serious failure of nerve before going on stage?
I've thought a lot about stage fright recently and I think for me, it's most often because the mauri is off in that space, or something else to do with the event is effecting my wairua. Maybe the people at the event don't really want tangata whenua involvement and are doing it out of obligation without having deeper kōrero and understanding, maybe the audience won't understand or be open to the material, maybe the resources of the performer aren't adequate to the event. I've been trying to take on less gigs that make me feel this way, and if I do take them on, I try to work to dismantle those issues before going on stage.
As a songwriter, do you carry a notebook or have a phone right there constantly to grab ideas they come? Or is your method something different?
I used to be this person. But in the last five years a lot of my teaching from our kaumātua and pou within taonga pūoro have been transmitted orally, so I've learnt a lot about connecting and retaining information and ideas in my head which I think makes you a better creative and thinker, as well as a learner.
But there was definitely a transition phase where I had hundreds of note books filled with stuff lying around.
What unfashionable album do you love as a guilty pleasure?
I hate the idea of guilty pleasures because I tell people "LIKE WHAT YOU LIKE!" a lot. I think it's good to listen to whatever makes you feel how you need to feel, and I see music as a tool to transport and change mood and thinking in that way. But I guess if I was thinking guilty pleasures, I listen to a lot of Jewish pop music when no one else is home like Netta and Shefita because my whakapapa is complex… and I love it.
[interview continues below the clips]
.
.
.
.
Any piece of advice you were given which you look back on which really meant something?
Just before I started at jazz school Age Pryor said that the best advice for jazz school is that you're going to be flooded with information, so just take the information you need and process it really well, and know that the rest will still be there for you when you need it. That changed the experience for me a lot and has been a huge part of my thinking for learning in other areas too and is something I pass on to a lot of tauira.
It's after a concert and you are in a hotel room or back at home, what happens then?
I am chronically bad at pre and post gig chat, especially if it's with people I don't know very well. I think it takes me about eight months to warm up to people and be able to talk to them properly so after gig chat doesn't often go well for either party involved. If I'm in a band usually I can hang around for five minutes or so and then sneak off while everyone else does the small talk stuff. If it's just me I have to brave face it. When it's all over I'm a big fan of the post gig shower and reading my book on the couch for a bit no matter what the time is so my brain can calm down.
Is there any fellow artist you admire for professional and/or personal reasons?
I'm a huge Nick Cave fan as he spans writing and music. I think his work really stems back to story and communication which is what my work goes back to as well. I just watched 'One More Time With Feeling' the other day and it's made me think a lot about how sometimes the job of artists becomes to articulate and communicate specific feelings and experiences, which Nick does so perfectly with his music and kōrero in that film.
And finally, where to from here for you do you think?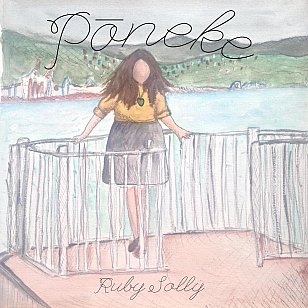 I've honestly never had a big sort of plan for my work. Initially I thought I'd quite like to have a book and an album at some point, and I've been able to do that.
At the moment I'm working on a PhD on the use of taonga pūoro within healthcare, while doing freelance writing and music work and working on my next book which is going to take a long time.
I think as long as the work I'm doing is decolonial, non-harmful, and serves me and the people with me; I'm on the right path.
.
You can hear and purchase the Poneke album at bandcamp here.
.