Graham Reid | | 2 min read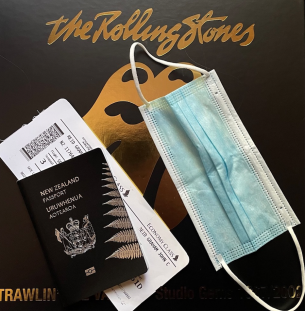 A peculiar thing happened a few weeks ago, the day before we left Edinburgh.
When we stopped at a service station to fill up the rental I glanced across the road and on the other side was the Maybury Casino.
I knew behind it was West Craig Crescent and the house I grew up in.
I'd come halfway around the world and, after more than 60 years, arrived back home.
The definition of "home" is flexible: Two of my three New Zealand-born sons have called Stockholm their home for more than a decade and the other says the same of England after 20 years there.
Yet they all come back home when they can, home to the country they grew up in. Now after three months away I too am home and, much as I feel at home in Edinburgh, it isn't my home.
Quite a few times when traveling around Scotland, I would reflect on what my life might have been if my parents – my dad growing up in Auckland to a Scottish immigrant family, my mother from Edinburgh where they met – hadn't come to this country.
I wasn't a bright child or adolescent, I failed UE the first time so might have only got a couple of A levels in Scotland. Later I was told not to return to the University of Auckland after two years there floundering around in the sciences and pubs because of "failure to make satisfactory academic progress".
So had I grown up in Edinburgh – and this is dour Scottish fatalism talking – at best I might have got an office job or some dreary middle-management position.
My life could have been a cold tenement block or small flat, football on the weekends, maybe holidays at Berwick-Upon-Tweed ("Costa del Berwick" as the train driver quipped when we stopped there) or a week in Spain enjoying the weather but not the food. And more black pudding and fish'n'chips than would be healthy.
I'm very grateful my parents emigrated to Aotearoa New Zealand for the opportunities this country gave me, and my children.
The advantages are evident: summers at a beach swathed in coconut oil (which I'm paying for now); greater educational opportunities (the uni took me back and I didn't waste the second chance); a first home with a small garden; ACC and quality free health care; good teachers even though I never had one lesson about the history of the country I lived in . . .
And something I value highly: my country never conscripted me or my sons to fight in a foreign war.
There's some merit in our geographical isolation although I observe we've become increasingly parochial and inward-looking, especially these past two years. I think that's a shame and self-defeating, we need to engage more with the world and learn from it.
It's great to be back, although it was enjoyable to be away. Necessary, I'd say.
So now – after 22 different beds, the vagaries of British plumbing and a few breakfasts with haggis – I'm back to my only home.
I have no idea how these columns have been received but I've enjoyed writing them. They often helped me clarify my thinking about home and away.
My wife Megan has gone back to work and . . . me?
I suppose I need to look for something too.
But first I'm going to listen to that heavy, limited-edition five-record box set of unreleased studio recordings by the Rolling Stones which I bought the first week away and lugged around for months.
It better be bloody good!
.
THIS IS THE FINAL INSTALLMENT IN MY SERIES ON TRAVELS DURING THE TIME OF COVID IN EARLY 2022 WHEN MOST SENSIBLE PEOPLE WERE STAYING AT HOME. YOU CAN READ THE REST OF THE SERIES HERE.