Graham Reid | | 4 min read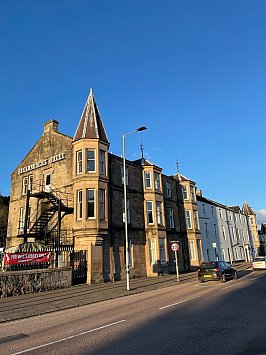 The Dreadnought Hotel in the town of Callander, halfway between Loch Lomond and Edinburgh, is very hard to miss. As you come in from the west it announces itself on the left as a massive baronial block, like some moored battleship dominating the street and the town beyond.
As with most travellers who use Callander as little more than a start and end point for hikes in the Trossachs or to get to Loch Lomond in one direction and Falkirk, Edinburgh or Glasgow in the other, our encounter with the Dreadnought was fleeting but memorable.
The 17 century building boasts 60 rooms – ours so large you could have parked a couple of buses in it and still had room for our Mazda Demio – and an entrance which was breathtaking in a strange kind of way.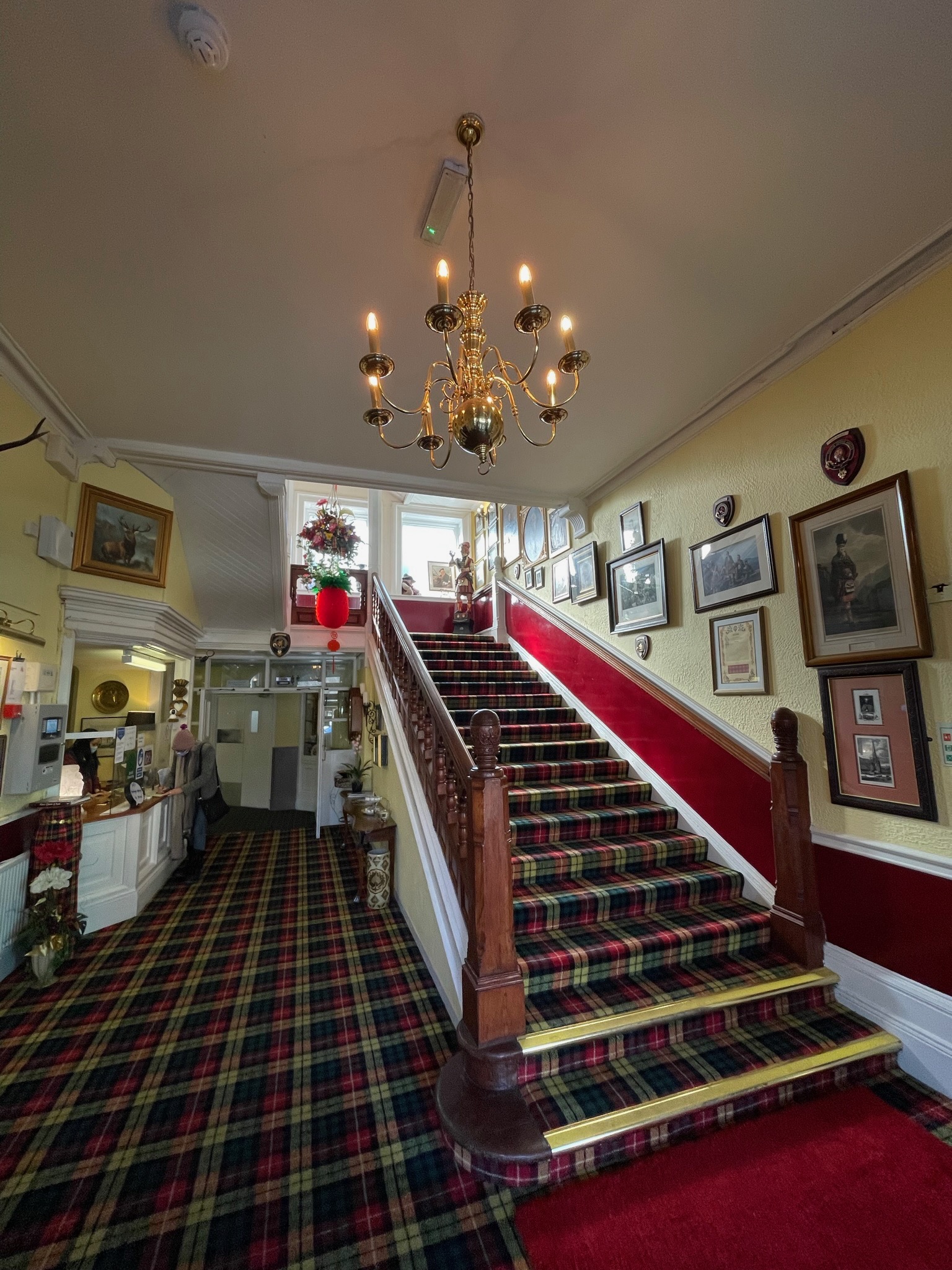 It was that very overkill of plush tartan carpets, an impressive stairwell and a clutter of photos which I saw on the website which made me think, "Well this is interesting".
And so it proved to be. We arrived in early April when Covid was still rampant and Scotland had extended its mask mandate. Tourism was moribund if not dead in most places and the eccentric Dreadnought was suffering.
We seemed to be the only guests in that enormous place – which doesn't explain quite why we were shown to a room about as far from the reception area as you could get. I got tired walking to it over there, turn left, down the corridor, turn right, long walk, through those doors then another walk to our room.
No matter, it was fun because the walls on the way were lined with odd historical photos (some seeming to have little to do with Scotland), maps, shields, the occasional teddy bear or doll in a corner and so much more.
When we were checking out the following day the friendly but anxious Chinese owner said he had bought the place two years ago and then . . .
Covid.
No one came to this impressive place which in other times might have hosted those coming to this beautiful and scenic area. And even if he had guests finding staff was difficult: young people left quiet Callander for work and play in Glasgow, Stirling, Edinburgh . . .
However for us, Callander itself was an interesting if also an odd wee town.
It was a Friday afternoon and we walked the quiet main street and looked for somewhere to eat later on. The options were very limited (a pub and another pub) but the town had such an engaging ambience we promised ourselves we'd explore further the following day.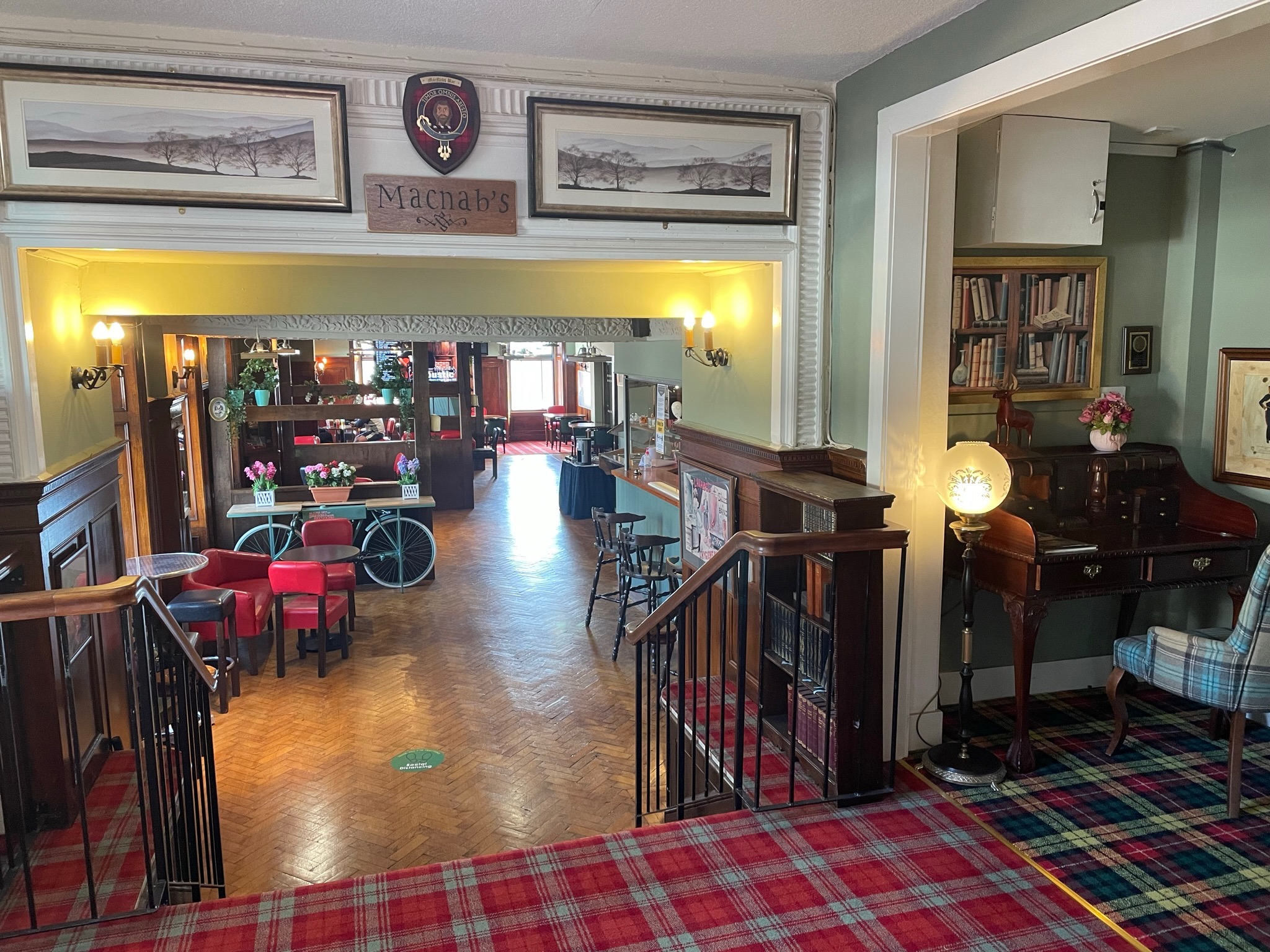 That evening we went to the pub directly opposite the Dreadnought but they weren't serving meals. So we had a whiskey and observed that there were a lot of alarmingly healthy-looking young people in hiking boots and with packs.
Rob Roy and William Wordsworth ambled around here also.
I guess they all stayed in cheaper digs than the extraordinary Dreadnought which most recent visitors walk past from the railway station.
There was a Chinese restaurant upstairs next door to the pub so we went there for dinner. And it was Chinese in extremis.
We were astounded by the number of red lanterns and the archway. It looked like it had been imported direct from Shenzhen or Hong Long, or perhaps – like Irish bars which can buy a job-lot of Emerald Isle stuff from a warehouse – maybe it just came from a shipping container in Glasgow.
Most of the staff were Chinese – we didn't know whether they were related to the owner of the Dreadnought but it would have made for a great business association in any time other than The Covid Years – and the food was excellent.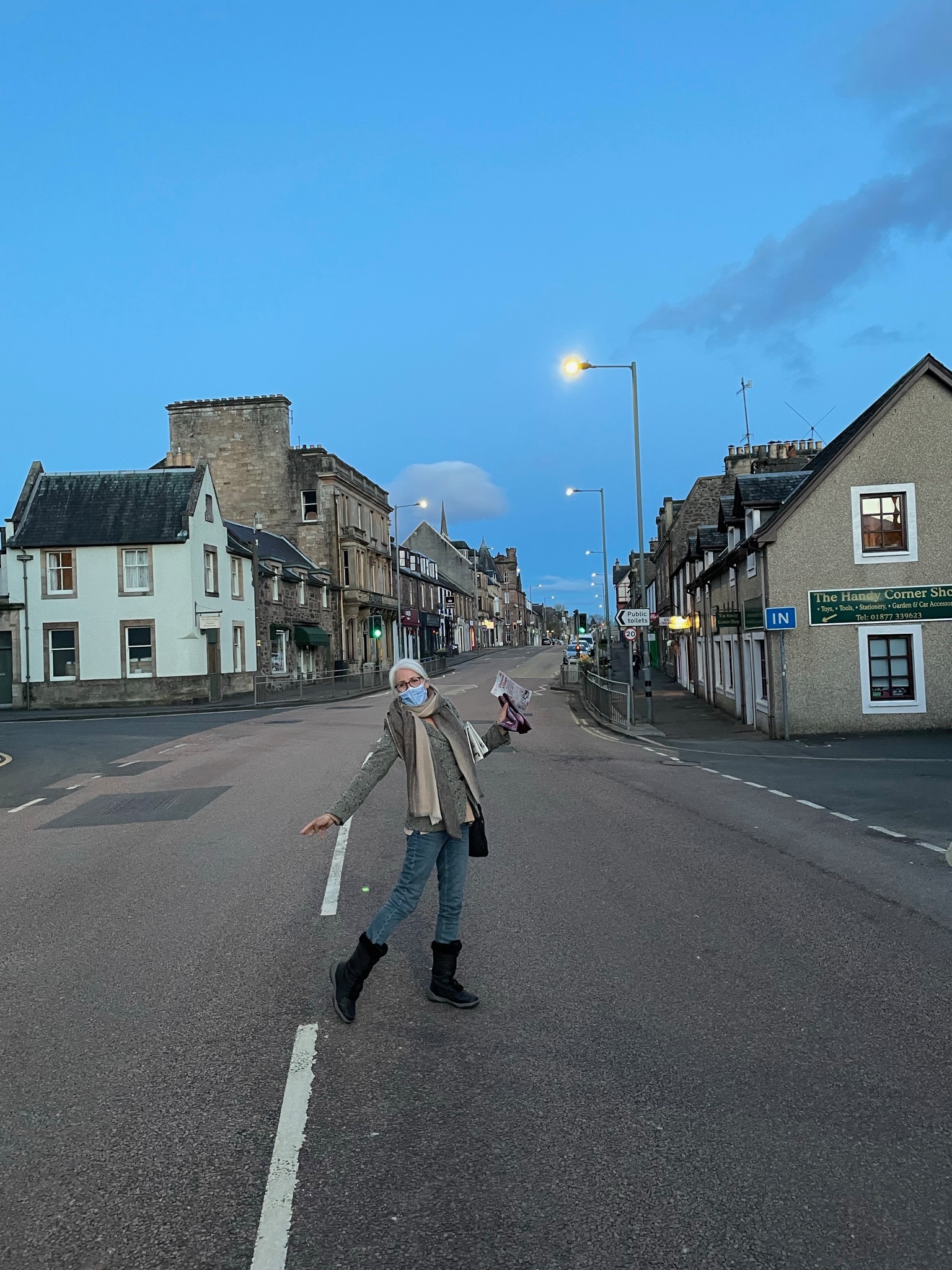 We went outside and at 7.30pm it was still light and this main route, the A84 to Stirling just 30 minutes away, was deserted.
Megan did a silly dance in the middle of road.
We were enjoying Callander, even though it was closed and empty.
The following morning we explored the main road of a toon which had some vague association with the Sixties TV series Doctor Finlay's Casebook (apparently just some location exploration although a lady said there was a hoose which had appeared) and it was kinda fun.
There was a crammed museum-cum-secondhand shop with floor-to-ceiling tat, and in the nearby graveyard on the banks of the River Teith there was a kind of pillbox in the middle.
This was where police and patrols would set themselves up to watch for grave-robbers.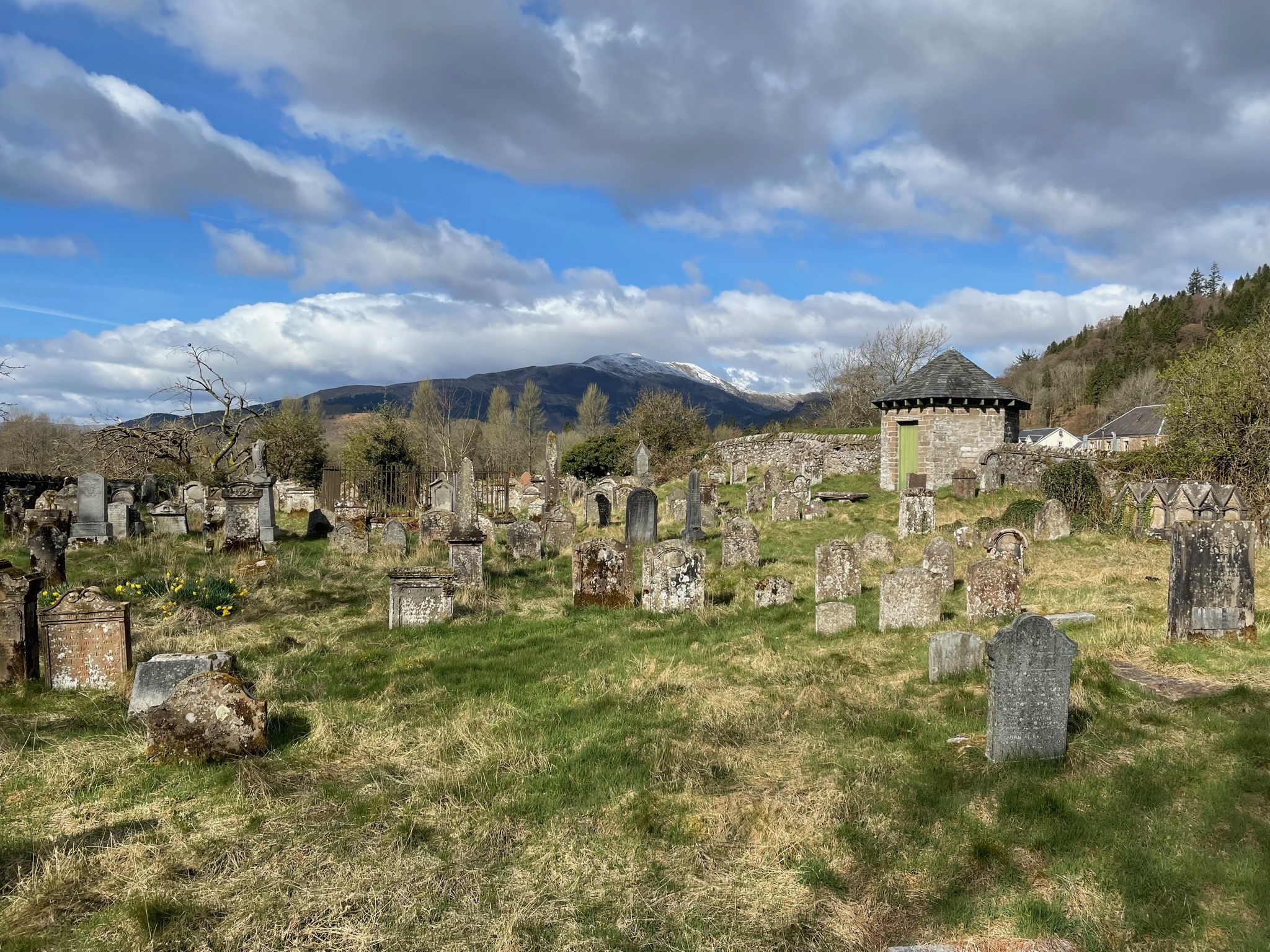 That was a thing in the 1800s when medical students in Edinburgh needed fresh corpses to study and practice on.
We sat in the sun in the square opposite the old St Kessog's Church and ate local pies.
And then we went back to the strange and empty Dreadnought where on one wall there were pages framed telling the history of the local clan Macnab. It was very convoluted but it seems that this was once Kinnell House, the clan's headquarters and "dreadnought" (no fear, dreading no one) was their motto..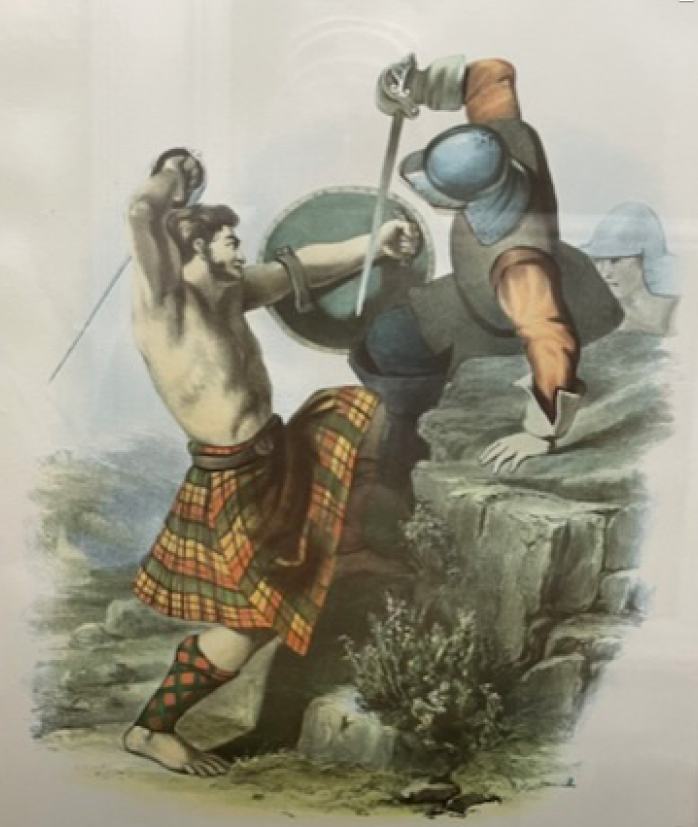 We said farewell to the anxious owner and felt genuinely sorry that his handsome investment in such a building – it's bizarre décor notwithstanding – had so far made no return, and took to the road to Falkirk.
But not before he took some photos of us on the dizzyingly tartan stairwell, and I took one of the painting of a magnificent bare-foot and bare-chested Highlander doing strenuous battle with what I take to be a Sassenach.
.
If you happen to be in the area or even better if you have a night in Callander, we'd recommend the marvellously odd but historic Dreadnought Hotel. You can find out more about it here.