Graham Reid | | 5 min read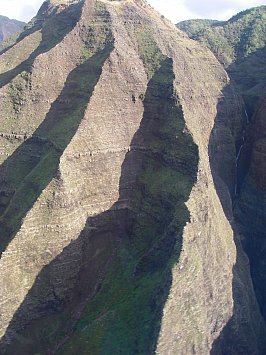 The dramatically beautiful island of Kaua'i -- a 20 minute flight from Honolulu and not to be missed -- is where Nature shows off in the towering cliffs and deep valleys of the largely impassable Na Pali coast.
However Kaua'i, known as the Garden Island, is also a place of intimate details and easy to self-drive around, a place where you take life and the day at its own pace, and stop where you please. And there are many pleasing places on Kaua'i.
From Lihu'e airport where there are car hire companies, it is an easy half hour drive -- through a century old famous Tunnel of Trees -- to beaches and coves at Po'ipu where excellent hotels, parks, and a golf course await. And funky little Koloa which invites you to leisurely explore old shops then kick back for cocktails.
When around Koloa and Po'ipo, don't miss Brennecke's Beach Broiler with its casual, breeze-blown ambience, memorabilia-lined walls and famously strong sunset cocktails.
Beyond Po'ipu and Koloa around the south coast is historic Hanapepe with its antique and art shops. Pick up the walking tour map and explore the hometown of Disney's Lilo and Stitch, and where some of The Thorn Birds was filmed.
Further round the coast are sandy beaches which disappear into sea spray - and then the road runs out as you reach the Na Pali coast.
Good roads, courteous drivers and the slow pace make Kaua'i self-drive effortless.
Recommended:
Big beaches and sleepy towns
Kaua'i's northern beaches are rewarding although the first 20 minutes from Lihu'e airport are through tourist shops and cheap eateries. By Kapa'a however you are in old Hawaii again. Then your camera will go to work frequently before funky Hanalei, where the road ends and beaches which are justly famous for their surf and laidback ambience. Buy fresh fruit, sit under ancient trees and watch for whales if the season is right.
Recommended:
Waimea and the Canyon on Kaua'i
Small-town Waimea, where Cook first landed, is the gateway to the justifiably famous canyon -- but be warned: there are two routes into it and the better one isn't well signposted. Drive 10 minutes through Waimea township and turn right into Koke'e Road. The left-looking views on the climb are more spectacular than on Waimea Canyon Drive out of central Waimea (take it on your return).
There are many lookouts above the Canyon which Mark Twain rightly considered "the Grand Canyon of the Pacific" and also walking trails - but check how long some might take.
Waimea's Shrimp Station does brisk trade for good reason: try its shrimp tacos. Sit at an outside table and enjoy the world drifting by at Hawaiian pace.
Recommended:
Hollywood Hawaiian-style
Kaua'i's landscape is so diverse Hollywood has used it in hundreds of movies as a stand-in for Vietnam, Tahiti, various Pacific Islands, and Jurassic Park. Pick up Chris Cook's The Kaua'i Movie Book: Films Made on the Garden Island as your guide so you can stand where Elvis got married in Blue Hawaii, Indiana Jones escaped from the poison darts or dinosaurs thumped through the jungle.
Recommended:
Honolulu the easy way
Honolulu is expansive and there is more to it than Waikiki Beach and shopping centres. To see all that and more economically take the Red Line hop-on hop-off trolley which takes you to, among other places, the must-see Bishop Museum (a remarkable collection of Pacific cultural artefacts and contemporary arts, some by New Zealanders) and is in a restful setting beyond the hustle of the central city. It is a must-see in Honolulu. The Red Line lets you also visit the Honolulu Academy of Arts (Renaissance paintings in Hawaii?), the State Capitol building, Foster Botanical Garden, a ukulele factory and much more.
Recommended:
An unexpected cultural encounter
Waikiki Beach offers many pleasant diversions -- oceanside cocktails at the historic Moana Hotel which opened in 1901 not the least. But the clutter of cheap gift shops and ABC stores (more than 50) can be depressing. However in the kitschy King's Village a block back from the beach is an unexpected gem, the King's Guard Museum. It has an extensive collection of 50s and 60s Tiki Bar artefacts; classic aloha shirts, shot glasses and memorabilia from long lost but legendary Honolulu hotels; old Hawaiian LP records, airline carry bags and much more. Just fun.
Recommended:
The day of infamy
No trip to Hawaii can be complete without visiting Pearl Harbour and the moving memorial to those who died when the Japanese destroyed America's Pacific fleet. Local buses or arranged tours will get you there (it is some way from Waikiki) and the audio-visual presentation before the trip to the floating memorial is excellent. Be prepared to spend up in the gift shop where history is brought alive through DVDs, reproductions of wartime newspapers, and photographs. Tacky fridge magnets and shot glasses too, of course.
Recommended:
The sound of paradise
Hawaii is rightly proud of its distinctive music -- the sweet'n'easy steel guitar and slack key guitar -- and it plays on local radio, groups sing in clubs and cocktail bars, and it floats out of shops. Those in search of a more authentic experience however should consult street-press papers and ask locals for the real thing, as opposed to musical wallpaper for tourists.
Recommended:
Buy music: Iz was the big man in Hawaiian music, literally. Ken Emerson's exceptional Slack and Steel is essential. In years to come it will bring back holiday memories of lazy days and balmy evenings.
Pick up quality CD compilations by the legendary Sol Hoopii; Gabby Pahinui's Rabbit Island Music Festival album is excellent; consider newer names like Willie K, Norman Ka'awa Solomon, and ukulele player Jake Shimabukuro; and you can't go past the late Iz (whose Somewhere Over the Rainbow/Wonderful World became internationally famous).
If staying around Waikiki take the local bus back from Pearl Harbour, the 45 minute trip will allow a glimpse of how real Hawaiians live.
You can't come home without an aloha shirt. Dozens of shops and outdoor markets around Waikiki will sell you cheap or expensive shirts. But here's a politically incorrect tip: go to a Wal-Mart -- preferably a superstore where you may be also bewildered and seduced by the sheer choice of decently-priced shirts and clothing, pharmaceuticals, household items and so on. Wal-marts are attractions in themselves.
The private home of socialite Doris Duke is an unexpected treasury of Islamic art. Duke was notorious (serial lovers, extravagant parties) but her home, Shangri La, is discreetly tasteful if not entirely authentic in its collage of art and styles. It is only open to limited numbers so contact the Honolulu Academy of Arts for details of tours and times, or book in advance.
If you prefer someone else driving, take a day-trip with 4x4 Movie Set Tour to be comfortably shuttled between film locations with an informative and amusing commentary from your driver and relevant film clips on the screen in the mini-bus. You'll also be taken around Kaua'i's lesser known sights, like Coco Palms Resort which was the most sophisticated hotel on the island when Elvis filmed there. Today it is a sad shell after cyclone damage, but still feels eerily magical.
Because the Na Pali coast is impassable other than to hardy hikers a helicopter flight over Kaua'i allows you to appreciate its grandeur. Make sure your camera has plenty of space in its digital memory.
Check out Hanalei's Yellowfish Trading Company for its collectibles, Hawaiiana, antiques and cheap hula dolls. A treasure chest.
Even if you don't stay at Po'ipu's Outrigger Kiahuna Plantation resort condominium make sure you have dinner and cocktails in its Plantation Gardens Restaurant. The warm breeze, fine food and easy atmosphere of the old plantation make for a memorable night.