Graham Reid | | 5 min read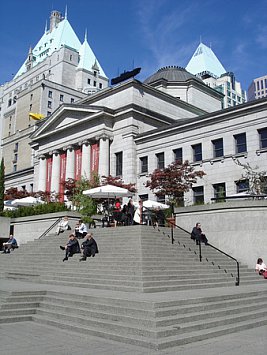 To be honest, I can't tell you whether you can get a decent cup of coffee in Vancouver, coffee doesn't interest me much. What I can tell you however is that you won't be short of a cup.
On fashionable Robson St right outside my hotel was a Starbucks, and two blocks down on the corner of Thurlow a couple more faced each other across the intersection.
Within an hour rambling around the compact downtown area I also came across a dozen more small independent cafes, and those with famous chain-names.
The peculiar thing is -- unlike Seattle to the south where Starbucks was founded -- cosmopolitan Vancouver doesn't feel like it runs on caffeine-fuelled energy.
Quite the opposite. Vancouver -- population around 600,000, with a median age of 33 -- seems leisurely and, even in areas where high rise apartments pierce the wide blue sky, quite sedate.
In late 2005 Vancouver was voted the most liveable city in the world by The Economist magazine's Intelligence Unit, above Melbourne, the city it tied with in 2002. Locals agree: in a survey at the end of 2006 they gave their city a B+ ranking despite it having a higher density of population than most other Canadian cities. People here also live two years longer on average than other Canadians.
In part that might be because central Vancouver is easy to get around: most things are within an easy stroll, whether it be beautiful Stanley Park which commands the north western end of the city, or Granville Island across False Creek to the south.
Granville Island -- which is not an island but land reclaimed when False Creek was dredged a century ago -- is where a large and famous permanent market offers everything from fresh seafood (crabs the size of baseball gloves) to fruit and vegetables, locally made cheeses, and interesting breads.
It is a vibrant and colourful place (take an appetite) and it rubs shoulders with the famous Emily Carr Institute of Art and Design in a converted warehouse nearby. Here work by students and tutors is displayed in the spacious lobby-cum-gallery.
Granville Island bubbles with life and energy but there are also quieter pleasure to be had, notably a wonderful museum of miniature railways and ships which will appeal to the little boy in everyone, even girls. One day when I was there a gaggle of schoolgirls -- fresh from the Kids Only Market across the road -- was silenced by the accuracy of a massive model railway with its small towns, lumber yards, forests and piers.
Granville Island is a tourist magnet of course, although a few blue-collar service industries have hung on despite the changes, and getting there is part of the pleasure: small Aquabus ferries make the two minute run across the inlet, and from there you can also take them down to Quayside Marina at the foot of Davie Street, the gateway to hip Yaletown where fashionable stores and galleries have sprung up in what was once a warehouse district.
Or you may take a ferry to Science World, the museum built for the '86 Expo and housed in a striking geodesic dome designed by the architect Richard Buckminster Fuller who patented the idea of such domes in 1954 but died three years before this one opened.
Vancouver -- which will host to 2010 Olympics - is a city that New Zealanders find effortless and enviable.
The Seawall walk from the Granville St Bridge around the northern side of False Creek is a quiet escape from the urban and urbane streets behind. The city has retained historic buildings such as the century-old courthouse (now the Vancouver Art Gallery) while also allowing for the dramatic Modernism of Robson Square and the Law Courts, and the innovatively designed central library by Moshe Safdie which looks like a coliseum in the process of gradually unpeeling.
The city is dotted with sculpture and murals -- such as that of 17th century artisans on the corner of Richards and West Georgia -- which break up the melange of contemporary signage. Small corners of quiet are not difficult to find.
But after visitors have done the usual tourist things -- ridden the trolley, explored historic Water Street in the Gastown district, admired the restored Fairmont Hotel built in the 20s, and bought Mountie memorabilia (the apron in Mountie style is an essential purchase) at one of RCMP stores -- it is time to go shopping.
Vancouver provides that in abundance.
It can boast all the customary high-end brand stores, but an amble along Robson Street which starts near Lost Lagoon on the edge of Stanley Park and bisects the city almost as far as the 60,000-seat BC Place Stadium, is where the credit card starts to take a multi-cultural hammering.
Here you can eat Chinese, Korean, Indian ("East Indian" as Canadian refer to it, in deference to their own "Indian" people), Italian and so on, or buy carvings and art works by First Nation people.
And walking is the best way to get a feel for this city -- except if you want to enjoy the pleasures of Stanley Park in the early morning.
This enormous green area with paths through the pines, a rose garden, beaches and a swimming pool on the western shore, and bike trails is the perfect place from which to consider the city.
From the Vancouver Yacht Club you can watch the morning sun rise over the apartment blocks and the dramatic sail-like roof of Canada Place, see squirrels scamper in the trees and swans bobbing on Lost Lagoon, take in the conspicuously colourful collection of totem poles near Hallelujah Point, and drive around the rim road pausing beneath Lions Gate Bridge which takes people north to Whistler and beyond.
The proximity of the sea here -- and Vancouver is almost surrounded by it -- appeals to the Kiwi character.
We too are a people most comfortable when near the ocean, and I suspect that is a large part of Vancouver's appeal: you watch seaplanes thinking "that's the way to travel"; enjoy the Seawall and Aquabus; nod approvingly at how this city engages itself with the ocean; and feel comfortable in a city lapped by waves. It all feels very relaxed.
Of course if you want to put on a bit of pace you can always have a coffee.
Believe me, you'll be spoiled for choice.
Orientation:
Take the lift 167 metres up The Lookout! located on Seymour and West Hastings to enjoy the view 360 degree view of the city, then walk down to Canada Place to pick up a hop-on hop-off Big Bus (CAN$34 per adult) for a city tour.
Places to stay:
Pacific Palisades Hotel, 1277 Robson St. Ph. 604 688 0461
This eco-friendly hotel has undergone an impressive upgrade and now has a breezy Californian feel to it thanks to the redesign by Cheryl Rowley from Los Angeles. Chic and boutique are the catchphrases here. Make sure you have an evening cocktail in its Zin Restaurant and Lounge, very stylish -- and the entrees are also exceptional.
If the Pacific Palisades is a bit beyond your budget the Tropicana Suite Hotel is more modestly priced hotel is just a few doors down the road, so you are still in the hip shopping district and will have more change to splash out on those cocktails at Zin. It's at 1361 Robson St. Ph. 604 687 6631 www.tropicana@ivancouver.com

Things to do:
Walk down Thurlow St or Burrard St to the shore by False Creek and along beneath the high-rises, take the ferry to Granville Island for a lunch, browse in the market and through the shops. Later take the ferry to Davie St and walk through trendy Yaletown.
Visit the Vancouver City Art Gallery, the Dr Sun Yat-Sen classical Chinese Garden and Chinese Cultural Centre Museum in Chinatown, the Vancouver Central Library, and Science World.
Take a sunset trip up Grouse Mountain by the aerial tramway to 1100 metres above sea level. Have dinner in one of the restaurants which specialise in seafood. Try the halibut.
What to buy:
Maple syrup, Mountie memorabilia (the apron is very cool!) , First Nations and Inuit art, vacuum sealed salmon marinated in ice wine.