Graham Reid | | 3 min read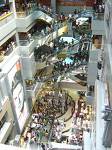 The day after I returned home from Thailand I went to a well-known menswear store on Queen St to buy a tie, not something I can recall having done before. But if a man has had a handsome black silk suit made by one of the thousands of high-quality tailors in Bangkok for a mere $260, a gentleman needs a tie.
When the friendly assistant in the menswear gestured toward a selection of business-like bibs I indicated I'd prefer something narrower.
"There is only the one size available," he said with a slightly sardonic smile. Then, unprompted - I certainly hadn't mentioned my Thai sojourn - he added, "This is New Zealand after all, sir."
He might have also acerbically added, "Welcome home."
Other than for food, alcohol and other necessities of life, shopping is not something I do locally. It's not for want of choice - aside from ties obviously - but simply because I have no disposition toward shopping as a pastime.
In Bangkok the shopping experience is something else - hence the dapper silk suit, the beautiful teak bookmarks, Buddha head, replica GEC fan and so on which came back in the luggage this time.
Bangkok is city where - if you get past the heat, horrendous traffic, obese tourists with bum bags sweating on the footpath and so on - shopping is a pleasure.
From the air-conditioned comfort of the dozens, no hundreds, of shops in the huge MBK building to the crowded labyrinths of Chatuchak Market (both easily and comfortably accessible by the BTS skyway system), Bangkok is a city where prodding through piles of cheap T-shirts, sizing up newly created antique Buddhist sculpture, and fingering silk or cellphones is a genuine treat.
For those who like something more approximating the Western-style of shopping, MBK near Siam Square (where you'll also find the rather more upmarket Siam Centre and Siam Discovery Centre with their Armani and Esprit stores) is certainly worth exploring.
You'll find most department store goods at MBK, which stands for Mahboonkrong, but shoes and reasonably good quality clothing here are especially cheap. You'll be spoiled for choice on CDs, DVDs and other hi-tech equipment, and there are some exceptional T-shirt shops where the designs are limited only by what the printers could appropriate from some other sources.
And when you get too weary you can head for the top floor for a cheap meal ($10) in the enormous food hall. A beer outside allows you to take in the sprawl of the city and graceful arcs of the BTS skyway system below.
It is the habit of well-dressed men carrying cellphones to want to direct you to other markets or tailors who will offer you "a very special price", but the Chatuchak weekend market is still the one to check out.
There's something for everyone at the sprawling Chatuchak which is in Mo Chit ("because there's mo' of it here than anywhere else on Earth," as the black guy behind me on the BTS observed with withering accuracy.)
Chatuchak is the place for bargains but perhaps not for animal lovers who may be appalled at the sight of cute but caged puppies in the extensive animal market section.
Go early to beat the heat although don't kid yourself you'll beat the crowd. An estimated 220,000 people a day weave through the alleyways which hold almost 9000 stalls.
Carry cash well stowed (ATMs are hard to find), see if you can find a site map (they are around, just ask at any of the entrances), and don't be afraid to bargain because that's the point and the pleasure.
Bargaining is easy. A technique I have perfected in collusion with whomever I am travelling is to enquire about a price then simply to laugh and turn away when it's offered. Let your companion linger while the hawker cajoles you to return. By the time you turn around the price will have dropped markedly and you should have a figure about half that first call as what you are prepared to pay. Offer something slightly lower than that, wait for the tears to subside and the offer to come back.
After a bit of to-and-fro you'll establish a price and, more often than not - because it's also polite and you'll get another "special price" - you'll buy the item and hang around for something else.
Everyone is happy and in many cases I've ended up having a beer at the end of the day with stall holders who only hours before had suggested I was trying to starve their families.
Patience is the key. Rudeness and shouting are unacceptable.
A good tip is to ask around a few stalls and compare prices then have exactly what you are prepared to pay in a separate pocket. Produce your offer and wait. The thought of immediate money works just as well on stallholders in Bangkok as it does on stockbrokers in New York.
On the streets, Bangkok bustles with shopping options: from the huge Banglamphu Market near the river to the numerous stalls in Asok underneath the BTS skytrain track, you can buy laser pens and walk-shorts, sandals and shotglasses, binoculars and Buddhist icons and wooden bookmarks with faux-silver tips (two for $2.30), shirts and copy-watches.
Get into it, it's all cheap, even when travelling with the New Zealand peso.
Oh, by the way, there are plenty of ties, too - of varying widths.