Graham Reid | | 5 min read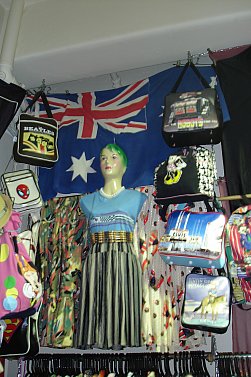 People like me -- men mostly, I suspect -- don't like shopping. We certainly buy things, but what some people call shopping seems to entail hours of looking with little to show for it.
That's browsing and that isn't me. I go to shops and buy things.
Sometimes very stupid things.
Which explains why I have a beautiful metal replica of Supercar -- from the 60s Gerry and Sylvia Anderson television show of the same name -- beside my laptop.
It's a boy's toy of course but, like the German-made black and elegantly conical thermos beside it, I saw it in a shop in Melbourne and knew my life was poorer without it.
As we know, Melbourne is the shopper's paradise. But everything I have read of shopping in Melbourne seems to involve fashionable frock shops, up-market department stores and expensive wine bars in the central city.
However there is an alternative Melbourne for shoppers and buyers alike which offers up rather more interesting and obscure delights . . . like Supercar and my '50s thermos, both of which I bought in the famous Chapel Street Bazaar in Prahran.
The Bazaar, a collection of 80 independent second-hand dealers, is the place where you hear yourself frequently say, "Oh, we used to have one of those when I was a kid".
The quality and condition of the goods is exceptional, and because storeholders usually aren't on the premises -- you buy at a central desk -- you get to browse unhindered. And browse for hours you will.
The Bazaar has vintage sunglasses, airline shoulder bags from BOAC and PanAm, 1940s valve radios in immaculate condition, retro and vintage clothing, glamorous glomesh and Oroton handbags and purses, stylish tie-clips and cufflinks, classic cameras, cutlery, chiffon, crockery, and just plain cool stuff.
Admittedly not everyone wants the complete set of Spice Girls dolls still in their original packages at $A200 (Posh looking painfully thin funnily enough) or even the Welcome Back Kotter set (a steal I think at $A350).
And much as you might admire the white leather and polished chrome Mies Van Rohe recliner at $A895, or the gleaming radiator from a 1950 Daimler ($A225) which would make a conversation piece if it was hung in your lounge, it is unlikely these will come back with you on the return flight. But there are hundreds, thousands in fact, of portable gems on display.
The extraordinary selection of ashtrays -- from a stylish Pierre Cardin in blue with a matching lighter to those on stands like boa constrictors or tabletop versions in the shapes of animals and plants rendered in glass, steel or mint condition Bakelite -- might make you mourn the passing of smoking.
The Bazaar is where you go for Robbie the Robot, bobblehead Beatles and Gumby toys; old and restored telephones in black, white and gold; classic movie posters and Viewmasters; lamps from the 70s, estate jewellery from the 30s and unopened Last Supper after-dinner mints.
Art deco, art nouveau, kitsch or classic, the Chapel Street Bazaar in Prahran has it all and is an essential shopping -- and browsing -- destination in Melbourne.
The suburb of Fitzroy is familiar to many travellers from New Zealand, and most understandably aim for popular and busy Brunswick St. But nearby Gertrude has a couple of choice attractions if you are looking for the unusual: Industria is a warehouse-sized store which specialises in "altered industrial, medical and commercial furniture, fittings, objects and lighting".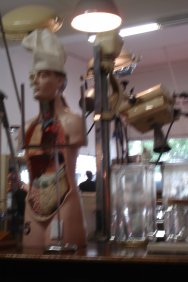 Admittedly not everyone wants a dentist's chair in their spare room (if you do they have a couple of nice ones) or even a street sign which reads "Non Conforming Area". But there is something fascinating in seeing medical equipment, spectroscopes, theodolites and old acoustic testing devices removed from their original context. They become curiously engaging, stand-alone art objects.
Across Gertrude is a shop which specialises in the more appealingly quirky, Shop Sui which stocks Asian kitsch and delightfully different toys and clothes for kids. My wife bought a t-shirt for brand new and much photographed nephew with the slogan "Talk to my Agent". It seemed appropriate.
Books for Cooks just up the road has more than 20,000 new, secondhand and antiquarian cookbooks so now you know where you can find that recipe for woodcock. In more well tramped Brunswick St is the famous, some might say notorious, PolyEster Books which bills itself as "the world's freakiest book shop". It specialises in underground comics, art books, counter-culture material and alternative books. This is where you come for something offbeat for that niece who seems to be going a little Gothic.
Brunswick St spoils you for choice when it comes to brash clothing stores -- the excellent Out of the Closet for new and vintage, Dangerfields where the music may be as dark as what is on the shelves -- but there are also more refined places here: San Churro Chocolateria will seduce with its selection and across the road is T2 which specialises in that most wonderful of drinks, tea.
Here you may taste and browse through over 180 different types from exotic blends such as those from herbs, tropical petals and nuts (the lychee is delicious) to bush tucker.
They offer advice on brewing in different styles and sell various tea sets, pots and cups (and Moroccan glasses), and Limoge tea services in elegant boxes.
With their teas vacuum-packed there is no excuse for leaving without a 500g bag of Turkish Apple, Almond Already or Carrot A-Go-Go.
A city the size of Melbourne -- population around 3.8 million -- can support boutique or unique stores such as T2. And a shop which stocks only buttons.
Buttonmania is in the beautiful Nicholas Building on Swanston St in the central city near the station. Built in the 20s the Beaux-Arts style, the Nicholas Building not only boasts a vaulted leadlight arcade on the ground floor but is also home to artists' studios (some open to the public) and shops like Buttonmania which has a button to suit every garment. And from hand painted buttons to those made of glass and ceramic, and others a century old, Buttonmania also acts like an art gallery in miniature. An unusual shop, but worth a visit.
Elsewhere in the Nicholas Building is Collected Works -- a friendly bookshop of rare poetry, fiction, philosophy and books printed by small presses -- and the eye-blinding Retrostar where vintage clothing comes in the styles of Swinging London and the day-glo of the hippie era, as well as more recent styles. Funny how the grunge look of the 90s is retro already, isn't it?
Those who prefer the more demure note struck by Buttonmania might want to pass Retrostar quickly and look to the more muted styles in the Kimono House.
So many shops to see in Melbourne: even if hip-hop isn't your style Obese Music ("Fatter Than Ya Mamma") in Prahran is worth a photograph; Cuisine World on Elizabeth St -- opposite Pen City which specialises in writing equipment -- will cater for your kitchen requirements; and a few doors away you may buy lively art prints at reasonable prices at the Outre Gallery, particularly if your taste runs to pulp art, tiki bar retro, Flintstones-styled graphics and cool but contemporary beatnik bohemian.
Yes, Melbourne offers more than those pricey frock shops or David Jones.
And I didn't even mention the enormous trash and treasure Sunday morning market in Camberwell.
No time anyway, gotta go. I just remembered they had a Fireball XL5 replica at the Chapel Street Bazaar. I need it to balance Supercar on the other side of my laptop.