Graham Reid | | 5 min read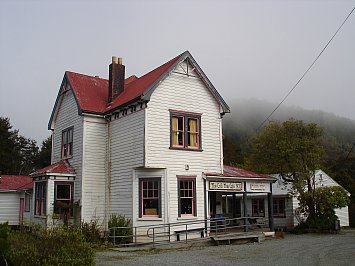 In small-town Blackball the locals have a saying: "Blackball, the centre of the universe . . . the part where nothing moves".
It helps to have a sense of humour when you live in the centre of a silent universe.
These days Blackball, less than half an hour inland from Greymouth, can only boast five major buildings other than the fire station: a general store, two hotels, the Workingmen's Club, and the famous Blackball Salami Company.
So there's more than a measure of truth in that witty phrase because Blackball appears to be dormant, a town which lost its heart and employment when the local coal mine closed four decades ago. For many residents there seemed little reason to stay and today empty houses or those in disrepair are apparent.
But first impressions can be deceptive because Blackball (population around 350) is undergoing a property boom and the old miners' cottages are being snapped up.
From behind the bar in the Workingmen's Club, Patrick sips his wine and talks of property prices tripling in the past five years.
But he would say that, wouldn't he?
"Actually it's true," says Lynette Hourston, manager at Harcourts in Greymouth. "A cottage valued at $65,000 five years ago now goes for around $165,000."
The office secretary produces papers to prove the claim. I do some quick maths and properties average around $190,000.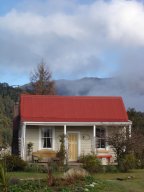 In lonely little Blackball?
The reason for the property boom is that sewage has at last been connected. And people from Nelson and Christchurch find the cottages of Blackball an economic holiday home within an easy drive of beautiful Lake Brunner where million-dollar houses now hug the shore around Moana.
Blackball, battered by economic gales as much as local weather, is coming into its own again.
The town isn't without interest either: there is fishing in the Grey River; hikes of varying degrees of difficulty through the surrounding hills; and its history is fascinating.
In 2008 celebrated the struggle of the miners' union a century ago and whose prime movers became prominent in the formation of the Labour Party in 1910.
The wide and empty streets of Blackball today might not suggest it, but this was a once volatile flashpoint. In 1908 strikers defied the foreign-owned, Christchurch-based mining company and the town wrote itself into the pages of New Zealand history.
Today that iconic photograph of Labour prime minister Michael Joseph Savage still graces the walls of the Workingmen's Club and the Club Hotel, where a sign outside betrays more West Coast wit: "For sale. One parachute. Only used once. Never been opened. Small stain".
Savage's photograph is also there in the most famous building in town, the hotel whose name reveals further wry Coaster humour: Formerly The Blackball Hilton.
Built in 1910, this creaking two storey hotel was first named The Dominion but in the 70s became the Blackball Hilton.
Visitors tend to think it got its name from nearby Hilton Street, but locals know better: it was named after the notorious Bangkok Hilton by its owners in the hippie years. I've already heard about the influx of alternative life-stylers in the early 70s so the name makes sense.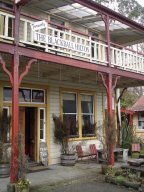 Surprisingly it took until 1992 before the hotel received the inevitable letter from lawyers acting for the famous Hilton Hotels chain. So the place was renamed: Formerly The Blackball Hilton.
We stay in this eccentric building where rooms appear to have been painted by addled hippies: one has driftwood décor; another blazes eye-popping yellow; whales swim down the blue walls of yet another.
One bathroom has black'n'white stripes (like blackball lollies) and at every turn there is some new diversion: a beautiful leather chaise longue literally on its last legs; hand-made dolls; landscape paintings and historic photos; a wall hanging proclaiming the many merits of West Coasters ("real Coasters can give you twenty uses for coal") . . .
It makes for a homely place and downstairs it is less a pub than an eccentric living room where people in the idiosyncratic bar-cum-dining area will just sit around the fire chatting.
A Barry Crump novels rests on the music stand of the piano, the walls are covered with posters, a reclining nude is stretched out above the spirit bottles, and there is the framed cover of Bill Pearson's sole novel Coal Flat which written about this area.
On the wall above the piano is today's menu: it includes chicken breast stuffed with local bacon, lambshanks braised in wine and tomatoes, rib-eye steak, pork loin chops and turbot fillets. Among the desserts is pavlova with kiwi fruit.
This is solid, old-style Kiwi tucker.
Locals are becoming increasingly aware of the importance of their town -- historically, and from those who pass through because their families came from the area. People are also moving into the town, and not just those buying holiday homes. They live here and work in Greymouth.
The town's success story is the Blackball Salami Company which now has an annual turnover in excess of $1 million, and produces prize-winning salamis, kosher pepperoni, half a dozen types of MSG-free and glutin-free sausages (including Italian, Polish and Chorizo), various pastramis, patties and small goods. The company sends its products to the Chathams, all over the South Island and is now making in-roads into Auckland.
They also sell t-shirts which read "better a Blackball than a Jaffa".
Aucklanders would be unwise to take that seriously, it's just that people here are proud of their town -- and prepared for new residents and tourists.
"You tell everyone that this is one of only two round bars in the country," says Patrick from behind his oval post at the Workingmen's Club, where Pepe the dog has its own membership card.
"And tell them they're all welcome here."
FACT FILE
Blackball is 20 minutes from Greymouth along the Blackball-Taylorville Rd which runs along the northern banks of the Grey River. It is approximately three hours to both Nelson and Christchurch, and an hour from Hokitika.
Accommodation: Formerly The Blackball Hilton built in 1910. Ph 03- 732 4705 or their website
Things to do locally: hikes include the famous Croesus Track (named for the fabulously wealthy 5th century BC Greek King Croesus) which was the original supply route to and from Barrytown on the coast. The 18km hike across the Paparoa Range takes at least day, there is a DOC hut about halfway. Be prepared for changes in the weather.
Fishing: for brown trout and salmon in the Grey River and its tributaries, or at picturesque Lake Brunner 30 minutes away.
Exploring the old mines: It is possible to take a guided or self-guided journey through old tunnels around the town. Ask a local.
Blackball also has skateboard park, swimming pool, tennis courts and a bowling green. And the Blackball Salami Company.
Historic Buildings: The readily available, illustrated information sheet Historic Blackball provides a useful start for a walking tour of the town's old buildings and miners' cottages. Be sure to see what is now the Blackball Community Centre. This impressive three-storey building with a turret on the way to nearby Roa was formerly the Blackball Mine's manager's house and has a C classification from the Historic Places Trust. It was built in 1910 and given to the community in 1958.
Pick up a copy of Historic Blackball ($10), a well illustrated history of the town and district put together by locals.