Graham Reid | | 2 min read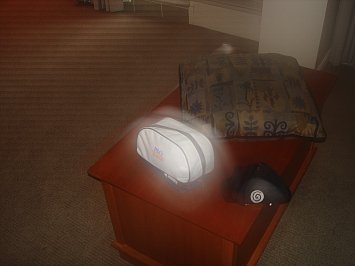 As with most people who fancy themselves as a glamorously casual traveller -- able to pick up and run when a flight becomes available -- I would, for many years, pride myself on how economically I could pack a bag.
Regular and brief trips to Los Angeles, Sydney or Melbourne made me skilled in the art of leaving things out. A weekend stopover to interview Arnold Schwarzenegger in Hollywood or some rock band in Melbourne was hardly worth packing for: a change of socks and underwear, another shirt, some toiletries and that was it.
I usually travelled with everything in a briefcase – which of course raised curious questions from Customs on my return home and the inevitable lengthy wait while they re-checked the battered case for some hidden contents.
But I always argued you needn't carry most things – certainly not a towel or t-shirts – because the places you go will have them, and usually dirt cheap.
Recently however, when packing for a fortnight around various parts of Malaysia I looked at the contents of my small suitcase and noted the most space-consuming object in it: the toilet bag.
Let me say that at 56 I am not some gentrified metrosexual, there were no skin balms or expensive aftershaves. There was, in fact, no razor.
What I had was a toilet bag stuffed with pills, medicines, just-in-case things my wife insists I take, tubes, small tubs of unfamiliar creams, and what I call Other Stuff.
Let it also be noted I keep excellent health: my blood pressure has always been alarmingly good, my bones don't ache nor my back hurt. And ever since I left regular employment in central Auckland where I would indulge in a weekly steak lunch while I did "research" on journalism assignments, my cholesterol level has fallen to the point my doctor now smiles at me.
But still I seemed to have a very large bag of potions, so I emptied it onto the bed to
see what could throw away.
I need the Lipex to keep something heart-related in order, and the Thyroxin because I have an under-active thyroid (or maybe it's over-active, it's been so long I forget which).
Because I can't spend as much time in the sun as I used too – Oh, for the pre-teen
years when I'd spent 10 hours on a beach – I also had a tube of Factor Something Big to spare my flesh the ravages of the boiling tropics. Then there was toothpaste, a hair brush, some heavy duty insect repellent because I was going up-river into the mosquito-filled jungle, a packet of Panadol . . .
Some years ago I met a man who had suffered a stroke a decade before. It had taken him five years to learn how to walk and talk again. He was only a few years older than me, so when he said taking the equivalent of half an Aspirin a day could ward off such a misfortune I took him seriously.
So I carry them too.
There were also the things my wife put in: Tiger Balm, plasters, things to bung you up or unstop you . . .
Years ago I would have objected to these, but experience tells me she is invariably right. She also has the good grace never to say "I told you so" when applying a plaster she is carrying to some wound I have incurred while walking in the desert, or offering something to assuage a hard-earned hangover.
But I looked at all this stuff spread out on the bed and knew I had to get rid of something. Just one thing and I would be satisfied.
So I ditched the packet that could make for an even more event-filled trip: the anti-diarrhoea pills.
After all, as my well-travelled Dad used to say, what's life without a wee risk?
.
Travel safe . . . and in 2023 don't expect your luggage to arrive in the same place you do!