Graham Reid | | 15 min read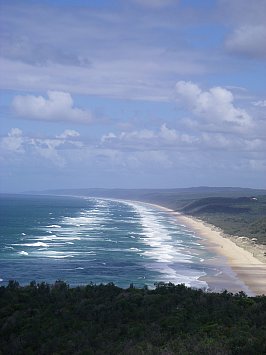 There are things you do on holiday you'd never contemplate at home: like careering around a race track with your backside just centimetres above the tarmac.
I'm throwing my go-kart into S-bends, accelerating out of corners, feeling the simultaneous rush of fear and laughter as I hit the hairpin too fast . . .
I don't usually do this but here on the Big Kart Track just 20 minutes from coastal Caloundra it comes naturally.
The course -- the country's largest commercial go-kart track -- is a challenging 1.2 km of chicanes and hairpins. Today there are just a few teenagers, a family group and myself. After a cautious first lap I'm filled with foolish confidence and put my foot down, skidding towards the tyres on the trackside and wishing I'd gone to the gentle circular track the wee kids use.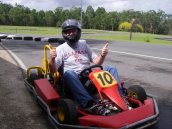 The Big Kart Track has been here for 25 years, testament to its enduring popularity with families who make up a large percentage of its visitors. It also has the advantage of a famous neighbour which draws visitors and locals to the Sunshine Coast, and when I hang up my helmet that is where I head: the Australia Zoo made famous by the late Steve Irwin, just five minutes away.
The cult of the Irwin family -- there's a marble sculpture to Steve on the shore at Mooloolaba -- and recent family issues commanding tabloid attention can take nothing away from the zoo itself which is beautifully landscaped and offers vast spaces for the animals.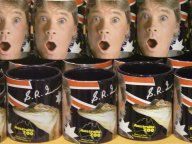 By day elephants have an open range the size of a rugby field and at night are taken to a huge plane where they roam freely. Similarly the magnificent white rhino has an enviable acreage to enjoy.
Australia isn't short of land so the Australia Zoo can expand steadily. There is the new Asian area, and soon it will have a massive Madagascar island sanctuary set aside for impossibly cute ring-tailed lemurs and other animals.
Another admirable feature -- aside from its world renown animal hospital, research aspect and preservation of the gene pool for endangered animals -- is that children (and big kids like me) can have hands-on animal experiences: feeling the thick hide of a white rhino; sitting beside a 50-year old Galapagos tortoise (which will be here long after we're gone); hand-feeding lemurs . . .
For children these are importan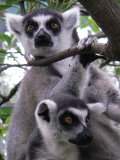 t steps in understanding that "animals are people too" and deserve our respect and protection.
Yes, there are rides, displays, stores of Irwin product, and cool places to sit and eat lunch while being eyeballed by a croc. Not the most comfortable experience.
Exotic parrots, otters and foxes, feeding the elephants, stroking a spiny echidna (only in one direction, obviously!), colourful cassowaries, magnificent tigers . . .
What can you say but "Crikey"?
Just 15 minutes away from Australia Zoo is Aussie World, an old-style but modern fairground with a Ferris wheel, bumper cars, rides with 50s rock'n'roll music, a roller coaster and much more. Children can safely wander while adults have a sit-down, or take in the Ettamogah Pub right next door, the only pub in the world based on a cartoon.
For more than 30 years Ken Maynard drew an on-going series of Post magazine cartoons of rugged rural types with the wonky Ettamogah Pub as the backdrop. And 10 years ago it was built, crooked walls and all.

Decorated with some of Ken's artwork, it's right beside Aussie World and you can't miss it. It's the only Australian pub with a car of the roof. Probably.
If you're hungry, their steak sandwich can fill a big hole.
I'm never keen on a live encounter with what might end up on my fork, but after two fine meals of barramundi (Tides in Caloundra which boasts a great harbour view, and the excellent Fish On Parkyn in Mooloolaba) at Suncoast Barra Fishing Park near Bli Bli I had my chance to catch one.
Formerly a jet boat racing circuit, the three lakes at Suncoast are now stocked with various fish (very big barra among them) and Dave Clarke guarantees you'll catch something.
This is catch-and-release fishing (unless its a beauty you want to take home, for which you pay extra) and Dave has an interesting patter for when you haul in a barra and want to get the hook out: "They don't have teeth so just shove your thumb right into it's mouth . . ."
Fortunately my big fellah got away at the last moment, sparing both of us the whole thumb-to-mouth scenario. But I played whole games of rugby without seeing the ball, so I had a great day by the lake just watching family groups, teenagers and serious fisher-folk pulling in their catches. I left suntanned and relaxed.
For me, a fish could actually spoil fishing.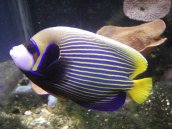 But if you want fish then Underwater World in Mooloolaba showcases colourful tropical varieties, exotic sea horses, playful otters, crocodiles and sharks, and has an 80 metre transparent tunnel with a moving walkway running through a packed oceanarium with three distinct ocean eco-systems.
The brave can do a shark dive or the less menacing seal encounter, but I was happy to take photos of the aquarium in a car: A Fish Called Honda, of course.
Kids love the seal show, the marine encounters with fish and the new creepy Crawly Creatures area (massive spider crabs, things which looked like they've escaped from the Alien movie) and the stingrays.
Take the "Behind the Scenes" tour at this ever-expanding attraction which allows entry to the hospital (they were repairing damaged turtles) and see how the whole operation works. Fascinating for all the family.
PERFECT TRIO: FOOD, WINE AND ART
I'd only been a few minutes in Tony Gill and Jane Caraffi's Art on Cairncross gallery near Maleny in the mountains when I bought a glazed seascape dish by acclaimed Brisbane-based artist Yvonne Bouwman. And I had to stop myself from buying some gold-glazed porcelain by Johanna de Maine whose delicate work references Gusta Klimt, the triangles of mountains and sails, and Chinoiserie. Just beautiful.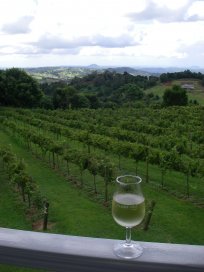 Equally striking were the dramatic masks of Michael Taylor which owed a little to Venetian carnival masks but had a hard 21st century edge to them.
When I thought of the Sunshine Coast I didn't consider galleries but here in the Blackall Range -- on a well-marked tourist drive offering spectacular vistas -- were dozen of small galleries showcasing the diverse work of inventive artists.
Tony explains that just as alternative lifestylers in the 70s moved to places like Nimbin in New South Wales and Kuranda above Cairns, so too many came to these mountains. A counter-culture developed -- now manifested in creative art and crafts -- and gentrification has meant fine restaurants have opened. Towns such as pretty little Maleny and fascinating Montville -- with bloodlines of German and Scottish settlers -- thrive as artistic communities while catering for tourists and those escaping Brisbane for getaway weekends.
This region has dozens of B'n'Bs -- from Tibetan-themed to traditional English cottages and those of modern design -- and rural retreats such as Tallowood where half a dozen spacious, contemporary bungalows are peppered discreetly between the trees and have commanding views over ponds and bush. My alarm clock was a squadron of colourful birds. It's a measure of how tragically urban I am that I initially thought they were car alarms.
The Hinterland is an unexpected aspect of the Sunshine Coast.
Here too is Flame Hill Vineyard near Montville and a light lunch with a glass of their Summer Wine on the spacious deck with widescreen view is the perfect way to spend a couple of hours.
New owner Sharon Hogan, with a background in the arts and academia, offers a warm welcome in the tasting room. Flame Hill's cellar shop with a small but sensible selection, its offices, conference room and spacious patio are in a massive homestead recently converted for these purposes. With their restaurant application being processed I'd guess this will be one of the region's most popular lunchtime and dinner spots.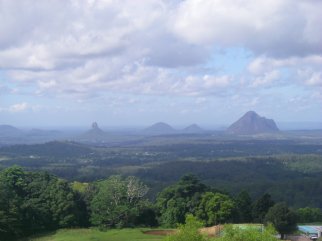 Special mention should be made of Reserve Restaurant across from Tony and Jane's gallery which boasts Australian, French, Italian and New Zealand wines and a superb menu. This is sophisticated dining and you should put the wine match into the hands of one who knows, and Mimie (from Paris, Burgundy and Montpellier) was the one: a sparkling Taltarni from Victoria (a crisp blend of chardonnay and pinot noir) to start and with each dish two excellent suggestions to choose from. Mimie is charmingly enthusiastic, and makes the difference between a dinner and a dining experience.
Dine at Reserves, you won't regret it.
Because I like cooking I booked for the Ginger Factory Cooking School in nearby Yandina. Here acclaimed chef Andrew Strange -- previously co-owner of Ellmo's in Maroochydore which won 33 awards in six years -- conducts small classes and his easy enthusiasm demystifies the most complex dishes. Over a couple of hours we made sweet pumpkin pie, prepared Thai-style fish, stuffed kangaroo sausages by hand and then enjoyed the results over wine and cheery conversation.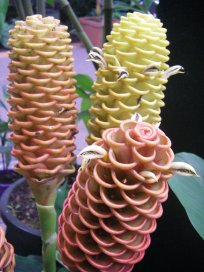 Afterwards I joke with Andrew about having a few true blue Aussie blokes who'd come for lessons in how to barbecue.
"You can't predict," he said. "I've presented courses I thought would mostly draw women or older people, and exactly the opposite has happened. All I want people to get is a willingness to go home and try something.
"I know what it's like: you come home from work and can't be bothered so order a pizza. But in the time it takes for it to be delivered you could have made yourself something much more interesting and better for you, and had a glass of wine doing it."
True. Dialling a pizza is off at my place for a while. I'll stuff my own sausages -- and know what goes in them.
WATER AND ADVENTURE: FAST JET SKI, SLOW PADDLE AND A LONG BEACH
Speed is relative as I discovered at the Big Kart Track where 40 kph seems much faster at ground level than in a car. And the same speed on a jet-ski is thrilling.
It was mid-afternoon when I met sun-tanned Brendan McMahon of Caloundra Jet Ski who has the sole operating licence for jet-skis in the northern Pumicestone Channel between the mainland and Bribie Island. It takes him three minutes to explain how his comfortable, classy and quiet jet-skis work (you turn them on and go, actually) and then we're on the water.
When he signals "pick up speed" for a few seconds my jet-ski rears like a waterborne stallion. Terrific. As we speed down the channel I stretch so the soles of my feet are tickled by spray.
I follow in Brendan's wake and he throws some sharp turns, further on he signals we stop and circle out water-horses. On our right are the distant and oddly shaped cones of the Glasshouse Mountains; all around is still water, native bush and wildlife, what looks like a picnicking family of pelicans and the occasional fish jumping. It is beautifully silent.
"Welcome to my office. Hard to believe, but Brisbane is just 60 km down that way," he says gesturing across the flat surface, "and Caloundra is about 15 minutes up the other way.
"This could be Kakadu," he says referring to Australia's most famous National Park.
Brendan has brought me on his popular Glasshouse Twister Tour and loves telling English tourists how those pinnacles, cores of extinct volcanos, got their name. Captain Cook saw them from Moreton Bay and they reminded him of the glass houses of Coventry.
"They must have peculiar glass houses in Coventry," he laughs, then we feel the silence again.
"You can't put a price on quiet," I say as an osprey circles above. It is the perfect end to a wonderful afternoon.
Early one morning I get a similarly ideal start: on a quiet section of the Noosa River, coasting between million dollar properties, I learn to paddle surf with Harry from Stand Up Paddle Surfing.
Harry, a former surfer who has damaged his back, says this is ideal exercise: you stand erect and use upper body strength; your stomach muscles are tightened; and you can glide across smooth water without a care in the world.
Not entirely true: when a boat goes past I get caught in its wake and enjoy my first dunking. But if the worst that happens is you fall into warm water that's fine.
Harry notes the sport -- which I've seen in Hawaii -- was brought to Australia by his company's boss, champion surfer Chris de Aboitiz who can stand-up paddle in six-metre waves. I'm happy enough in calm water watching the world around us drift by.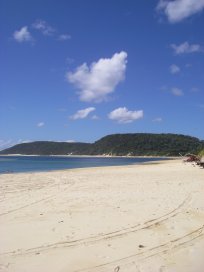 Within the hour I'm on another beach, a seemingly infinite, pristine, largely deserted 75 km strip. We're cruising down it in a four-wheel drive with Tim Mackew who moved to Australia from England with his family three years ago to start a new life. He bought Noosa Safaris and now happily takes half a dozen people at a time up this white sand strip that is Teewah Beach north of Noosa to the remote lighthouse at Double Island Point.
For a recent migrant Tim is exceptionally knowledgeable about local fauna and flora, the meaning of aboriginal place names, and local history. During our information-packed drive we pause to climb aptly-named Red Canyon where sand takes on the colours of iron oxide, and later the spectacular view from the lighthouse reduces us to wind-blown silence.
After a drive through a rugged forest track we arrive at beautiful Rainbow Beach where he finds us the best spot for lunch and a swim.
"This is a 'Where the bloody hell are you?' moment," I observe to much laughter.
Then it's into the sub-tropical Cooloola National Park -- part of the Great Sandy National Park, which has been nominated for World Heritage status -- where giant eucalypts grow in sand, lace monitors and brush turkeys patrol the forest floor, and the massive roots of blue quangdong trees and enormous strangler figs command camera attention.
We walk a section of the park listening to the shrill birdlife then Tim whisks us back to Noosa. It has been a rewarding and rare day, very different landscapes within a few hours, and explains why so many have come to this stunning region.
For a more sedate look at the waters around this area there are the Cruz Away River Tours options in Mooloolaba which have featured on the television programme Getaway. You can choose a fish'n'chips lunchtime cruise, sunset cruise and a two-hour eco-cruise among others.
The more you travel the Sunshine Coast the more there is to discover. As Tim has said on Teewah Beach, "This is a champagne drive, there's a bit of fizz about it".
Fizzing all over, I reckon.
And that Cooloola bush experience sets me up for the Blackall Range an hour away where I take on a small section of the Sunshine Coast Hinterland Walk near Kondalilla Falls.
In the early afternoon -- the birds having a kip after lunch -- the bush is as silent as the moon, and just as unfamiliar. There is a spaciousness here we don't have in New Zealand forests and the air, while cool, is still warm enough to be comfortable. The path is not arduous and the Festival of Walks event running on weekends from late August into early September should be well patronised. The Hinterland offers a selection of rainforest and mountain walks, ranging from 20 minutes to several days through scenic subtropical rainforest, open eucalypt forest and past picturesque waterfalls.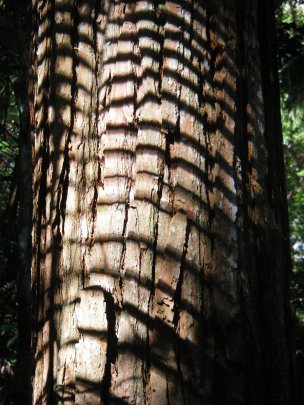 For a small sample of the environment try the Mary Cairncross Scenic Reserve near Maleny, 55 hectares of largely untrammelled subtropical rainforest overlooking the dramatic Glasshouse Mountains. Bequeathed by the Thynne sisters to the public in 1941, the reserve (with an education centre and two kilometres of level walking tracks) offers an insight into Hinterland fauna and flora, and if luck is with you -- as it was me -- you may see a red-legged pademelon (imagine a small 'roo) which is shy and ridiculously cute.
The Hinterland with its small towns, parks, walks, spectacular views, excellent restaurants and interesting galleries is a very special part of the Sunshine Coast.
EVENTS AND ENTERTAINMENT
Kieran McLaughlin, the golf pro at Crowne Plaza Pelican Waters Golf Resort and Spa near Caloundra, makes an interesting observation of this world-class course designed by Greg Norman: "You don't often see trees growing out of bunkers."
Or see kangaroos sleeping in them. Or find lace monitors on the path in front of your GPS-included buggy.
Pelican Waters is a very different kind of golf course and more than 150 species of birds have been identified here. The real attraction however is Norman's course which, as Kieran observes with wry wit betraying his Limerick upbringing, is "challenging but fair, you flirt with the water". There are the tricky placement of bunkers, the dog-leg fairways around the waterways and narrow greens.
Attached to the Crowne Plaza Hotel -- which offers golf packages and golf/spa options for guests -- this public course draws locals (among them Norman's parents who live nearby, and the Great White Shark when he's visiting them) but also a steady stream of international guests. It is a circular course -- every hotel room has a balcony with a fairway view -- and the 18th hole is the most difficult.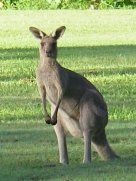 "That's been Norman's signature in course design," says Kieran, who admits it makes that 19th hole in the clubhouse or the hotel bar more rewarding.
I have a coffee with the hotel's sales and marketing manager Lachlan Rentell who, as with everyone I have met, doesn't regret moving to the Sunshine Coast. Looking at his hotel it's obvious why: a spacious lobby (with a waterfall down one wall) which opens onto a deck and pool area which in turn draw the eye to the lagoon and the green of the fairways . . . Beautiful.
The hotel not only offers the golf, spa and family packages (special buses can take kids to Australia Zoo), but there are night races at the nearby Sunshine Coast Turf Club which are popular, even with those not much interested in horse racing. Add in a beautiful beach and shopping in Caloundra just minutes away -- not to mention fine dining at Tides on the Esplanade -- and you can see why he and Kieran feel especially blessed.
Golf is big in this part of the coast: the handsome Hyatt Regency in nearby Coolum hosts the Australian PGA in December.
And if you are in the region for golf, the beach or anything else this part of the Sunshine Coast offers have dinner at Harvest in Coolum Beach. The food is divine and let them choose the wine match. A treasure.
REFLECTIONS
Late one afternoon, eight floors up at the Mantra Mooloolaba Hotel, I pour myself a drink and look at the darkening ocean pounding on the rocks. Two yachts drift past.
This feels like a special, relaxing moment.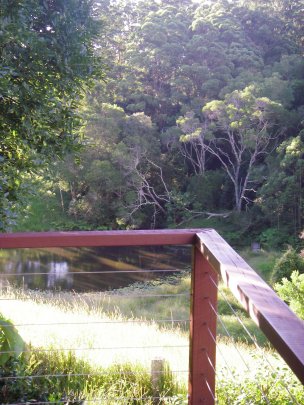 A similar mood embraces me at Eumarella Shores on the banks of Lake Weyba near Noosa where I sit with owner Bill Tainsh whose cartoonist father Doug drew the famous "Cedric" series for over 50 years, reproductions of which are in my room. We chat about this restful, 100 acre family property where many trees are over 200 years old. The following morning the rumble of the distant ocean rolls across the still lake. Another special moment.
Yet another comes at Montpellier Boutique Resort in Noosaville where I laze care-free in the cool pool, and again on my final night after dinner at Reserves when I sit on the deck of my bungalow at Tallowood/Whispering Valley Retreat, the black sky speckled bright with stars.
And again at the Novotel Twin Waters Resort at Mudjima Beach just south of Noosa. Set between the Maroochy River, the ocean and wrapped around a salt water lagoon -- so it's actually a "triple water" resort -- the resort has 365 luxury rooms in long low-rise buildings designed in the manner of traditional "Queenslander" homesteads. The extensive gardens between have a tropical, Pasifika feel. I walked around taking postcard-perfect photos.
The Asian-style lobby boasts a soaring timber-framed roof, restful water features and comfortable lounge areas, and you could park a frigate in it and still have room to move.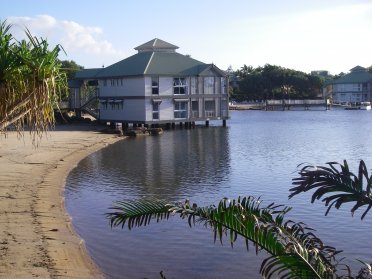 The hotel offers numerous activities (water-oriented but also archery, pelican and fish feeding, cricket, tramping, golf and more) and has an excellent spa in a suite over the lagoon. A special feature is the Cirque Espace where circus performers teach children, adults and team-building corporate groups acrobatics and trapeze work. Good fun.
Twin Waters is a rare and restful place, and the Queen stayed here during the 2002 Commonwealth Heads of Government Meeting held in nearby Coolum. A family-friendly hotel fit for a queen no less. No jokes about the "royal thrown" I was told.
On each occasion in these lovely places I was aware that somewhere beyond the horizon is New Zealand, just a few hours away. But in those precious moments it seems a world away from the Sunshine Coast.
So near, so far.
For more information on Queensland's Sunshine Coast go to Tourism Queensland or Queensland Holidays.