Graham Reid | | 4 min read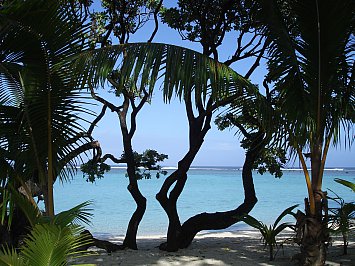 Three hours drive south of Bangkok -- on a typically terrifying journey of close encounters and near-misses along the highway -- is the town of Hua Hin, little more than a shop-lined wide spot in the road for some tourists, and ignored completely by most others.
But while the islands of south-east Thailand are becoming a clutter of beach bungalows and young players from Europe looking for a Full Moon Party -- and you are likely to run into your neighbours in formerly quiet islands like Ko Samet and Ko Chang off to the east of Bangkok -- Hua Hin is steadily coming in to its own.
The area has all the cliches we love about Thailand -- friendly people, beautiful beaches, temples in the hills, cheap bars and good restaurants -- but it also has something more: a lack of sleaze and the cachet of a royal blessing.
Hua Hin, with a population of around 35,000 today, was where the Thai royal family built their summer palace in the 20s and would regularly retreat to. Even now the king and queen spend much of the year in area.
It may no longer be the quiet fishing village it once was but there is still something of an undiscovered quality about the place. Ask yourself: have you ever heard of it?
I hadn't until I turned up to wander its beaches and streets, and luxuriate in one of the finest hotels it has been my genuine pleasure to be indulged by. I came home having achieved very little other than a tan, a working knowledge of elephant polo, and carrying a few extra kilos.
Hua Hin has gradually been taking off as a tourist destination -- there are now English-language monthly news-sheets -- and along the beaches and in the cool hills resorts are springing up. But not that far up.
This being the domain of the king there has been a moratorium placed on high-rises so those few fingers of ferro-cement and international hotels dotting the horizon on the left of the main road as you head south will be standing lonely for some time to come.
Good, because the pace of Hua Hin and its rural hinterland which bumps up against Khao Sam Roi Yot National Park is to be treasured for it leisurely pace. Hua Hin and its surrounds is the kind of place which slows you down. No more so than when you slip into a pool at your hotel, or sit eating the local seafood at night in the town or the many beachfront restaurants.
The town itself isn't much, just the usual aggregation of cheap tailors and electronics shops, restaurants and a market which comes alive at night. And there are still plenty of modest accommodation options in and around Hua Hin.
Comfortable mid-range hotels go for around $30 to $40 a night, usually with discount for long-stays. But it's the high end which is being especially well catered for.
The Anantara Resort and Spa, the new Veranda Resort and Spa, Springfield Village Golf Spa, the Hua Hin Golf Village, Casa del Mare and others aim for those who have the money to luxuriate in secluded and quiet rooms, often with a private pool just outside the bedroom door.
Hua Hin is also getting in to the luxury apartment market. An example: $1500 a week for a two bedroom serviced apartment 50 metres from the beach with a pool and cable television.
For those who want to get just that little further out of Hua Hin the beach-kissed Evason Spa and Resort 40 minutes south through the countryside takes some beating. Here you can idle away your days beside the huge pool or swim in the warm ocean, watch the squid boats at night, or be massaged into pleasurable unconsciousness in the on-site spa. And despite there being 145 guestrooms spread through the five separate low-rise complexes, the tropical setting of gardens and pools, wooden walkways and spacious dining areas make the place quiet and restful even when fully booked.
There are gentle spaces for walking, tennis courts, an archery range, vegetable and flower gardens, and sensibly no cars are allowed past the main gate.
From there small and silent electric vehicles transport guests to the main entrance, an airy lobby which belies the beauty which lies beyond.
The Evason chain is scrupulously environmentally friendly: even the flowers you see on the tables and in your room are not plucked from the trees but only picked up from around the property. Chefs use herbs and vegetables from the on-site gardens (you can join them and learn about how to use specific herbs in your own cooking should you wish) and in the holistic Six Senses Spa, where ancient Ayurvedic principles are combined with modern knowledge, you can be pampered and massaged, given facials and beauty care, and explore herbal remedies and natural juices to get that jaded and battered body back in balance again.
Or you can just lie back in the saunas and steam rooms. This is five star luxury which also has an extensive wine cellar with a selection from 16 countries, a DVD library of over 300 movies (DVD players are standard in all beachfront and pool villas, and available on request in other rooms) and there are three separate restaurants on site.
The semi al fresco main restaurant by the beach serves breakfasts (yes, Vegemite is available), lunches and superb dinners.
Frankly I was defeated by the size of my squid dish one evening. There is also the appropriately named Other Restaurant which looks across a lotus pond to where musicians play nightly, and on the beach there is a wood-fired pizza oven and barbecue facilities where the guest chefs will cook the fresh fish that is delivered daily.
The Evason is also child friendly: the Just Kids! Area has its own swimming pool and entertainment programme for little ones, and supervised sleepovers can be arranged on request.
The Evason doesn't just let you lounge around and get lazy however -- although I won't hear a word against a room with a pool where you can lie around naked and unseen, and roll into the cooling water at regular intervals.
But should you wish to tone up or get physical they can arrange sailing, windsurfing and snorkelling trips, and offer mountain bike and hiking options. Or of course visits to local sites like the royal palace.
I never made it there, I couldn't imagine the king and queen could live much better than where I was right then.
My suspicion is people mostly go to the Evason to do what I did: lie around, swim and then at the end of the day sit on the upper floor of the open air bar and gaze vacantly at a blue ocean turning turquoise then black while someone brings you drinks.
The genial manager liked my idea of a writer-in-residence scheme as their point-of-difference in the luxury hotel market. But unfortunately I never heard any more about it.
The Evason Hua Hin Resort and Six Senses Spa defines itself by its exceptional service and attention to detail. You end up taking photographs of small things like lotus plants in the corners, the shimmer of clouds reflected in the pool and lizards sunning themselves or under the lights at night while waiting for a fly-by meal.
The extraordinary thing is that while this kind of sumptuousness is indulgent and discreet, nearby is a newly opened and even more private Evason spa which is one step up the ladder in luxury.
If that is possible.
For other travel stories by Graham Reid, see here for his two award-winning travel books.