Graham Reid | | 2 min read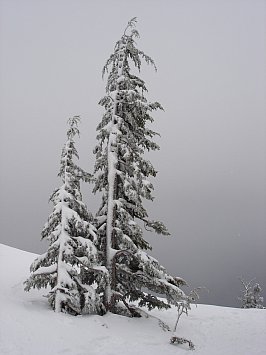 Just a guess, but the hygienically pretty town of Mount Shasta on the side of the snow-capped peak of the same name in northern California has more post-hippie residue -- herbal healers, clairvoyants and metaphysical mentors -- than anywhere else on the planet.
And they are the normal ones.
In Mount Shasta, population around 4000, there are those who believe a mysterious race called Lemurians live inside the mountain.
These mystical beings are, apparently, survivors of the ancient continent of Lemuria which -- stop me if this sounds familiar -- was in the area now covered by the Pacific Ocean.
Just before the cataclysm which wiped out their land mass some Lemurians migrated to California, Oregon and Washington state. According to local legend they live inside the mountain -- in the 5th dimension, of course -- and are a peace-loving people. Which is just as well because if they had a few beers, got a mood on and took it out on Mount Shasta locals they could wipe out the world's largest deposit of massage therapists and crystal healers.
The Lemurians, and I am not inventing this, were reported to have been seen with reasonable frequency before 1940. They were, of course, tall and dressed in white robes and, according to a 1932 magazine article, "possess the uncanny secret knowledge of the Tibetan masters and, if they desire, can blend themselves into their surroundings and vanish".
I don't know how many people in Mount Shasta believe in Lemurians. Or in the Yaktavians who are also said to live inside the mountain and have a mastery over sound and vibration. They possess a huge transparent bell which is invisible until you get with 18 inches of it. True.
But whoever lives in the mountain it seems to be good for tourism in Mount Shasta where bookshops bear names like Golden Bough, Middle Earth and Crystal Wings.
Yes, Mount Shasta is one scary place.
People come here to be healed, to pursue "wellness", or to have sessions with Beth Beurkens, a shaman whose brochure identifies "the symptoms of soul loss" as feeling disconnected, experiencing numbness, and feeling stuck in a recurring pattern.
All malaises the bored middle-classes have become good at self-diagnosing.
Beth will track and retrieve your lost soul for you. For a fee.
If you've got time away from the massage couch or the retreat at Wellspring (where Sharon offers live blood cell analysis and blood crystallisation testing) you might want to undertake the most common therapy of all: shopping.
Mount Shasta also offers that. Soul Connections, whose "mission is service to each soul walking the spiritual path" will happily sell you sound healing tools, Tibetan supplies, ethnic musical instruments and jewellery. They also have a Sound Table, "a wooden table with a built-in harp tuned to the sound vibration OM".
Mount Shasta isn't my kind of place, just being there made me feel uncomfortable. Women without make-up but with glowing complexions smiled at me unnervingly. We had arrived in Stepford and all the wives were modelled on a young and loopy Mia Farrow.
What takes sensible people to Mount Shasta in the exquisitely photogenic Cascade Ranges is the mountain itself. Regardless of who or what may dwell within it, the 4300 metre peak is exceptionally beautiful. It was described by the 19th century poet Joaquin Miller as "lonely as God, and white as a winter moon".
]It felt like that as we headed for the peak through petals of falling snow. At the limit of our passage, the road blocked by drifts some two metres high, we crunched into a landscape of scattered, skeletal pines and listened to the silence. Not a Lemurian within earshot.
Later we left the lonely white mountain and drove back to town. We filled up with petrol, and health foods like pre-packaged beef jerky and Gatorade, then got the hell out of that disturbing, wellness-obsessed little piece of heaven with its crystals and clairvoyants, and sad folks searching for their lost souls.
We headed up Highway 5 to somewhere that sounded more my kind of place: Weed.
For other travel stories at Elsewhere, see here.