Graham Reid | | 5 min read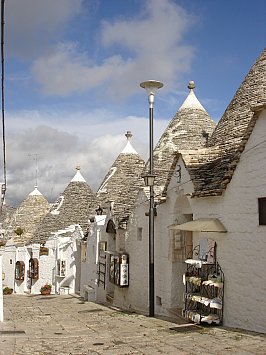 The undistinguished slice of autostrada is almost deserted. Just us, and a gun-metal grey Mercedes -- a minute ago but a dot in the rear-view mirror -- disappearing into the distance ahead.
We're in no such hurry so pull off to the Adriatic Coast which has been somewhere to our right this past hour as we have driven up this east coast of southern Italy
The dismal motels and camping grounds are closed, wind-blown rubbish piles against fence posts and skeletal, salt-burned bushes. The Adriatic is a frigid blue-green, the empty beach brushed by an easterly flicking up harsh sand.
Summer is ending and although the watery sun is still warm, people are back at work and tourists have gone home.
Oddly enough, this is a good time to be in southern Italy.
A week ago we were the only guests in our 60-room hotel in Sorrento. We had the sommelier, waiters, kitchen staff who tested new dishes on us, and the chatty manager all to ourselves. We all laughed and drank well into the night. And last night at Lecce in the heel of Italy's boot there was only us and a few longhaul truckers in the low-rent bar-cum-restaurant. Southern Italy isn't like the postcard world of the north.
Up there is the playground of those seeking an Art Experience: Renaissance paintings and frescoes by Big Name Artists, Roman amphitheatres and swaggering aqueducts. In that comparison the south can't compete.
Villages here can be unglamorous rather than charming, and port cities like sprawling Taranto bristle with bleak industrialism. Casual tourism isn't handed out freely here as it is in Florence and Venice. You work for the rewards and, because the few attractions are far-flung, you need a car.
But this visibly poorer part of the country offers less familiar diversions than a famous Leonardo or the Colosseum. Like Castel Del Monte, a massive, octagonal 13th century castle built on a remote hill near the pretty coastal port of Trani. Or Lecce with its brain-scrambling, absurdly overwrought baroque architecture.
Not everything in the south is quite so captivating however.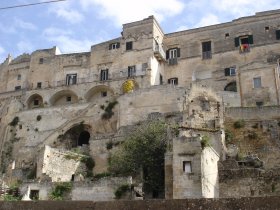 In Matera are the sassi, cave dwellings carved into cliffs, where a peasant culture -- with infant mortality of over 50 per cent -- lived in abject poverty until only 60 years ago.
Three days ago we peered into rough-hewn holes where people and animals lived in co-dependent misery. It was depressing.
"You like this very much," says a young man in the piazza later, gesturing towards the sorry sassi.
We've been watching a crazy guy shout abuse at strangers.
"Yes, interesting," I say with a courteous evasion.
"I think so. Very nice." He walks away and we go back to the car. Even the autostrada will be better than this.
Our real destination is Alberobello, the capital of the Trulli region in the mountains halfway between Lecce and Bari.
The town dates back to the 15th century and the centuries-old trulli -- quaint round and conical stone houses often painted with Christian or magical symbols -- are the chief, in fact the only, attraction.
"There is nothing to do in that place," one of the truckers in Lecce tells me with shrug of disgust. "You just walk around and take photos."
That's probably true, but trulli -- constructed so they could be quickly dismantled when the taxman came demanding a levy on buildings -- intrigue me. They were built without using cement or mortar, just level upon level of flat stones in two parallel layers. The thick walls meant these homes and storehouses were cool in the oppressive southern heat and insulated against the winter cold.
Trulli houses are practical and, frankly, adorable. Especially the whitewashed ones which Alberobello -- which has Unesco World Heritage status -- use as a tourist magnet.
We leave the autostrada and drive to Alberobello through a steadily rising terrain of orderly olive groves and almond trees. The town announces itself with ugly retail outlets and chain stores. We park in an empty piazza with a spectacular view across an enormous blue-tinged valley, then a typically Italian thing happens.
Three immaculate carabinieri have set up a roadblock across an access road to the trulli. They lounge in the sun, affecting disinterest in the few pedestrians who see them then seek another route. But we amble straight past them. They don't even shift within their pressed uniforms let alone look at us.
Along this road the town -- its distinct sides once separated by a river long since gone -- opens up before us. To the east is the new part with its ferro-cement buildings, ugly apartments and a few hundred trulli, many still occupied as family homes. On this side however is an undulating suburb of over 1000 trulli, blazing white under the clear morning sun and painted with their curious symbols. Their pinnacles offer primitive designs -- a six-pointed star, a cross atop a globe -- and the effect is disconcerting and mystifying.
Some of the symbols -- like the cross in a circle with rays radiating outward -- blur the line between pagan and Christian. Others refer to Mercury and Saturn. These people hedged their bets.
Photographs from the 20s show chickens once ran free in these streets and even now some shopkeepers live in their trulli. But you get the impression most of it is a pleasant but beguiling facade.
Today the place has a Toy Town ambience: the tidy trulli are squat and orderly; the spotless streets are narrow; and the planter pots and uncluttered displays of chintzy plaster replicas of trulli have a whiff of Disneyland. It is a town-cum-gift shop. Cuteness is endemic, the effect only spoiled by draping powerlines, but the trulli are kinda cool.
"I could imagine living in one," I say, "if it weren't for the thousands who tramp through in summer."
On this day however the streets are so silent we unconsciously speak in whispers.
Alberobello, the trulli part anyway, is manicured but still curiously rustic, and the odd symbols add a veneer of mystery to Toy Town. We amble around for an hour, buy almond liqueur in trulli-shaped bottle, and then lunch at a cramped trattoria inside a trullo. To leave we have to do the "mi scuzi" thing to a dozen people.
There is much standing up and awkward moving of chairs in the tiny space.
"I couldn't imagine living in one," I say once we are outside.
We walk the streets again and take photos, just like the trucker said we would.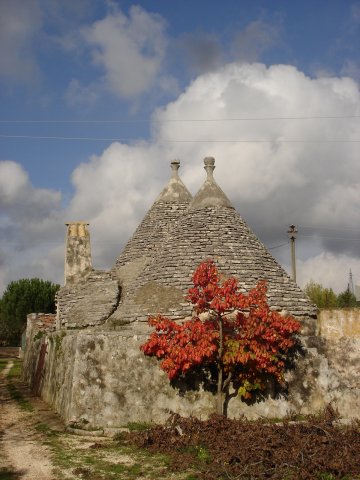 In the late afternoon we pass the carabinieri, still lolling lazily, as thick clouds close over this jewel -- or more correctly, buffed rhinestone -- of the south. The trulli glow romantically beneath the deepening blue of the sky.
I point the car towards the coast, the road rising and falling through rolling hills now being whipped by a chill wind.
Then, unexpectedly, we come upon dozens of abandoned and crumbling trulli in the darkening groves and valleys around us.
They look forlorn and photogenic.
But we don't stop.
The on-ramp to the autostrada is up ahead.
.