Graham Reid | | 8 min read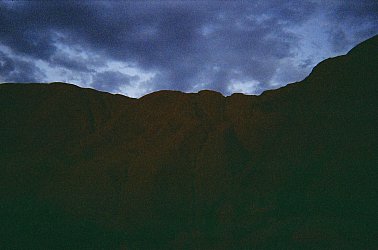 For me there are two ideal kinds of lie-down, totally relaxing, long weekends away with a good book. The first and most obvious requires endless tropical warmth and hours of sunshine, and a beach or pool within waddling distance of the deck chair and buffet.
The other is . . . Well, it's sort of what we got when we went to the Golden Sands Beachfront Apartments at Cable Bay in Northland.
Rain which keeps you indoors is the perfect excuse to curl up with that book, but the weekend we went to the winterless north it was something else.
Creeks swelled to rivers, cows huddled in paddocks, mist came down from the hills to the edge of the road, and the wipers were constantly on high speed. Ducks were smiling.

As we passed through Kaeo where someone from Auckland had recently bought a Lotto ticket with a street value of $18.5 million I fancied they were enjoying the tropical version of my ideal lie-down.

No matter, we aquaplaned through torrential rain and cold to a beach which everyone I had mentioned it to spoke highly of, and was envious of our long overdue weekend break.

We pulled up outside the Golden Sands which was right on the beach -- enormous waves thundering just beyond the wind-whipped palm -- and as Debbie handed me the key she assured me the view across the wide span of otherwise invisible Doubtless Bay was usually spectacular. I consoled myself with the thought that while we wouldn't be digging for tuatua at low tide, going windsurfing or fishing with Pieces Carters, or sailing with Danny and Yvonne of Teddy Bear Charters -- or indeed doing anything else on the list of possible activities supplied by Rosemary of Golden Sands -- at least plenty of reading would get done.

Then the umbrella blew inside out.

The Golden Sands apartments -- two bedroom self-contained units with large patios -- are right on the beach and discreetly tucked in a corner of Cable Bay. From the ranchsliders on a clear day -- as we would discover -- there is nothing to see but picture perfection.

But on this day of permanent twilight across the gun-metal grey sea and sky there was no good reason to venture beyond the couch and blanket.

So we went to a winery.

I had called ahead to Karikari Estate which is part of the 3000 acre Carrington Golf owned by American millionaire Paul Kelly, with the idea of lunch and a glass or two to fill the wet'n'windy hours.

By good luck the phone was answered by Mark Rose who used to be one of the owners of Cheers on Auckland's Wyndham St, a former restaurant and bar (now Chinese fast food joint of course) right across the road from the Herald where I worked.

Cheers had once been my second home for far too many years.
Mark was now general manager at Carrington and invited us over for a tour of the property which was directly opposite us across the bay.

Carrington is not only an impressively beautiful piece of headland, but unlike so many other developments snapped by offshore money isn't over-developing.

Sure the lodge accommodation takes advantage of the location and there is a world class 18-hole golf course for those who like to walk and hit small balls at the same time. There is a skeet and trap shooting area, two grass tennis courts, mountain bike trails and all the usual healthy (and spa options) you'd expect in a top-end retreat.

But elsewhere the gorse has been cleared and native trees replanted, and 900 acres of former wetland near the deserted coast is being returned to its original state to attract back native birds and assure the survival of the endangered New Zealand Dotterel.

An eco-friendly estate -- with lodges and villas -- Carrington also proves an adventure as we haul around the rugged roads in a huge four-wheel drive.

Later -- over a platter of locally produced meats and cheeses, and glasses of Karikari's multiple award winning 2004 merlot, malbec and cab-sav blend in the winery's tasting room -- Mark explained his plans: open up the huge wooden doors to take advantage of the view, add more rows of vines, expand the entertainment area inside the massive wine cellar so people can dine and have weddings among oak barrels imported from France . . .

Then the lights go out. The rain has stopped, but so has the power.

We carry on our late afternoon conversation by candlelight for a while, say our goodbyes to Mark who has 30 guests coming for dinner in the dark, and drive back through the gloomy dusk to our rooms with a (possible) view.

Green foam is blowing across the grass and two-metre high waves form well off shore.

It is dark and old at 6pm and there is nothing to do -- no lights, no television, no way to use the thoughtfully provided stereo -- so we go to bed. This weekend of relaxation is working out better than I had thought.

A few hours later we dress by the torchlight from our cellphones. We are hungry but of course, other than a few books and a change of clothes, we have brought nothing with us. Tonight we'd planned to go to the Waterfront Cafe in nearby Mangonui, but they don't have power either.

Debbie arrives like an angel in the night. She is bearing candles, a torch, a huge bowl of hot vegetable soup, a loaf of bread, and butter.

She tells us the power is off all over. I tell her our last getaway weekend out of Auckland was to Paeroa -- and it bucketed down there too. We're just lucky like that, I guess.

We wolf down the homemade soup and play charades by candlelight. My song title How Can You Believe Me When I Say I Love You When You Know I've Been A Liar All My Life is topped by Megan's impossible film title, To Wong Foo Thanks For Everything, Julie Newmar.

This is fun, but it's late. About 9pm. In Auckland we'd be going out about now but around here there is nowhere -- at least nowhere illuminated -- to go. We go back to bed again.

Around 11pm we are awoken when the lights come on.

Dawn. A kingfisher on a log, tui in the flax, two surfers riding the smooth waves. Beautiful.

There is no rain, it is clear and welcoming, the view is extraordinary. This is the winterless north we had been promised. It is still chilly however.
Nothing else to do but go for a swim.

I have always loved swimming in the ocean -- mid-summer, mid-winter, it's all the same to me -- and this mid-morning refresher reminds me again of how fortunate we are in New Zealand to be so close to so many different kinds of beaches. I'm thinking on all this as I bob in the surf, unwittingly getting dragged along the shore towards the black rock.

It is cold when I get out and nothing could be better than a hot shower.

So I buy an icecream.

I don't recall when I stopped buying pies and ice-creams as a matter of course, but these days they seem to have become treats, although I agree with the American writer Ambrose Bierce whose Devil's Dictionary defines a pie as "an advance agent of the reaper whose name is Indigestion".

But the ice-cream from the Cable Bay store takes me back to childhood when you could play on the beach all day and never think about sunburn or food.

The weather is improving and it is looking like an ideal day to stretch the legs and breathe deep, to get some exercise.

So we went for a big breakfast at The Galley on Waterfront Rd in Mangonui where the free range eggs, locally made lamb and rosemary sausages and excellent coffee set us up for a waddle around the historic town.

Mangonui is, like most mid-sized New Zealand towns these days rediscovering its own history for fun and profit. The tourist office provides brochures by the dozen, but we choose the heritage trail and admire old kauri buildings, former halls, villas, cottages and schools, and buy a newspaper at the old wharf store.

It is fascinating, not the least being the décor in the office of the Esquire Motel which betrays an Elvis obsession.

In the afternoon we drive around the district and take photographs of pretty things, and then go to the famous Swamp Palace cinema in the Taipa Hall.

We aren't really interested in seeing March of the Penguins, but the quirky Swamp Palace -- locals $10 and Aucklanders $15, which with parochial logic presumes all Aucklanders are fat-cat property developers -- is an experience: the old hall surrounded by the warm smell of cattle shit has a few dozen seats in the mezzanine, an amusingly thin sound system (you don't come hear for surround-sound blockbusters, and a large screen hanging in the middle.

Kids in the audience love it, adults remember the time that . . .

Afterwards we have a terrific if long overdue dinner at Mangonui's Waterfront Café where chef Paul conjures up everything from very acceptable Vietnamese prawn salad to bluenose fillets and pork loin with red cabbage.

By the time we get back to the Golden Sands it is chilly, and nothing else for it but to curl up with that book which had so far gone unread.

But instead we sit on the patio wrapped in blankets and gaze silently into the black night at a thousand pinpoints of starlight.

It is our final morning in Doubtless Bay and before we head to the Seabreeze Bakery in Taipa for their pecan pies which Rosemary has recommended (and she was right) we are ambling through Mangonui.

A guy I once knew bails me up. He looks eerily healthy and says he moved up here from Auckland and is just lovin' it, mate.
"You come up to buy a Lotto ticket, have you?" he laughs in reference to the big win at Kaeo.

Oddly enough we have bought a Lotto ticket -- and promised ourselves if we have a win we'll definitely come back to picturesque Cable Bay and enjoy the view from the Golden Sands Beachfront Apartments.

When the power is on and the sun shining, of course.
This is the full version of a story which appeared in the New Zealand Herald in October 2006.