Graham Reid | | 5 min read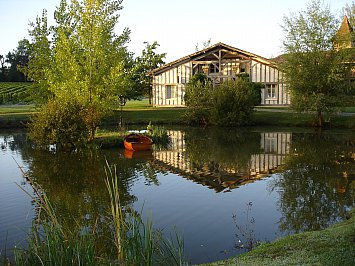 As I looked across the manicured box-hedge to the garden where peacocks ambled, and then on up the orderly rows of grape vines marching towards the 18th century chateau, the thought occurred to me: if the prettiest part of Paradise -- with a cellar of more than 15,000 wines -- were transported to our world then it would look exactly like this.
The thought didn't linger however because my lobster casserole arrived and we began toasting our day with glistening glasses of gently yellowed wine.
We were at Les Sources de Caudalie, a vineyard-cum-spa and luxury hotel 20 minutes from Bordeaux.
The advertising for this garden of earthly delights -- where you come to be pampered by day and indulge in exquisite food and wine by night -- notes there is no English translation for the word "caudalie".
Yet over lunch one of the directors, Alice, youngest daughter of the owners Florence and David Cathiard, offers that it is the unit used by wine lovers to measure the aftertaste of a vintage.
That being the case Les Source de Caudalie has an excellent, subtle, warm and lingering taste.
The story behind this remarkable place -- which has only 49 guest rooms, no two the same -- is fascinating, and Caudalie's very existence unique in the Bordeaux region.
Over pre-dinner drinks the previous evening I had been talking with Thibault Despagne, a wine consultant for various chateaux in the region, and speculating on how many similar spa-hotels there were in the area.
"None," he said emphatically. "What you see here is an unusual -- but most happy -- coincidence of good wines, an excellent chef and kitchen, a rare sommelier -- and of course the spa."
He helped himself to another glass of hefty red wine from Les Sources' Smith Haut Lafitte range and continued, "But it was not always so, you know. This was not such a good vineyard once and the owners were not sensitive to the land. But now . . ."
He swept his hand towards the giant sculpture of Venus de Milo by the American artist Jim Dine which stood in the centre of the lines of vines. It was catching the last rays of a golden sun.
"Now, this is a very beautiful place and it produces wonderful wines."
As we went down to dinner from the patio of the dark leather comfort of the cigar bar on which we had been enjoying the dusk I reminded myself, this is what Thibault -- a competitor -- says of Les Sources de Caudalie.
Others have been equally effusive: in 2004 readers of Conde Nast Traveller magazine voted Les Source the fifth best complex in the world, and number one in Europe.
Les Source has also won first place in the Great Wine Capitals wine tourism awards, and its spa's detox and weight loss treatments featured in Elle. Its restaurants and wines have won plaudits from Wine International.
But, as Thibault said, it was not always so.
The recent history of the 55 hectare property -- dating back to the Crusades, which explains the fleur de lys on the wine labels -- is the story of the Cathiards who in the late 80s fell in love with Chateau Smith Haut Lafitte, named for the Scottish navigator George Smith who purchased the estate in the 18th century.
The estate had passed through a number of hands -- including that of a former mayor of Bordeaux -- until the Cathiards saw it.
Both Daniel and Florence Cathiard were members of the French ski team in the 60s but had channelled their energy into business: Daniel inherited a small grocery store from his parents and over time grew it into a retail chain, and they founded the European sporting goods chain Go Sport. Florence moved into advertising and became a vice-president for McCann Erickson Europe.
But by the late 80s they were looking for a new challenge and they saw it in the then-run down Chateau Smith Haut Lafitte and the vineyard attached to it. They cashed up their former lives and started over in Bordeaux.
The fact they knew nothing about wine and even less about running a working vineyard -- which at the time was turning out average wine in bulk according to my source Thibault -- didn't stop them. In 1990 they bought Smith Haut Lafitte and proceeded to work their magic.
They abandoned the practice of using pesticides and chemical fertilizers, explored organic methods of grape production, and reverted to the often abandoned -- and expensive -- practice of picking the harvest manually. Their aim was excellence.
Today its wines are consistently rated among the best from the region.
But the Cathiards wanted Les Sources to be much more than a viable vineyard, and luck was on their side.
As they rebuilt sections of the property -- for authenticity using vintage timbers salvaged from other local properties -- a chance discovery sent them in a new direction.
They observed that vines in one particular area of the estate were producing poorer quality grapes and a water diviner found a natural underground hot spring of high quality mineral water in that location.
This discovery lead to the development of their spa complex. Then in 1993, in another chance circumstance, when daughter Mathilde and her husband Bertrand were at the chateau during harvest season they met the head of the nearby Pharmcognosy Laboratory. He was astonished to see them throwing away the grape skins and seeds.
This residue from the wine-making process, he said, contained valuable polyphenols which can be used in anti-aging cosmetics. And so the Caudalie range of vinotherapie products -- which includes moisturisers, anti-oxidants, cleansers, shower gels and shampoos -- was launched in 1994.
At Les Sources' spa complex is where you may indulge yourself in a wine and honey body wrap, or a merlot wrap, or perhaps bathe in a wine barrel of fresh and finely cut grape extracts to exfoliate and soften the skin. Or you may take in a whirlpool, a body loosening massage using Caudalie's fragrant products, simply laze in the Jacuzzi or one of the two pools -- indoor or outdoor -- after a spa.
After a soak in a hot-tub then a grape seed and organic oil massage, I had a jet shower and flopped down on a sun bed by the pool, preparing myself for dinner and contemplating just how far Les Source de Caudalie had come in such a short time.
By 2001, little more than 10 years after the Cathiards had bought a run-down chateau and a failing vineyard they had established Les Source de Caudalie as we see it today: a beautifully landscaped vineyard with a 4-star luxury hotel, spa, gymnasium and pool complex; and two world class restaurants in La Grand'Vigne which offers a gourmet menu of sensual pleasures such as caviar, grilled duck foie gras, and whole lobster. The other restaurant, in a country inn-style building, has food prepared in a traditional French rural style.
It is in the latter, La Table du Lavoir, where we are enjoying lunch with Alice and her rugby-enthusiast husband Jerome, both of whom have degrees from the Bordeaux Business School.
Yes, business is good and their reputation is spreading they say -- but no one pretends it is easy.
Bordeaux famously has a glut of wines and so Les Sources' point of difference has to be the consistent excellence of their product. That takes time and money, and the following day when we tour the vineyard we see the effort involved.
We have come at harvest time and a dozen pickers move slowly between the rows looking for only the best grapes. These are taken and sorted again for blemishes and ripeness, and then the process begins in the huge barrels -- made on site to Les Sources' specifications -- and in the underground cellars beneath the chateau.
That night after dinner -- chef Franck Salein thoughtfully has a gourmet menu of fewer than 500 calories for those who come to trim down -- we amble around the silent duck pond, through serene gardens which by day are ablaze with colour, and back to our room in La Grange au Bateau, a building designed in the style of an old boathouse.
Life feels like it has taken a holiday.
A few days later we drive down the flower-filled lane where we cycled only yesterday. We pass the Barry Flanagan sculpture of a leaping hare which could be a symbol of the vitality and enthusiasm the Cathiard family has bought to this beautiful place.
It is a strange and sad feeling to see a piece of Paradise disappearing in the rear-view mirror.
FACT FILE
Les Sources de Caudalie is 20 minutes south of Bordeaux airport and railway station.
For further information: www.sources-caudalie.com
Reservations information: 33 (0) 557 838 383
Les Sources de Caudalie is a member of the Small Luxury Hotels of the World association: www.slh.com