Graham Reid | | 4 min read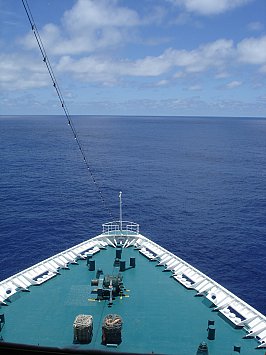 The day before our Pacific cruise a brief news item caught my attention: a volcano in Vanuatu was spewing ash and thousands of villagers were being evacuated amidst fears of a major explosion.
Maybe our restful cruise to Vanuatu would be more dramatic than anticipated?
The following day as we cast off from Auckland few other passengers seem to know about this alarming event, and when the band struck up the theme from The Love Boat even fewer seem to care. It must have been the cocktails.
And there were cocktails aplenty aboard the Pacific Sky on our 10-day trip which took in three day-long stops in Vanuatu and one at Lifou, part of New Caledonia.
Between times there would be days of a sapphire blue ocean and breathtaking sunsets. And maybe an active volcano.
As Auckland's city skyline recedes the Filipino band Muzzik Unlimited launch into a medley of Abba and Buddy Holly, and a bizarre twist on the Beatles' I Saw Her Standing There with the hilariously mispronounced line, "Now I'll never dance with a nutter . . ."
There was a party atmosphere on the Promenade Deck and people danced, laughed, ordered more cocktails, and waved at sea birds and the Sky Tower.
Unlike air travel, which is abrupt, on a sea cruise you feel the gradual physical separation between that old world of your daily life and your new surroundings.
Hours will go by and you search the sea for something, anything. There is, happily, rarely anything except maybe a flying fish, a suggestion of something beyond the heat haze, or the trickery of the waves which appear to throw up shapes.
It can be slightly surreal also. Somewhere off Whangarei -- the land draped by a long white cloud -- a sign floated past which read, "Take care of pedestrians approaching from the left". I looked across a sea as flat as Galilee but no one was walking on the water. It was the only disappointment of the trip.
With around 1200 passengers and 600 crew the Pacific Sky feels like a small town afloat. Or more correctly a buoyant hotel-cum-entertainment centre with a cinema, showroom, restaurants, bars and a 24-hour pizza parlour.
It has its own daily newspaper of on-board entertainments, television channels, in-house currency (dangerously, you put everything on your cruising card), and there are signature cocktails like Island Affair (Midori, Cointreau, Blue Curacao, pineapple and orange juice, and cream). At $6.50 people drink more than one.
Some say cruising is for the unadventurous, a holiday designed for the intellectually lazy or the physically indolent. Yes, cruising does appeal to those with limited mobility or people who take a good book on board to fall asleep over in a deck chair. But are we not allowed our escapism too?
Different boats for different folks, I guess.
Maybe in this age when people fear silence and fill it with muzak some get bored by endless hours of ocean, or are frightened of being alone with their thoughts. But maybe their need for amusement, great sites or shopping reveals a boredom with themselves? There were however plenty of diversions on the Pacific Sky.
On the first day I meet crew member Christian. He is young and fizzing with excitement despite only arriving in Auckland from Heathrow the day before. This is his first cruise. I ask him what he did in England.
"I was at a Butlins," he says, referring to the famous British holiday camps. "I was a Red Coat."
And there is a Hi-De-Hi component to this cruise. There are classes in ballroom dancing, cooking, vegetable carving and landscape drawing. There's a Friends of Dorothy event (appropriately held in the Rainbow Room), game shows, art auctions and sports events. You could go to the library or internet room, play cards or shuffleboard, or just sit and chat with former strangers.
Of course, you can ignore any and all of these. I never saw the gym, spa or went on the jogging track -- but did join in a conga line one night at dinner. Meals -- in either the Savoy or Regency rooms, or at the open-air Outback Grill -- are landmarks in the long lazy days.
Our first stop is Mystery Island, little more than a ragged grassy runway surrounded by the almost transparent ocean of tropical fish, and people from the nearby island selling craftwork. I watch a string band playing traditional music. They are lead by a powerfully-voiced 14-year old kid in a Billabong t-shirt who plays a homemade ukulele. Another guy bangs tuned bamboo stems with a jandal. They are entrancing -- but the warm sea and snorkelling also beckons.
The other stops in Vanuatu -- Port Vila and Luganville -- are punctuation points in the voyage where you may take pre-arranged day trips: Vila is charmingly post-colonial and there is an odd delight in picking up a newspaper written in English, French and Bislama (pidgin); Luganville is quieter and more attractive, but equally sleepy and with as little to buy unless you like colourful shirts and ethnic things carved from wood.
We spend the morning at beautiful Lopi Beach where local kids in an outrigger play in the crystal clear waters of a river.
The highlight is Lifou where the sky is alive with butterflies. We take a day trip to a century-old church, sit in a paramount chief's meeting place and some village women cook us chicken in the traditional manner.
Then we snorkel at a beach where turtles and rainbow-coloured fish weave between the bright coral, and walk to the lovely but lonely church on the hill overlooking the bay where the Pacific Sky sits beneath us like a postcard. Perfection, beneath a cloudless sky.
It was a place to lose track of time.
One day mid-voyage, after watching the curvature of the earth for hours and drifting into dreams, I had to go to the purser's office to check what day it was.
We came home to our other life: tanned, rested and ready to get stressed all over again.
Oh, and the volcano? Don't know. Forgot all about it -- it, and so many other things.
Isn't that a sign of the perfect escape?
FACT FILE FOR YOUR AMUSEMENT
On a 10 day cruise the Pacific Sky the kitchen typically gets through 2100 dozen eggs, 4200 tea bags, 2800 litres of milk, 1750 kilos of fish and 1400 kilos of rice. The automatic dish washers deals with 10,000 plates, 8,000 glasses and 12,000 items of cutlery every day. Meals are prepared by a team of 65 chefs, pastry cooks and bakers. There are 41 waiters and 40 junior waiters and 16 buffet stewards.
The passengers consume 630 cartons of beer, 140 cartons of wine, 70 cartons of spirits and 525 cartons of soft drinks on a cruise of 2829 nautical miles (5239 kilometres).
I did my best to drink my quota of the wine and beer.