Graham Reid | | 3 min read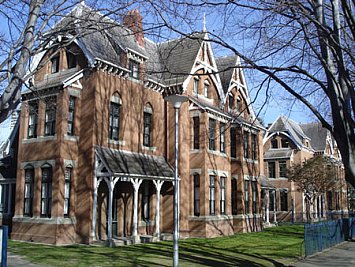 To be honest, I'd only been to Dunedin twice previously -- and I left early both times. A few years ago I spent a night there on my way to somewhere else, and when I was 17 I arrived as snow turned to soggy sludge in a cutting wind. I fled to the airport after an utterly miserable couple of hours. I should have liked Dunedin better on that first damp encounter: I was born and brought up in Edinburgh after which the city is named.
But a decade in warmer Auckland air had softened me, and bone-freezing bleakness no longer seemed interesting.
So I was relieved to spend a couple of days recently in Dunedin when a pinch of spring warmth had ruddy-cheeked locals greeting each other with smiles, upturned palms and glances towards the blue canopy above. At 10 degrees it was hardly balmy, but people lunched in the Octagon as if they were in the Mediterranean.
However the sky was cloudless and so with my coat pulled tight I explored this city founded by morally erect and businesslike Scots, which was home to Janet Frame, James K Baxter and numerous other literati, and became the crucible for Flying Nun bands in the 80s.
By chance as I wandered through university grounds ablaze with cherry blossom I saw Graeme Downes, formerly of the Nun band the Verlaines. These days he's Dr Downes and lectures in classical music, but also helms a contemporary music course. He took me through the cramped but character-filled music department housed in an 1878 building which was once home for two of the university's original professors, and -- a few blocks from the main campus -- a recording studio modelled on the famous Abbey Rd studio where the Beatles recorded. It is a marvellous facility, one of the city's little-known treasures.
Later I ambled off to look at Dunedin's unique architecture which, in the words of British philosopher Felipe Fernandez-Armesto, is "a marvellous mirror, reflecting Victorian and Edwardian Britain from as far away as it is possible to get".
These elements are visible everywhere: from the familiar Gothic Revival-influenced First Church of Otago which pierces the sky like some Victorian rocket, to the breathtaking railway station -- which celebrated its centenary in 2006, and contains the fascinating Sports Hall of Fame -- with it's confidently solid and towering exterior, exceptional stained glass windows with train motifs, and ceramic tiles. This was rail as religion.
Elsewhere however a 1910 seven-storey building on Bond St echoes the brownstones of New York and Chicago, and the old New Zealand Rail building which is now part of the impressive Otago Settlers Museum is pure Art Deco.
It is not only the old that impresses: the magnificent university library, opened in 2002 and designed by Adams and Dodds Architects, breathes modernity. With natural light pouring in, the gently curved mezzanine feels open and airy. There are subtle column effects on the exterior to acknowledge the city's quasi-classical architecture, and the building is low so it doesn't impose itself on the skyline.
The Otago Museum across the road -- which deservedly wins tourism awards -- had a Scarfies exhibit acknowledging Dunedin's student culture. Here was a mock-up of a typical Scarfie flat -- discarded pizza cartons and beer bottles, empty teacups with dried teabags in saucers, a frayed couch -- and there are important cultural artefacts like Marc Ellis' blanket which he carried from flat to flat and to games at Carisbrook.
There is a cookbook for students (Bacon is Not A Vegetable), a beer can mounted on "gravel from the fabled terraces of Carisbrook", and on a loop tape mayor Peter Chin recalls his days as a student. He probably glosses his recollections, but you suspect some things weren't that much different back in the 50s -- although fewer couches were burned. A photograph shows graffiti which reads "Let's all play middle-class intellectuals".
It was an amusing exhibition which appeared to legitimise the students' misbehaviour and grubby flatting in that brief period before they leave to become middle-class intellectuals.
By accident I discover the beautiful Bennu, a bar-cum-restaurant which boasts an interior cupola through which light floods onto the handsome bar; and eccentric Octagon Books nearby which doesn't have a phone or credit card facilities, and the cash register still rings up pounds, shillings and pence. This was my kind of bookshop.
Later I sought out another iconic Dunedin site, Records Records which until recently was run by Roy Colbert, a mentor for many Dunedin rock musicians.
Here was a motherlode of old vinyl which I loving explored and turned up some essential albums to tote home, among them songs in praise of Mao Tse-Tung (including the popular hit "Mao Tse-Tung's Thought is Incomparably Bright"). I also bought an album by Scottish entertainer Sir Harry Lauder (1870-1950) because my parents used to sing his A Wee Deoch An' Doris when I was a bairn.
I felt very Scottish again wandering the quiet streets of Dunedin where names conjure up that distant place of my birth: words like Leith, Clyde and Corstorphine (the suburb in Edinburgh where I lived as a child) resonate nostalgically for me.
My father used to laugh that the statue of Robert Burns in the Octagon has his back to the kirk (church) and facing a pub. And he does, on this fine day looking directly at lunchtime drinkers outside an Irish pub, The Craic.
The following day I amble around the Octagon again and note that even on this bright day there is ruddiness in cheery local cheeks.
By coincidence I am standing at the plaque to Witi Ihimaera on the Artists' Walk with lines from one of his poems about this friendly and architecturally fascinating city I shamefully realise I have discovered far too late in life.
"We are in another country/Scotland/where brass bands play . . . And smiles shiver and snap in the cold".