Graham Reid | | 4 min read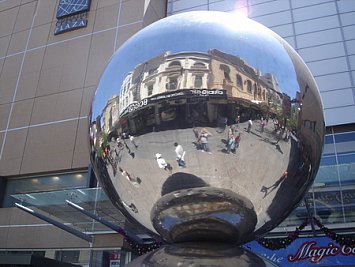 The young man behind the counter at the Art Gallery of South Australia gets talking as I'm buying a catalogue. He comes from somewhere else too but has been in Adelaide, a city with a population approximately that of Auckland, for over a decade.
"I haven't seen a traffic jam for 11 years," he says -- and as an Aucklander I add that to the long list of things to like about this city where the roads are so wide you could turn an aircraft on them.
"Actually they were designed for bullock carts," says a chatty cabbie as he takes us to the beach where people amble along the boardwalk, lie in the sun beside interesting public sculpture, or pose behind sunglasses at one of the dozens of outdoor restaurants and bars.
I love beaches, but we have them too and although the Clare Valley beckons -- doesn't every Australian city have a wine valley within striking distance? -- I have found the art galleries and museum more interesting.
Adelaide, the fifth largest city in Australia, is one of its well-kept secrets.
"We don't brag about it so they don't come," says the cabbie as we cruise past houses whose owners have an unnatural affection for white garden statuary, Roman columns and brush fencing. "We like it that way."
Days later as I am checking out from the exceedingly comfortable and appropriately adjectived Majestic Roof Garden Hotel on Frome (although the roof garden isn't much cop) I say to the woman at the desk how much I have enjoyed her city.
"Thank you, but don't tell anyone," she says with a laugh.
She may, or may not, have been joking.
And perhaps this explains why I -- and many New Zealanders I suspect -- had never been here before: I just don't hear that much about it.
Certainly it has all the usual things that make it generically Australian: a pedestrian mall; an impressive botanic garden; strips of restaurants (Sosta the Argentinean place on East Rundle gets my vote), excellent book shops (Mary Martin near Sosta is worth a look), funky stores (Miss Gladys Sym Choon a few doors away is legendary) and trams.
But there is much more to this place one guy describes as "a 20 minute city" (that's all it takes to get anywhere), and which has more restaurants and cafes per head of population than any other Australian city.
Adelaide's old architecture which has been retained around the city, the colonial churches, Coopers beer, and the art galleries alone are worth the trip.
The Art Gallery of South Australia is housed in an historic building, and in the Elder Wing it offers a literal walk through of Australian history from colonial sketches of Sydney (no traffic jams there either) and William Strutt's erect and stiffly correct 19th century Equestrian Police, past pretty Federation-period landscapes where wishful thinking makes the coastline glow like a Grecian landscape, and on to a homo-erotic, heroic and garishly laughable Greco-Roman monster entitled The Pastoral Pursuits of Australia.
Here muscled men in togas pose like gods against broken Roman columns above an Australian desertscape while fat sheep and placid dogs evoke an Arcadia of plenty. I laughed out loud.
The cool and chronologically laid-out gallery offers a primer in how early painters mimicked the European masters (the Vermeer-like Children's Concert by Louis Tannert) and then that increasing acceptance of the heat-soaked landscape, the arid land and majestic gum trees, and the muscular stretch of a young nation.
And as notions of colonisation retreat, the 20th century and abstraction make their mark in works by Tony Tuckson and others. Then this visual journey leads to vibrant Aboriginal art painted boldly on bark.
Anyone ambling through these rooms can get a potted history of Australian art, and also see some of the most iconic pieces in the Australian canon.
I stop before HJ Johnstone's famous Evening Shadows -- or at least one of three versions he did -- and immediately recognise it. This large -- 1.2 by 1.8 metre -- scene of a tranquil backwater of the Murray River was one of the most copied paintings of the late 19th and early 20th century in Australian art.
Students and amateurs alike would try to capture their own treatment of this almost photographic image in which an Aboriginal camp is depicted beneath the cathedral-like gums beside a reflecting pool.
It is a beautiful, restful and iconic work -- the scene is at twilight -- but of course comes with some disconcerting subtexts: camps like this would not last much longer as farmers and settlers swarmed across the land.
The gallery is full of such powerful work: Sydney Long's strikingly simple 1898 rendering of a valley with spindly trees; Arthur Boyd's disturbing, modernist Persecuted Lovers about an inter-racial relationship; Clifford Possum Tjapaltjarri's enormous Yuelamu Honey Ant Dreaming from 1990 . . .
The gallery also has the obligatory international collection -- here a Warhol, there a Van Dyck, and through there Asian art and sculpture -- but it is the vibrant Aboriginal art which, for me, leaps off the walls.
And so while at the counter talking to a man for whom gridlock is an unfamiliar concept, I get directions to the nearby Tandanya, National Aboriginal Cultural Institute.
Few would dispute that Aboriginal peoples endured appalling treatment after the arrival of Europeans: the local Kaurna people who today remain custodians of the plains were decimated by diseases brought by settlers, killed in conflicts with farmers, and eventually transported out of the region.
But in the past half century the local government has apologised for historic injustices and there is now legislation to protect sacred sites.
Before Europeans there were, according to information at the fascinating Tandanya, more than 200 different indigenous groups in the region, each with its own distinct language and custom.
The familiar dot paintings of the desert people are represented in this gallery, but of more interest is the confrontational, humorous and politically flinty work of contemporary urban Aborigines. Here issues of the Stolen Generation, racism and land rights are scarred onto canvas and cardboard, bristling with rage.
The curious thing is that other than an elderly Japanese couple watching the long video of interviews with ancient Aboriginals, I am the only person in this provocative but rewarding gallery.
Maybe everyone is at the social history museum in the Glenelg Town Hall for the on-going exhibition, Celebrating Life By The Sea?
Or maybe in modest Adelaide this is just another thing it wants to keep to itself?