Graham Reid | | 4 min read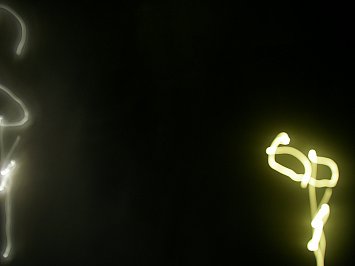 Gazing across the rolling Yarra Valley less than an hour from inner-city Melbourne, the eye can take in columns of grape vines m in orderly lines over low ridges, expensively manicured golf courses, and huge steroid-expanded homes running to many millions of dollars. In the distance lie the blue shimmering hills of the Great Divide.
This is where tourists, inter-state visitors and Melburnians come to recreate themselves, and sample some fine wines. But there are reasons to come to this expansive, eye-engaging valley. Many of the vineyards have on-site art galleries in addition to civilised tasting rooms and restaurants.

However, in December '03 the gallery stakes were hiked with the opening of the TarraWarra Museum of Art, a gallery devoted to the collection of patrons Eva and Marc Besen, who have acquired a catalogue of contemporary Australian art broad in scope -- Sidney Nolan to Brett Whiteley and beyond -- and housed in a building which is an artwork in itself.

Designed by Allan Powell, the gallery hugs the hillside and its discreetly curved, packed-earth walls follow the contours of the landscape. The earth-toned building sits within -- and is a part of -- its environment.

Yet its magisterial quality is impressive in its own right.

Buried deep to keep it unobtrusive and with vast storage rooms beneath, the gallery doesn't impose itself on the landscape yet, from a distance, it appears as a sculptural scythe of Man's work in the wilderness.

The entry to the museum is through a gently curved and tapered route which allows the full grandeur of the courtyard -- with its towering pillars and walls punctuated by open spaces framing the vistas beyond -- to be revealed in a breathtaking instant.

The TarraWarra Museum and its cool restaurant serving the excellent estate wines is worth the 45-minute trip for that experience alone.

But it is what it contains which is drawing an average of 400 people a day through its doors into its sparse and inviting interior: a private collection of contemporary art which rivals anything in Australia's public galleries.

The Besens bought their first painting -- Nightscape by Dawn Sime -- more than half a century ago and have been collecting astutely since.
Their gallery displays between 40 and 60 works on a revolving basis, but these comprise only one-fifth of their collection, which is stored beneath.

So on any given day, patrons can stand before works by iconic Australian artists such as Russell Drysdale, Arthur Boyd, or Sidney Nolan.

For the casual New Zealand tourist unfamiliar with the breadth of Australian art, the TarraWarra collection offers exciting discoveries: Jan Senberg's malevolently brooding Port Yard; and Peter Booth's scary image of helpless abandonment and constraint in Leadman.

These are uniquely Australian works. They amount to an evocation of the harsh and unforgiving landscape, the ruggedness of received character, the sense of the outsider in the indifferent New World.

Albert Tucker's dark image of the deliberately anonymous outback pioneer in Explorer is an emotionless, hard-bitten cipher for those who live on the margins of society, shrouded from the world by a cork-trimmed hat, the shadow of which renders the eyes hooded and suspicious. This is Man Apart.

Other works from the 1950s reflect the claustrophobia of emotion in the heat-soaked suburbs baked by an empty, relentlessly blue sky.
Yet other works, also identifiably Australian, offer another view.
Tim Storrier's bright The Cove Studio, painted in Brett Whiteley's studio in 1975, is a visual amalgamation of parched Australian and Middle Eastern landscapes.

Edwin Tanner's 1961 snapshot image of boys jumping off a jetty in City Divers encapsulates the sense of careless liberation from Old World constraints that Australia can afford.

In these images you can feel the Australia of the past half century flexing its individuality in a benign way.

And TarraWarra is a place where muscles -- architectural, fiscal and artistic -- are flexed for the benefit of all.

Tax concessions announced in 1999 have allowed the Besens the philanthropic leeway to build and fill this gallery.

Five architects were invited to submit designs for the museum to be built on a 4ha site and Powell's vision was chosen for fulfilling the brief which included minimising the impact on the Yarra valley.

TarraWarra is a construction which exists at the aesthetic and physical threshold of southern Australia. It acknowledges the city at its back in its hard-edged walls and pillars but is open to the elemental vastness before it.
This is a marriage of art, architecture and environment with a distinctive Australian flavour.

And because this is a vineyard, flavour is paramount. The New Zealand visitor cannot help but be diverted by the label on the vineyard's selection of chardonnay, merlot, pinot noir and shiraz.

It is TarraWarra's Tin Cow marque and the bottles have a strangely familiar corrugated iron cow on the colourful labels.
And sure enough, down a lane to the right as you enter the estate, there are three cows by New Zealand corru-cutter Jeff Thompson.

A little touch of the homeland in this other place? Don't kid yourself, this is very much Australia.
The first exhibition in December 2003 was ... New Beaut Country.