Graham Reid | | 6 min read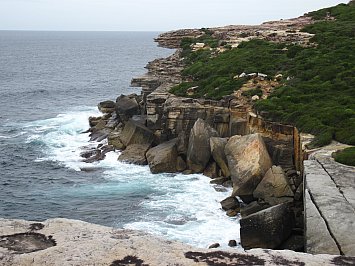 To tell the truth, I lied. When The Coastal Track people sent information about their three-day hike through Sydney's Royal National Park there was a section asking about my fitness.

I exaggerated enormously and said I exercised "once a week".

And on the first day when I queried Colin, our guide, about the route he pointed to his map and said, "there's the killer bit, three kilometres uphill on soft sand".

My lie would soon be discovered to my shame and embarrassment . . . but the killer but wasn't that bad, more like a slightly testing walk than the gruelling hike I had imagined.

The Coastal Track is the project of Samantha Madsen and our walk (with minimal footprint on the environment) would be along the dramatic coastline an hour south of Sydney and take in wild beaches, rolling Banksia heaths, waterfalls and rock pools, deep coves and dense bush -- and at day's end we would have a massage then enjoy glasses of wine and fine dining at our campsite above Wattamolla Beach.

Not quite the arduous hike I made out to my tramping friends back home.

The 26k walk along a public route for our cheerful group -- six plus Colin, average age early 50s -- started at the small community of Bundeena and made a brief digression around Port Hacking Point to see Aboriginal rock art attributed to the Dharawal people.

Here were images of a stingray, totemic male figure, kangaroo and a whale carved more than 200 years ago. But no one knows how much more.

Then our route headed into the 15,080 hectare Royal National Park, dedicated in 1879 and the second oldest national park in the world after Yellowstone.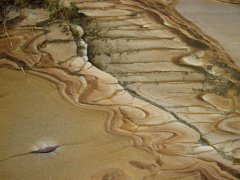 This is an extraordinary landscape: the Hawkesbury sandstone around the Woronora Plateau is estimated at 200 million years old and throws up unusual colours, oddly coloured banding (Liesegang rings) and weirdly alien rock formations sculpted by wind and water.

After Colin's "killer bit" we're on the hard shoulder of Australia and can see massive cracks in the rock ready to break off in strangely symmetrical blocks. Come back in a few thousand years and some of this won't be here.

"And this is Camembert Cliff," says Colin as we reach a football field-sized plateau high above the ocean. It is iceberg white and in clearly definable segments divided horizontally and vertically. The result of iron oxide leaching or seepage from a nearby swamp which has bleached the stone, it hangs with picturesque precariousness above the deep blue sea. I reach for my camera.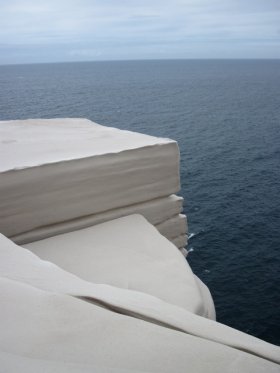 On the final day Colin says to me, "You're the only writer I've met who takes photographs."

But how can you not? Cheese-coloured stone, rock formations like frozen whirlpools, massive fingers of sandstone pointing out above the ocean like surreal shapes from Mordor, honeycomb patterns in rusty rocks, stone like warped stalactites, a cliff top lake acting as an infinity pool to the sea beyond, a dam built when people lived out here in the Depression . . .

At Wattamolla (which I mishear all day as "Guatemala" because I don't speak Australian) I take a clichéd photograph of solitary footprints along the empty sand.

"They had to close the park on Boxing Day," says Colin that night. "There were 22,000 people on the beach."

We've come at a better time.

Above the beach is our camp, from where we walk the following day and are returned to by van for the comfort of our private tents and the fine dining.

We make camp on the first day around 3pm -- we've found time to eat delicious packed lunches on Little Marley Beach and dawdled when the mood took us -- and spots of rain start to fall.

Award-winning chef Rob Lisk of R'n'R Catering -- 2009 Corporate Caterer of the Year on the Sydney South Coast -- and his crew set up the dining table under a large tent.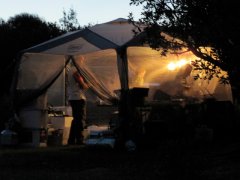 After swims in the bay and the warm lagoon -- and massages -- we settle down for drinks, king prawns, superb lamb . . .

From his tiny, lamp-lit tent Lisk creates culinary magic -- and desserts we take photographs of. We can see why the television travel show Getaway was quick to come on the walk when Madsen started it last year

We share life stories and jokes. "Was it on Getaway?" becomes a running gag. Laughter rises into the night.

A bleary-eyed hour before sunrise the following day I hear incessant laughter again, like the high-pitched cackle of a chardonnay-fuelled hen's party in a Sydney suburb.

I'm not used to the dawn chorus of Australian birds. Over breakfast I tell my new-found friends I once I mistook the avian racket for car alarms.

And this park boast considerable bird life. Colin points out the New Holland honeyeater, yellow-tailed black cockatoos down from the Blue Mountains to escape the winter chill, sea eagles, wattlebirds, rosellas, kookaburras . . .

The park is also home to wallabies, a few varieties snake (none of which we see although Colin spots a few), beautiful dragon lizards with geometric patterning and innumerable deer, the descendants of those released here more than a century ago to give the English colonists some sport.

The second night, as we eat fresh scallops and delicious duck under the stars, a fox trots through the camp. Then a possum blinks into the light of Lisk's tent.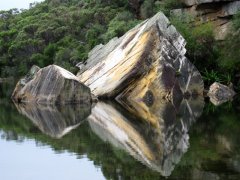 It had been quite a day until then: we'd walked across a clifftop 200 metres above the turbulent ocean, swum in a secluded lagoon and splashed under its waterfall, seen where a hermit had lived 30 years ago on a site of an ancient Aboriginal midden, taken photographs of distinctive Eagle Rock then made the steep descent to Garie Beach where surfers braved towering waves while we slumped in the sand and waited for our bus back to camp.

At the end of a perfect day we drank our wines watching silent satellites move across the dense scatter of stars, and the winking wingtips of aircraft in the blackness.

On the final afternoon as we lie on the grass at Otford, happily weary the end of our walk, I ask Chris -- turning 50 in a few days -- what he would tell his friends.

Like me, he'd felt slightly embarrassed about the luxury treatment Madsen and her crew afforded guests, "but the walk was more of a test than I'd thought".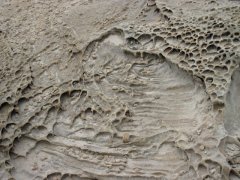 I felt the same: not too arduous but a rewarding workout.

Sort of boot camp for lazy people -- with fine food, wonderful wine, and good company in a very special place.

Yes, my kind of "hike".

And that is the truth.

FURTHER INFORMATION

The Coastal Track offer two and three-day catered and guided package tours which include seasonal highlights such as whale migration (May) flowers in bloom (September) and a spring weekend (November). There are also tailored walks for photographers, singles, over 50s and women-only groups.
For photographs and details of the track, accommodation and catering go here.

Rob Lisk of R'n'R Catering, go here.