Graham Reid | | 6 min read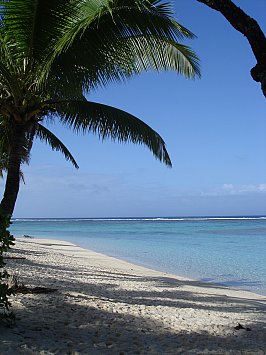 As a tourist carrying stress into Samoa you notice things by their absence. Ordinary, boring stuff like clocks and timetables, cellphones and power-dressers in black, graffiti and rubbish, and haste and urgency.
And surprisingly, New Zealand accents.

In 2000 fewer than 7000 New Zealand tourists flew the 3 1/2 hours to Apia, Samoa's largest town. In the same period almost 50,000 chose Fiji. Which means, if nothing else, you won't run into the neighbours or the checkout guy from the supermarket on the beach after a day snorkelling in clear, warm water. Good.
In fact Samoa - which is mostly two photogenic, often scrupulously clean islands - is hardly overrun by tourists of any kind, and doesn't want to be. That's what makes it so special.
Ten years ago there were around 50,000 international visitors, last year fewer than 90,000, and the Samoa Visitors Bureau wants no more than 150,000 in the future. Any more and the uniqueness of Samoa, and its traditional way of life, would be spoiled. And Samoa doesn't deserve that.
For tourists who make the small effort - and who wouldn't want to leave Auckland in the morning and be on a sandy strip of paradise by mid afternoon? - Samoa is a constantly revealing, quietly relaxing delight.
After two weeks travelling around the island of Upolu and the magical and larger, but less populated, Savai'i, a couple of powerful impressions remain: Samoans are the most friendly people I've ever had the pleasure to be with; and we've got it all wrong. Our lives are haste and clocks and cellphones - all notable by their absence in Samoa - and we're always attached to being somewhere, doing something, getting frustrated if the computer is too slow or the bus doesn't arrive on time.
In Samoa buses do arrive, maybe just not when you expected. Which prompts you to ask, why did I want to be there then anyway? Answer: Ummm.
Holidaying in Samoa means you're reminded of what "holiday" means, which is you're in no hurry to get anywhere anyway. And when you do arrive somewhere it'll look just as it was always going to look.
The 10 am boat from Savai'i we'd booked on left at 9.20 am so we missed it. Or more correctly it missed us. No matter. The next sailing was noon and that ferry pulled out around 1 pm. No matter. We had nothing better to do than sit by the ocean and watch palm trees wave anyway.
Slow down and enjoy the sun rising into a cloudless sky, a sea full of coloured fish, and nights sitting chatting with local people.
The attractions of Samoa are the simple ones: swimming and snorkelling, a freshwater pool at the base of a towering waterfall, fruit picked from a tree, singing along to an acoustic guitar ...
And at whatever level you want to stay in Samoa, it is very accommodating. Fales (usually open-sided huts on or near a beach) are around the 50 tala mark per adult and 35 tala for children ($36 and $25 respectively) - and that includes three meals a day.
The sun had barely risen when I rolled over in our fale on Upolu's south-east coast. Beyond the door frame was a band of white sand leading to a deep-blue sea and above that a pale, cloudless sky. It was an image that whispered, "Relax".
I took it at its word and for four days we lolled about at Litia Sini Beach Resort, doing little more than eating Samoan-sized meals, swimming, chatting and sleeping. By night we played pool or watched the stars. Sometimes we read books. I kept reminding myself to breathe. It was that slow.
But that's the cheap local option and some might not like sleeping on a mattress in a hut under the sky. In the interests of research we did something we've never previously done: we stayed at resorts. The proper things with mai tai by the pool, room service and shampoo in the shower. .
A 45-minute drive from Apia across the cooler mountains are two resorts almost side by side: the older Coconuts Beach Club and Resort established a little over a decade ago, and the newer Sinalei Reef Resort. Each has its own interesting story.
Coconuts was the labour of love of an American couple, Barry and Jennifer Rose, who left Los Angeles with a small fortune as the result of a legal suit. It translated into a very large fortune in Samoan currency.
Back home they'd had a concept of paradise and programmed their requirements into a computer. It came back with the name of Upolu and so in 1990 they touched down at Faleolo Airport and looked around. Through sensitive negotiation with chiefs and village people they secured the land near Maninoa Village and built a series of rooms and a dining hall around the shoreline.
Today the kitchen at Coconuts - overseen by the likeable Michael "Mika" Pirics, whose lobster is the talk of the territory - draws people from all over the island and abroad. Coconuts also boasts fales on a jetty over the ocean, a handsome conference area, a bar set within the pool and fully serviced rooms in tropical gardens.
The fiafia night on Saturdays - when villagers and staff perform traditional music, dance and toss around fire sticks - is certainly the best of the many we saw.
Little more than 100m along the beach is Sinalei, the jewel of Samoan resorts and the fully realised dream of Joe and Tui Annandale, whose local ancestry includes central figures in Samoa's Mau independence movement.
Named for Joe's mother, who died two months before the resort opened in February 1996, Sinalei is set in 13 beautifully manicured hectares with accommodation for up to 60.
"Our early vision was for it to be a garden resort," says Joe, "and we wanted it to be small and exclusive with maybe a maximum of eight units. But once the consultants came in it was clear that economies of that small scale meant it would have been too expensive [for guests] so we had to rethink. But we've had to rethink the whole journey."
The Annandales bought 8ha of bush from the nearby village and leased a further five in 93 and then took two years to convince locals that an upmarket resort would be beneficial. They sat in the jungle with an architect friend from San Francisco and sketched out their idea of a boutique resort. But when they employed locals to clear the land they realised the topography meant they would have to improvise.
"Literally every day we went to peg out sites but had to change the position of every single building so as not to disturb the natural contours."
People from the north-east coastal village of Fangaloa who specialised in a particular style of fale building were consulted for the huge bar and restaurant fales, which have commanding views of the ocean. Fangaloa workers lived on site for eight months and in February 1996 Sinalei opened with 10 units. In two months a further two were opened and five more were added on the beach front in 1999.
Sinalei is much in demand by honeymooners and for weddings, and those wanting total relaxation.
Aside from its gorgeous gardens of bougainvillea and orchids, Sinalei also has a unique attraction: a fresh water pool in the ocean. At the end of a small pier (where you'll find the world's best seafood pizza, believe me) is a still, clear patch in the sea where fresh water rises through a crack in the ocean floor. Here you can swim in cool water or paddle to the edge and swim with tropical fish in the warm sea water.
Sinalei's other attractions include lying in the pool, admiring the architecture and gardens, staying on after a superb dinner in the restaurant to listen to the staff take over the acoustic guitars and sing traditional and pop songs, or just lazing in the sun. Or sitting in the garden at night and hearing a couple of village girls sing Van Morrison's Brown Eyed Girl in Samoan, beautifully. Simple pleasures to remind you there need be no such thing as haste.
No one says this much leisure comes cheap: Sinalei's garden chalets are around $US245 a night, the beachfront ones $US495. That includes breakfast and afternoon tea, shuttle to Apia, use of tennis courts and so on. After years of cockroach motels, hunkering down in roadside rooming houses or nasty B&Bs I became convinced I was born for resort life. Sinalei, and Coconuts too, spoiled me, and made me feel I deserved it.
Whether it be a sophisticated resort or a cheap fale on a beach like Lalomano - a world away from the world - Samoa slows you down. There is no such thing as haste, no need even to wear a watch.
One afternoon while out driving we pulled the hire car into a small village for a swim at a cool freshwater pool that fed into the warm, turquoise ocean. We stopped beneath a shady tree beside a guy getting into a four-wheel-drive. I asked him what the water was like.
"I have not had the time," he barked in English flecked with thick Germanic insistence. Then he pointed to his watch and with a frown announced, "I am on a tight schedule!"
A schedule? In Samoa?
We're still laughing about that.