Graham Reid | | 5 min read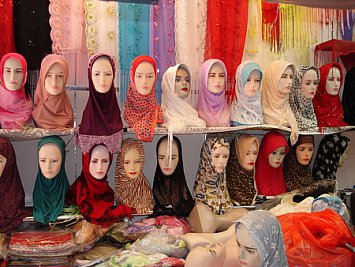 In Kuala Lumpur which offers a colourful multicultural tapestry of life, it was a small but significant image: just before the expensive frockshop in the up-market Starhill Gallery opened the middle-aged cleaning woman in a headscarf snapped off the vacuum cleaner and answered her cellphone. Behind her on a massive flat-screen a barely dressed blonde gazelle in high heels hip-swayed down a European catwalk.
As a fleeting moment this jarring juxtaposition seemed to encapsulate the collisions of culture, technology, religious custom and internationalism of Kuala Lumpur today.
It is also replayed daily in many variations all over this cosmopolitan city of around 1.5 million: a silk merchant on a Blackberry in Jalan Masjid India, an Islamic scholar carrying a new laptop . . .
Compared with the multicultural mix of KL -- Malay, Chinese, Muslim, Indian and many more -- the other Asian gateway cities of Singapore, Hong Kong and Bangkok can seem almost monochromatic.

While KL's diversity is reflected in distinct districts such as Chinatown and Little India -- and in the many aromatic cuisines available -- the city also defines itself through its architecture, notably the Islamic style of refined arches, restful domes, plain white walls and colourful mosaics peppered around the city, often in unexpected places. The post-modern National Mosque, Masjid Negara, is breathtaking in beauty and scale. Its airy, white-pillared courtyard, manicured gardens and orderly ponds create an oasis of serenity in central KL only a few metres from a turbulent roundabout.
But the iconic building of KL is the Petronas Twin Towers which dominates the skyline and at night glistens like inverted crystal chandeliers.
Designed by the Argentine-American architect Cesar Pelli and opened in 1998, these enormous structures -- briefly the tallest in the world -- not only soar with dramatic elegance, but have discreet echoes of Islamic art in their steel and glass facades. Undeniably one of the great late-20th century buildings.
And, this being KL, in the base is a shopping mall where Prada, Jimmy Choo, Mikimoto, Gucci, Hermes, Chanel and others quietly vie for the attention of your credit card.
Of course shopping can be cheap in KL, and you needn't go to the famous Central Market or Roshni Bazaar in Little India (although you should, just for the experience) to find it.
At one end of Bintang Walk in the large mall -- near the Bukit Bintang monorail stop -- are cheap t-shirts and sunglasses, jeans at two for $NZ20 (you have to like them with "Crayzze Causa" embroidered on them in glitter however), a Factory Outlet Shop, and the Hawkers food court for cheap eats.
Across the road is the Bukit Bintang Plaza for budget-priced electronic goods, kids toys, more cheap clothes and jewellery.

Yet, typical of the juxtapositions this city offers, just a block away up Jalan Bukit Bintang -- past L'Opera Italian Restaurant and a Planet Hollywood -- is Starhill Gallery. Here are your high-end brands: Louis Vuitton, Dior, Asprey, Lancel for bags, Givency, Korloff jewellery . . . none of which would be so common as to put price-tags on the wares in their understated window displays. If you have to ask . . .

The dark lobby with baby grand piano, a cocktail menu, light snacks and special coffees doubles as a gentleman's waiting room in this swanky three-floor complex where nothing says you love her as much as spending all your inheritance under one roof.
No one can deny however there is a less privileged side to KL -- a beggar with his hand out just 100 meters away from Starhill for example -- but for the traveller that means it can also be cheap to eat in open-air places around Chinatown (duck, spicy fish, beef balls) or Little India. Spicy black-pepper chicken with rice and an iced lemon tea can cost as little as $NZ7.
Have someone knock the top off a fresh, chilled coconut (about $NZ2.50) and enjoy the juice while watching the passing parade of tourists wilting in the heat, schoolgirls in headscarfs and young boys in an inherited colonial uniform of white shirts and ties.
Food is a major attraction in KL -- you may even weary of nasi everything -- and because you are confronted with so much diversity of styles, prices and places your heart sinks when you see a sign reading, "NZ curry house opening soon". You wish them luck.
For me Little India was the magnet: Bollywood soundtracks beating out; rainbows of silk and sari shops; cheap curries and open-air entertainment . . .
Then again, KL's Chinatown is of the kind that Singapore has sanitised. In KL it is earthy, smelly and sometimes fume-choked thanks to narrow streets -- but it also feels a lively, authentic counterpoint to modern and gleaming KL.
And while it was fun to discover the Reggae Bar in Chinatown -- where the walls are covered in every Bob Marley image known to man -- I was drawn to a more up-market place to enjoy the ambience and an unusual view of those Towers which so seduced me.

On the top of the Pacific Regency Hotel -- right opposite the KL Tower which, like the Petronas, rewards a ride to the observation level -- is the rooftop bar Luna.

From here -- where the swimming pool is open to the sky and the seats are made for lounging -- you have a vantage point in which the paired towers appear to be a single structure. With a cocktail in hand, the warm night enveloping you, and surrounded by the multiple languages and attire of sophisticated KL locals and tourists, the Towers float like a magical castle above the quilt of glittering city lights below.
Another of those fleeting moments you discover every day in Kula Lumpur.
HIGHLIGHTS
The Petronas Twin Towers: from any distance, any angle and any hour (especially at night). Architecture as poetry.
Little India where the air is filled with sweet and sharp aromas, the shops and people are colourful, and music can be exotic.
Masjid Negara, the National Mosque which is not only beautiful but allows some period for reflection in a busy, noisy city.
Batu Caves some 12kms outside the city is worth a couple of hours: take care on the sometimes slippery 272 steps up to the Hindu temples inside the caves, and watch out for aggressive monkeys which are more annoying than cute. Don't carry visible food, they'll mug you. But the temples and the multi-coloured statuary are worth the trip.

LOWLIGHTS
Petronas Twin Towers: You can arrive at 8.30am opening time on the weekend for a ticket up the Towers then queue for an hour to get a ticket which says come back four hours later.
Taxi drivers will inevitably bump the fare up: always ask for a price before getting in or insist on them using the meter. But if it costs RM16-RM18 to get to Batu Caves it sure doesn't cost RM10 to go three blocks around the city.
Money: things are often so cheap that your RM50 notes from an ATM are just a nuisance. Carry lots of single ringgit notes, you'll use them more than the big denominations -- unless you are going to Starhill Gallery of course.
NIGHTLIFE, SHOPPING, DINING
Eating out? You can eat anywhere and at anytime, and the cheap stalls are as good as anything. Hunker down with locals over freshly cooked fish or chicken with rice and vegetables in Little India, or soak up noodle soup in Chinatown. And Malay food -- from laksa to satay -- is available everywhere.
Fine dining? If you want top-end dining try the intimate restaurants beneath the Starhill Gallery, or Soi 23 on top of the Pacific Regency Hotel -- and enjoy that unusual perspective of Petronas Twin Towers across the pool.
Asian Heritage Row for clubbing and bars. Bintan Walk bubbles at night also.
Shopping? Pretty much everywhere, but the Central Market and Petaling Street in Chinatown will spoil you for local products. Little India for silk and fabrics. Avenue K and Starhill Gallery if you want to damage the credit card with designer label luxuries.