Graham Reid | | 2 min read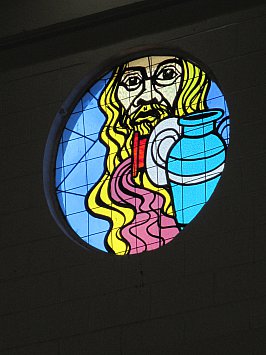 Samoa is hardly short of a church. To the casual eye it seems as if each village has its own Catholic, Mormon, Methodist, Assembly of God and whatever else building, many of them are quite breathtaking. And new ones are being built all the time.

But high above Apia in Vaoala is the Shrine of the Three Hearts, an enormous, airy and very beautiful Catholic church with a commanding view of the land below and, on a clear day, the endless blue sea under a warm sky.

Up here the cooling breezes blow and the immaculately kept building – a striking white with wide open doors on two sides, and built at equally breathtaking cost by all accounts – is a place for reverence, worship, solitude and some beautiful hymn singing.

And as with Christians everywhere, the Samoan people have made over the symbols and images of the Bible in their own style.

Just as there are images of a black Madonnas and a blond Jesus, and nativity paintings where the background is clearly Tuscany or Northern European, visitors to the Shrine of the Three Hearts may be struck by how localised the images are in the lovely stain-glass windows.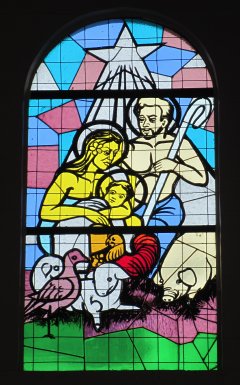 The Holy Family features a muscular Joseph, Mary with a frangipani flower behind her ear and a baby Jesus who are Samoan in appearance. Around them are gathered a dove, a sheep (so far so good), a rooster and a pig, the latter two being familiar local animals (and one of them a damned annoyance as it crows throughout the night).

Elsewhere there is a Christ who looks like a stern Pacific warrior, figures at the base of the Cross who look familiar from the streets of the villages and towns, a massive wooden cross and Pacific decorations, and painted on another window is woman at a kava bowl and a handsome man being bathed in the light from Heaven above.

These images – as with those in Spain or Mexico, Italy or Russia – remind you how malleable the story of Christ can be as people wish to see themselves in the narrative.

The many and diverse churches of Samoa – often open and welcoming to polite visitors – are the backbone of a nation where faith is taken seriously, and is integrated in to daily life. To understand that is to have better understanding of Samoa and its people.

For other travel stories by Graham Reid, see here for his two award-winning travel books.