Graham Reid | | 4 min read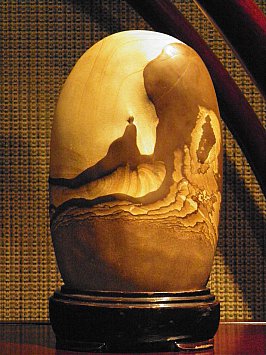 The provinces of Guizhou and Yunnan in south west China wouldn't seem to be the places for recreational stoners, but . . .
Those of us who are recreational stoners – although perhaps I should more correctly say, "amateur geologists" –- will go a long way for an odd rock formation. And you can get weirdly stoned in south west China for days.
Although Guizhou and Yunnan have their share of large cities -- notably the airline entry points and provincial capitals Guiyang in Guizhou (pop. 4.5 million) and Kunming in Yunnan (pop. 6.5 million) – these are sparsely populated provinces where mostly it is just Nature showing off.
Maps are littered with names of caves, mountains, valleys, rivers, enormous bridges which span yawning gorges and massive waterfalls. And near mighty Huangguoshu Falls (Yellow Fruit Tree Falls) in southern Guizhou – which you can walk behind on a slippery path to enjoy the Water-Curtain Cave, the "No 1 marvelous and wonderful one in the world" – is the garden of Panjiang stones.
These are rocks worn into bizarre shapes by the passage of time and water, and dragged to this place where they stand like strange sentinels among carefully tended bonsai and small streams.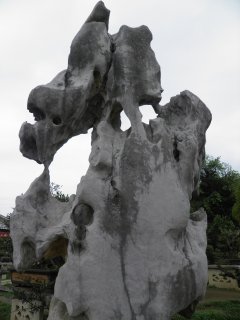 Some look like they have been pulled from disturbing paintings by Yves Tanguy, Max Ernst or Salvador Dali, others have clearly been beamed in from a distant planet where they have been shaped like soft white cheese into these alien objects.
You would not be surprised if Captain Kirk stepped from behind one with his phaser set to stun.
This area around Huangguoshu Falls is a landscape where strange stones and odd objects are in abundance.
At the nearby Exotic Stones Exhibition Hall is an enormous collection of naturally sculpted and beautifully displayed rocks – you might think Barbara Hepworth and Henry Moore just happened by with their chisels – and to add to their exoticism, none of the signs here are in English.
These are not regions of China which attract much international tourism but there is decent infrastructure, interesting ancient villages where ethnic minority people still live, excellent roads and friendly, scrupulously honest people – even if you will have to resort to pointing and counting on fingers almost everywhere.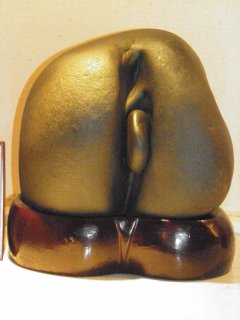 But some things are universal, like the stifled guffaws and wide-eyed expressions when visitors to the hall encounter two rocks side by side, one of a powerfully phallic nature and the other like female buttocks (or something else).
These occasion a little polite but embarrassed giggling, but other objects here – not just the beauty of massive white crystal formations or naturally occurring images of human-like figures in smooth stones – reduce people to silence.
Here are massive fossil ferns, lizards and fish which have been frozen in rock and time . . . although those of a skeptical persuasion will note the detail in some looks to be the result of human intervention with fine tools.
But there is no denying the unusual attraction of the Exotic Stones Exhibition hall, the impressive power and scale of nearby falls or the bizarre Panjiang stones. These are well worth seeking out, if you happen to in that part of China which is closer to Tibet than it is Beijing or Shanghai.
The main road south takes you across the impressive Beipanjiang Bridge above Malinghe Gorge and further on, down a precipitous path, you can stand beneath sheer walls of limestone, dolomite and travertine eroded into strange curtains of rock which look feather-light from a distance. Worn away from beneath, these outcrops hang like abstracts of lace and the green moss over creates a plant-like effect. Welcome to Triassic Park.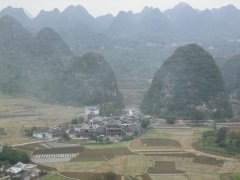 Near the city of Xingyi in southern Ghuizhou, close to the border with Yunnan, however is a landscape which is breathtaking in its beauty. And with Chinese love of the literal when it comes to naming places, this scenic spot where numerous low mountain peaks roll away into the distance is called . . . . Ten Thousand Peaks Scenic Spot.
From a vantage point above an enclosed and orderly valley of villages and flat fields – which looks like the romantic, time-freezing refuge of Shangri-La in the film Lost Horizon -- you can see these gentle humps of smoothly eroded mountains disappearing into the heat haze at what seems like a leisurely pace.
Unlike the garden of Panjiang stones where you want to keep moving to find the next peculiar object, this is a place to rest and let the silence and vast beauty of the landscape seduce you into a reflective reverie.
But if it is more stoned madness you want, the best is yet to come further south.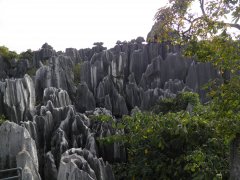 The famous Stone Forest near Kunming in Yunnan is a sprawling 155 sq mile reserve of blue-grey karst formations which point skyward like crippled fingers, have been wind blasted into deep caves or carved by time into a landscape of sheer towers of stone.
The rocks are around 250 million years old, the Yi people who have lived here for around 7000 years speak of them in their folklore and songs, and today it is a World National Heritage site . . . not to mention a popular destination for Chinese tourists.
All that aside, it is one of the most strange, slightly disconcerting places on the planet and any location scout for a sci-fi flick would be well advised to check it out.
There is an exotic eeriness about the flat grassy areas pierced by aggressive digits of rock, the dark and claustrophobic corners beneath stone bridges, the feeling of being quietly crushed between solid stone which looks as fragile as faded paper, and the weird view from towers over a landscape of lunar silence and peculiarity.
For the amateur geologist – and indeed anyone -- this place will get you really, really stoned.