Graham Reid | | 2 min read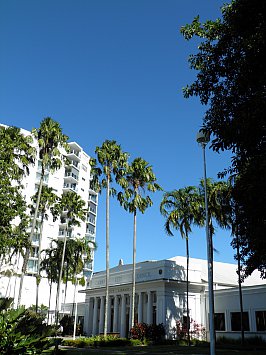 Nah, she said emphatically as our flight descended into Cairns. "I'm in the Atherton Tablelands now. Used to live here. Fifteen years. Got sick of the rat race."
Maybe Cairns – 26 degrees on a cloudless June day when bitterly cold Auckland was being drenched – is hectic in tourist season, but a "rat race"?
Traffic moves at an easy pace along wide streets, most people walk slow and take time to give directions, and this place with the Great Barrier Reef and Daintree National Park (both World Heritage sites) on its doorstep has a walk-shorts and summer frock feel.
I felt embarrassed waking the guy in the map shop who'd nodded off after lunch.
Tropical Cairns has familiar list of things for tourists to explore, most of which take a tidy half day and appeal to kids.
Cairns Tropical Zoo makes for a fascinating morning stroll after breakfast in their cafe and you'll see the planet's ugliest bird (the aptly named Papuan Frogmouth) as well as crocs, kangaroos, the exotic cassowary and other locals. Hartley Crocodile Adventures up the highway have kids squealing in fear-filled delight when a massive creature leaps out of the water to grab chicken or fish from the keeper's hands. Lotsa crocs, lotsa fun.
Of course there is the Great Barrier Reef for dive tours, helicopter flights and hot air balloon rides in the Atherton Tablelands (an early call, like 4am, but worth it).
Or for a day trip take the 34km train ride up to the former hippie haven of Kuranda where there are interesting shops, a bird park and the Venom Zoo (only in Australia, a zoo of locals which will kill or hurt you). Get the Skyrail Rainforest Cableway back which carries you by cablecar across the top of the forest canopy. At the bottom visit the Tjapukai Aboriginal Cultural Park for art, theatre and cultural performance.
But all these involve leaving leisurely Cairns, and the city offers engaging Aboriginal or contemporary art.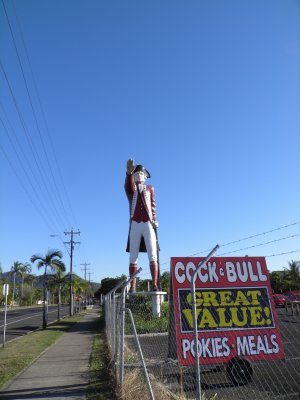 The Centre for Contemporary Arts (aka KickArts) on Abbott has changing exhibitions of contemporary art, craft and design, and the Cairns Regional Gallery in a heritage building exhibits historic and contemporary work and Aboriginal artists. You'll be surprised by how provocative some pieces are.
There are galleries specifically dedicated to Aboriginal artists and one of the biggest and best is Canopy on Grafton.
A large warehouse space converted into an exhibition area and workshops, Canopy boasts internationally recognised names such as Dennis Nona and Alick Tipoti.
Like all the galleries and Cairns Museum, it is within walking distance in the central city.
So easy-going Cairns is interesting of itself as much as the entry point to the Far North, Daintree, the Great Barrier Reef or that break at Port Douglas, Palm Cove or the other nearby hotel and resort retreats.
But in the morning go to the Esplanade – like South Beach Miami without the art deco, excitement or interesting bits – and you can see power-walkers and joggers.
That "rat race" perhaps?
For more Australia travel stories including Outback adventures go here.