Graham Reid | | 2 min read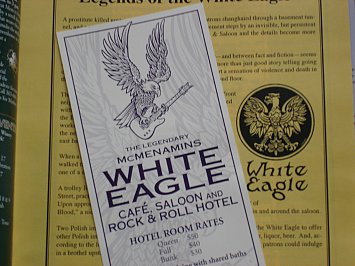 Dusk was dropping into night when I saw her. She was on the corner of North Russell and Mississippi in an industrial area of Portland, Oregon. She looked old and slightly painted up when I spotted her near the underpass, but she was inviting with her stories of shanghai-ed sailors and musicians who had taken comfort in her company.
So I decided to spend the night.
The following morning I slipped from her warm bed, went down the corridor for a shower and when I returned to the comfortable room I packed my bags and left. I knew I had to go, if I had stayed any longer I would have fallen in love and never have left.
But I did get her number, and if you are ever in Portland and need a place to stay, or just some company, then I suggest you call the White Eagle Cafe, Hotel and Saloon where the hearth is welcoming, the rooms are cheap (top price US$50) and live music plays every night.
We'd been some distance out of town when we called ahead, the guy who answered gave us clear instructions and as I turned into Mississippi just as the rains started to fall there she was on the corner, shining like a beacon.
The White Eagle, with 11 guestrooms, has a long reputation as place of legends and ghosts as well as more recent rock'n'roll history. Here is where immigrants from all parts of the world arrived to built the bridges which span the Willamette and Columbia Rivers, or to work in the docks or Union Pacific rail-yards. Once a trolley line ran right past here and because of the hotel's rough reputation it is said conductors would call out, "Next stop, Bucket of Blood".
This was a place of pool and poker, opium and prostitution. It's clientele remained hard-working and blue-collar after Prohibition (which barely affected trade downstairs) but by the early 70s long-haired rock'n'rollers started making it their refuge.
A lot of local bands played here, the best-known being the Holy Modal Rounders whose lyrics these days are painted exotically around the corridors and walls of the rooms upstairs. Their photos and band posters grace the walls alongside those of labourers and patrons at the 1905 opening, of the Polish immigrants Barney Soboleski and William Hryszko who built the place, and of legendary barmen like Tony Feronne, a truck driver from Brooklyn who kept order in the early 70s.
The White Eagle is steeped in popular history and keeps alive the tradition of live music every night in the long, dark and comfortable bar which is decorated with drop cloths from old palmistry travelling shows. The food is excellent, the clientele has included Robert Cray who helped launch live music nights, and drop-ins like ZZ Top, actor Matt Dillon, and bluesman Big Walter Horton.
Better than that though, on a cool night when the rain started coming down the White Eagle, that stately old lady on the corner of Mississippi and North Russell, held out the promise of warmth, comfort, a friendly greeting and excellent music.
She didn't disappoint. I doubt she ever has.