Graham Reid | | 2 min read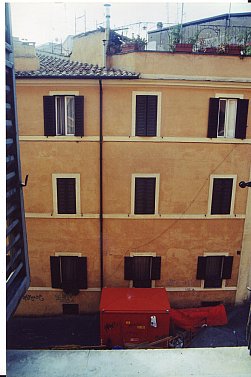 I don't know his name, never did, and it isn't important anyway. Let's call him Big Marco because that's who he looked like.
I arrived at Big Marco's small hotel in Rome early one morning having been directed there by a sad-eyed gentleman at the hotel bookings booth in the nearby railway station.
I had said all I wanted was a cheap room, with a bathroom if possible, somewhere near the Forum and I didn't care if it was small, I'd hardly be spending much time there. We chatted for a bit then he said, You might enjoy this place and handed me an address. He smiled.
Big Marco's was one floor up and when I turned the corner from the landing with its ornate wrought-iron banisters I was greeted by an extraordinary sight: a small but cheerful office with black and white floor tiles, some attractive art on the walls and lace curtains blowing in the breeze. It was a lovely, cool room -- and was almost completely filled by the man who sat behind the desk: Big Marco.
At a guess he might have been 30 but beneath his gently angelic, if somewhat round, face his body ballooned. He had hands the size of letterboxes and his stomach rested on his knees. My guess was he didn't move around much.
He was helpful and spoke a little English in a quiet voice, so I made my booking then headed for my small, clean and thoroughly serviceable room upstairs.
Later that night I was woken by shouting from below, then a loud crash followed by an eerie silence.
In the morning I dropped my key at the desk and there was Big Marco, his head turned away from me as if refusing to make eye contact. I thought little of it, said goodbye and left for the day. That night when I collected my key Big Marco was at his desk wearing thick sunglasses.
The following morning a man I took to be his brother Mini Marco -- same angelic face but a considerably deflated version -- took my key and gave me the directions I needed.
That night Big Marco was back, the sunglasses firmly in place. Through a door off the office I glimpsed Mini Marco in a small kitchen. He appeared to be have a hissing argument with a woman just out of sight. Within the hour the whispers had turned to shouts and the dispute was still going when I returned from dinner around midnight.
The following morning I went down to check out.
Big Marco was at his desk but the sunglasses were removed to reveal a magnificent black eye. I was just thinking Mini Marco could pack a punch when a movement in the corner of my eye startled me. I turned to see an enormous woman in a tent-sized dress with long black hair moving across the room like an aircraft carrier.
This seemed to be Mrs Even Bigger Marco, and she was mad as hell about something. Oblivious to my presence she berated a cowering Big Marco, slapped her huge hand on the desk with a thunderclap, and ordered him into the kitchen where it seemed he was going to get a proper telling off.
Big Marco, angelic face crumpling towards tears and embarrassment, hauled his huge frame out of his chair and meekly obeyed.
Mrs Even Bigger Marco then turned to me and, with a smile that would have melted the heart of God, asked if she could help me.
I handed in my key, paid my bill, smiled weakly and left. By the front door I could hear Big Marco, and probably Mini Marco, getting it again. Mrs Even Bigger Marco's voice through the lace-covered curtain followed me halfway up the road.
The sad-eyed man at the railway station waved and smiled at me as I waited outside his office reading the train timetable. He seemed remarkably cheerful, I thought.
For other travel stories by Graham Reid, see here for his two award-winning travel books.