Graham Reid | | 3 min read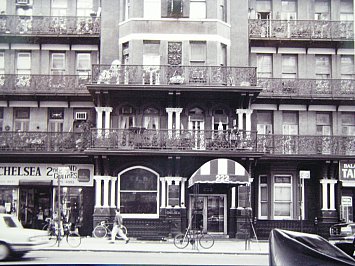 Stanley liked to talk but, to be fair, he had a lot to talk about.
Stanley -- portly, smiling, intense -- was the manager at New York's famous, notorious even, Chelsea Hotel at 222 West 23rd St.
He had inherited the position from his father David Bard who bought it in 1940, and Stanley had grown up in the corridors of this building which was the tallest in Manhattan when it opened in 1884. Back then it has been at the centre of the theatre district. Sarah Bernhardt loved the place.
It had originally been 100 apartments but most of them had subsequently been split into smaller rooms and suites.
The Chelsea -- which was declared a New York landmark building in '66 -- always had many permanent residents. Stanley told me of the painter Alphaeus Cole who lived there for 35 years until he died at 112.
The composer and critic Virgil Thompson stayed even longer, 54 years.
The list of famous residents and guests is long: Mark Twain, Thomas Wolfe, the boozers Brendan Behan and Dylan Thomas, Patti Smith with Robert Mapplethorpe, William Burroughs who wrote The Naked Lunch here, Stanley Kubrick would come to see author Arthur C Clarke who was here working on the screenplay for 2001: A Space Odyssey, poet Allen Ginsberg, Bob Dylan, and Warhol's crowd in the Sixties.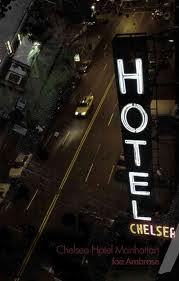 Janis Joplin famously had sex with Leonard Cohen here (Leonard wrote about it) and Chelsea Clinton is named after the place. Actually she's named after the song Chelsea Morning which Joni Mitchell wrote about the hotel.
Jimi Hendrix was once mistaken for a bellboy as he waited in the lobby, and Sid Vicious killed his girlfriend Nancy Spungen in a room upstairs. You can't rent it, it has since been converted into an apartment.
I'd stayed a few nights in a front room beneath the famous sign. The television picked up only static, the bedlamps didn't work and the bathroom was clean but the water flow was barely serviceable. But it was an experience.
Sometimes I would just sit in the lobby and look at the art which had been given as payment in lieu of rent by the likes of Larry Rivers. (The Jackson Pollock has long gone, to Stanley's place they whisper.)
Every day there was a parade of the famous, the near-famous or the barely breathing who would make their way to the rickety elevator by the desk. One day some people set up for a Mariah Carey video shoot. Two films a year are shot in the corridors and rooms, Nine and a Half Weeks among them.
On my final morning after paying the reasonable bill I asked if it was possible to meet the manager, explaining that I was a journalist.
Don't worry about it, Stanley always likes to talk to journalists, said the middle-aged man who I had observed dispensing keys and wisdom to guests.
And so I sat in Stanley's front office which was a landslide of papers, letters, accounts and old newspapers. He indicated a stacked bookcase.
All of those books were written here at the Chelsea, he said.
He didn't rate the one by the self-confessed bad pornographic novelist Florence Turner who lived here for a decade until 75 and wrote about the residents. Maybe that was because she suggested Stanley was tight with money.
He told me of the hippies who took over the place in the 60s, how Sid Vicious was very polite, that residents keep to themselves, and of how each room has its own character.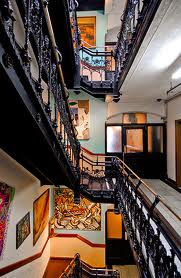 "Every room here is different," he said. "Lemme show you."
He lead me through the long and tatty corridors on the third floor and opened a door.
Here's the room Angela Bowie just stayed in, he said gesturing around a spacious suite where the former Mrs David had luxuriated. Another smaller room had an unexpected view over what appeared to be a small garden.
Then he took me to the room he had decorated himself.
The door opened to reveal a migraine in the making: the table and bedhead were designed like a snail's shell, there was a mirror the same shape, spirals were on the carpets and a wall-hanging. It was mad.
"I call it the Snail Room," said Stanley with obvious pride.
I must have been two blocks away before I realised I was still laughing.
The landmark Chelsea Hotel was sold in 2011 and developers no longer took reservations and began evicting residents. The old Chelsea was going to be turned into up-market condominiums.
For other travel stories by Graham Reid, see here for his two award-winning travel books.