Graham Reid | | 2 min read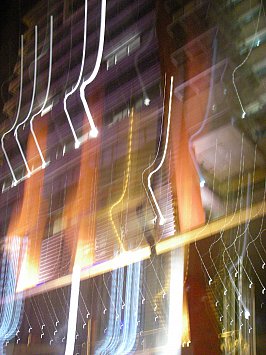 The night we scattered my mother's ashes on the Broadwater at Surfers Paradise where she had lived, Silvio sang to us. I recognised him as soon as we entered Fratelli's restaurant, he had sung to me in another place in Surfers a few years back.
The story then as I remember it was that it had been one of his sons' restaurants and Silvio, a lifelong restauranteur and with an Italian's love of good food and company, had been singing to patrons there for years. When his sons combined their skills and bought this new and much bigger place -- hence the name Fratelli's -- Silvio came along too.
Most nights he is at Fratelli's singing light opera standards and telling his stories.
When he approached our long outdoor table filled with extended family he asked if there was anything he could sing for us. Immediately my sister Barbara said You Are My Heart's Delight, an old song my late father had always sung to my mum, usually at the top of voice in a mock-opera manner and often very badly.
It was a song we always associated with good times.
Silvio was astonished, his eyebrows shot up and he said to me, "Franz Lehar", naming the composer. "But you are not old enough to know Lehar."
I was about to point out I wasn't old enough to know Mozart either but that didn't mean I wasn't familiar with his music, but Silvio was so enthusiastic about this choice he jumped right in, in Italian of course.
He sang with great emotion, his right hand quavering near his ear, his left on his heart. He sang a couple of verses and then, when our polite applause had died down launched into his story. One of many at a guess.
Silvio looks to be in his seventies, is slightly stooped but his eyes are bright and his complexion a nugget brown amalgam of Italian-cum-Surfers. He knew this song -- written in 1929 for Richard Tauber my research tells me -- from when he used to sing on the stage as a young man.
We never quite got whether this was in Italy or Adelaide. I heard one, my wife heard another. Anyway it was through music -- and maybe even this song which seemed to be one of his favourites -- that he met his wife Rosa who also worked the tables at popular Fratelli's in Southport.
He had sung on stage and, as a child, Rosa had seen him and fallen in love. He didn't know this, nor did he know it when a few years later he sang again and she was once more a smitten girl in the audience. But by the third time she was older and had left school, and met him after the concert. There was much indecision and discomfort because her parents weren't sure about him but the two agreed to meet again after Mass on Sunday.
He went to Mass and looked and waited, but she didn't turn up. He was heart-broken (he said this as if was happening to him at that moment) but then some days later he saw her.
It turned out that she had waited for him too and had been disappointed also. But she had gone to early Mass and he to late. Ha, he laughed and clapped his hands with delight.
And they have been in love ever since.
He bade us farewell and went off to another table. It was a good story and he was probably telling it again within minutes.
But a good story, especially one about the triumph and longevity of love, can bear repeating. And Silvio had also sung us a love song with lyrics which run, "You are my heart's delight and where you are I long to be, you make my darkness bright . . ."and so on.
Pretty trite probably. But they brought back wonderful memories.
Of course Silvio, his voice wavering and the pitch variable, had sung it astonishingly badly. Ruined it utterly.
The silly old bugger.
For other travel stories by Graham Reid, see here for his two award-winning travel books.