Graham Reid | | 2 min read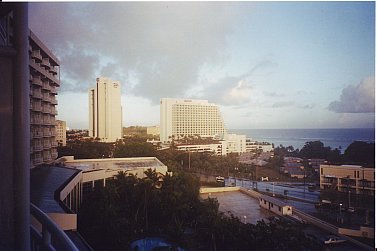 The two places I thought I'd never go were Guam, and a Hard Rock Cafe.
Guam -- essentially an island-cum-aircraft carrier for the American military in the north west Pacific -- just seemed well off any track, and a Hard Rock Cafe because turning revolution into marketing, with a side order of fries, isn't my idea of progress.
As with Planet Hollywoods -- where some people seem to think Bruce Willis drops by for a beef-burger -- and the fabulous failure that was the Fashion Cafe franchise (a restaurant concept based on the reputations of people who famously dont eat?), the whole Hard Rock Cafe thing just seems faintly suspect.
I walked through the Hard Rock Cafe on the Gold Coast once by pure accident, but the only one I have ever eaten in one was, oddly enough, in Guam.
This tiny island which rises from the sea with all the exoticism of a billiard table was just a stop-over on the way to Korea with a group of former soldiers going back for commemorations of that war which has become a footnote of the mid 20th century.
I was in Guam for less than 24 hours but even so some clear impressions were made. Notably I wouldn't live there if you paid me -- which is what the US military was doing with hundreds of personnel at Andersen Air Force Base which boasted the somewhat scary motto "Prepared to Prevail".
We landed at the base but were immediately bussed out ("No photographs") to downtown. We travelled through suburbs where the local Chamorro and Filipino population clearly werent having it quite so comfortable -- giving the lie to trickledown economics at least -- and ended up in the hotel district overlooking the photogenic harbour. The hotel had a high quota of Japanese honeymoon couples, the island's steady income.
A few of us wandered into the city which lay below us, ambling past shops which sold wares to Japanese honeymoon couples, and decided to get something to eat. I was keen on the Asian and other cheap places up various alleys but my companions wanted burgers and the likes of which the local Hard Rock Cafe could be relied on to deliver.
The place was almost empty and the music from a lonely DJ quite deafening.
Our honey blonde, cheerleader-like waitress was the bright spot. She looked like a heavily made up 14-year old (she was 19) and came from somewhere in the Midwest.
Her story was as simple as it was sad: she was married and her equally young husband had been posted to Andersen, but she was bored on the base and so had taken a job in town. He really didn't like that. She was hoping that when they got back to the States she could finish college. He wasn't so happy about that either.
She seemed trapped by her choices, and those imposed on her by her husband's army life.
American military bases are enclaves from which you need never leave: your material wants from Baby Ruth chocolate bars to flat screen televisions are on sale; there are gymnasiums, banks and often cinemas; and there is Armed Forces Television which screens sitcoms and so on from home. The channel also offers public service advice for the young and the fearful in the military, like be cautious about -- if not downright afraid of -- the people in whose country you are a guest.
If you are 19 and high on energy but low on life experiences this kind of message must make you unnaturally suspicious of the people outside the walls of your compound, the people you are ostensibly there to protect.
So I understood her concerns, and could also appreciate -- if not agree with -- what her young husband must feel about her being Out There in the off-base world.
She brought our burgers -- "Here y'are, y'all" -- and went back to her station.
Later I looked in her direction, she was staring into space.
It is impossible and improper to assume what someone else might be thinking. But I fancied that in those lost moments she was back in the open plains of the Midwest, back when her boyfriend was free and full of life, back when she had a future bigger than a burger place and it stretched before her like the open range, and back when she had never heard of a lonely and boring flat rock in the Pacific Ocean called Guam.
For other travel stories by Graham Reid, see here for his two award-winning travel books.