Graham Reid | | 2 min read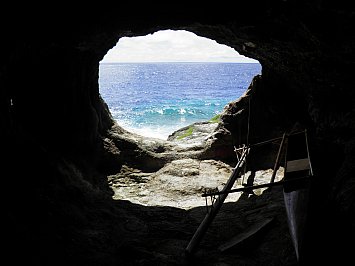 There is a truism about travel: Get up early rather than stay out late. That way you see the people, village or city starting to go about its daily life. In the early morning – rather better than through 2am beer-goggles – you can more closely connect with the world you have dropped in t.
The fact is though, there's not a lot that would keep you out late on the wonderfully underpopulated is land of Niue – around 1500 residents on average – although hardy souls might enjoy the run-down but amiable ambience of the local "yacht club" beneath the backpacker hostel, which famously doesn't really have yachts or yachties most of the time.
But the open door hospitality, cheap drinks and free-flowing anecdotes could keep you . . . oh way past 9.30pm.
And the early morning in Niue? Well, umm . . .
Aside from Friday morning market or an early call to go fishing you might as well sleep in.
Niue offers nothing, in a good way.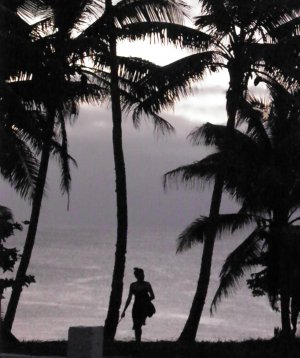 This is a jungle-covered tropical dot on the map surrounded by a horizon so featureless you can see the curve of the Earth. It's a place with no traffic lights and where two cars is a traffic problem and three probably requires the intervention of the premier, and people so friendly that you are on first name terms by the end of the first day. You have to be, you'll see them tomorrow again in all likelihood.
The truth is however that there are any number of things you can do on Niue, which only takes about 50 minutes to drive around and is three hours flying time from Auckland.
But most of the things are effortless: swimming in the transparent water (visibility up to 75m), walking around the strange limestone geography to discover odd caves and weird rock formations, with a guide go hunting the famous uga (coconut eating crab) which is a delicacy and grows to an enormous size . . .
These things are so relaxing you feel like you are doing nothing.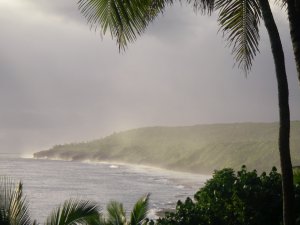 You can take a round of golf with the locals (9 holes, nice course) if you so desire, get up early and go on a fishing charter, take in the museum, have a drink overlooking the ocean at places like Washaway Cafe (which works an honesty system) or at Sails Bar where the sign outside facing the rugged cliff and ocean reads "World's Toughest Gold Course, Par 1, 96.5 mtrs" . . .
None of this is going to stress you, and none of it is compulsory.
Take books to read if you like, but you might be so busy doing the nothing that you don't get to read them. Or find yourself so relaxed you just snooze off by the end of page two.
Delightful, quiet, friendly and strikingly different Niue specialises in nothing. You can get up early, maybe even stay out late, to do it.
A whole lot of nothing.
And that's really something.
For more on Niue at Elsewhere, start here.