Graham Reid | | 3 min read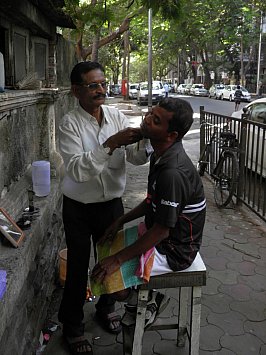 It's a joke of course, ticking off things to see in a day in Mumbai (which many still call Bombay). Here's a city of around 18 million souls where it can take three hours in stop-start traffic to get across "town". Just a day?
But with an English-speaking driver – as cheap as $20, you tip extra, hotels will find one – you can pick off a number of must-see places, and more.
MUST-SEE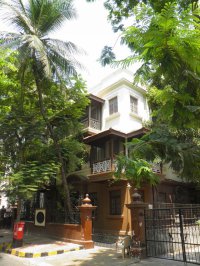 The Gandhi Museum: The house (right) where Gandhi often stayed, and the photographs, letters, dioramas and personal mementos (very few, of course) are moving.

The Krsna Temple (ISKON Centre): Alarmingly lifelike models of the faith's founder A.C. Bhaktivedanta, colourful images and statues of deities, holy men and women line corridors and rooms. Fascinating.

The dabbawallas: Just before noon be opposite Churchgate Station where dozens of dabbawallas (men who deliver tiffin lunchboxes to office workers) gather to sort collect and deliver them by bike or cart (below, right).

Dhobi Ghat: This open-air laundry – 5000 laundry families live and work in the immediate district – is an eye-opener, not just for the manpower but how the clothes don't get mixed up. As with tiffin boxes, there's a system handed down.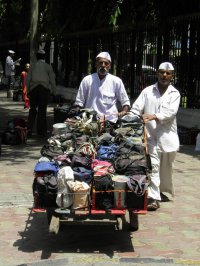 The Taj Mahal Palace: Two years ago this hotel was in flames when terrorists attacked it, today it is back as an elegant statement of old world and new. Have a beer in the Harbour Bar which looks onto the Gateway of India opposite.

Chhatrapati Shivaji Maharaja Museum: Formerly the Prince of Wales Museum, this is your one-stop shop on culture, and artefacts which date back to 2000BC.

Chhatrapati Shivaji Terminus: The busiest railways station in the country. Victorian Indo-Gothic architecture doesn't get much better or elaborate than this. And behind you, the architect Frederick Stevens did those buildings too. Scenes in Slumdog Millionaire were filmed here.

Crawford Market: Inside yet another colonial pile (north of the Terminus) this must-visit for photographers has everything from fruit to pets. And people.

Dr Bhau Daji Lad Museum: This magnificently restored 140-year old building with Victorian-era display cases, fittings and décor is how stately, hushed and reverential museums used to be. Sublime. And so to the ridiculous . . .

Antilia: South of the impressive Rajiv Gandhi Sea Link (bridge), is Mumbai's most expensive house. It's ostentatiously ugly and is the 27-storey hillside home of India's richest man Mukesh Ambani and family. It cost around $90 million and Ambani built it for his wife Nita. He also gave her a Boeing for her birthday.

AN EASY WALK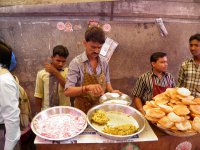 If you have a couple of hours start outside the Taj Mahal Palace, walk left to Cafe Mondegar on the corner of the Coloba Causeway (aka SB Singh Rd). Turn right and go past the Art Deco-style Regal Cinema, cross the roundabout (carefully!) and walk along MG Rd opposite (Chhatrapati Shivaji Maharaja Museum on your right).
Walk to the Fort District (turn right onto DN Rd) which is the old CBD with fading but grand Anglo-Indian buildings and interesting little restaurants. Try the Parsi place, Ideal Corner, on Gunbow St. Street food here is cheap, safe and fresh. Doubtless someone will be making the sticky sweet jalebi in a pan of hot oil. Buy some.
Head to Horniman Circle (a park surrounded by colonial buildings), then along Shahid Bhagat Singh Rd (the Town Hall on your left) towards the Regal Cinema again. Go down quiet, tree-lined Nathalal Parekh Rd (look in the Holy Name Cathedral), turn left down BEST Marg and you'll hit the Coloba Causeway again. Turn left.
On the right-hand side are cheap open-air stalls selling trinkets, clothes etc (and the famous but often packed Cafe Leopold), on the left-hand side are designer stores. If you don't shop it's a five minute walk back to the excellent Cafe Mondegar where you've earned that beer and a chance to look at the scores of photos you've taken.
Graham Reid flew to India with assistance from Singapore Airlines but paid his own way around Mumbai. He stayed at the YMCA on Nathalal Parekh Rd and recommends it. The YWCA is nearby.