Graham Reid | | 2 min read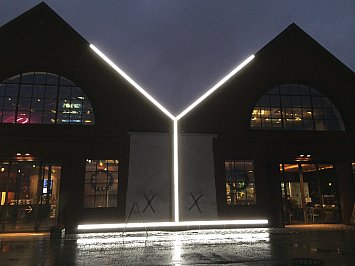 The song on the sound system couldn't have been more appropriate. Or more inappropriate.
Playing quietly in the restaurant-cum-bar is the Pogues' boozy and woozy Fairytale of New York which may seem appropriate in Stockholm's Museum of Spirits which documents Sweden's encounters with alcohol.
But in the elegantly designed room where patrons dine on beautifully prepared dishes and sip aquavit, the Pogues' rambunctious story of failed dreams in a New York drunk tank and a bickering couple could hardly be more out of place.
The Spritmuseum – in recent years re-established on this prime piece of harbourside real estate on the island of Djurgarden, around the corner from the Abba and Vasa museums – is stylish, interesting and not a little ambivalent about the virtues or otherwise of hard liquor.
Although the young woman at the desk insists Absolut – the vodka company – have nothing to do with the place, it does have a section where a revolving exhibition displays the Absolut advertising works of Andy Warhol and those who came in his wake for whom art and commerce were interchangeable currencies.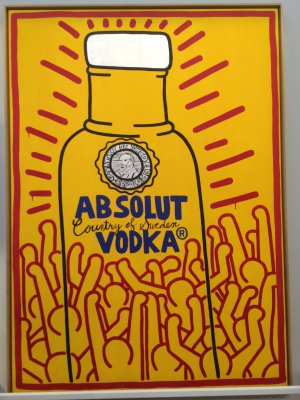 So on any given day the advertising of Keith Haring, Holly Johnson (of Frankie Goes to Hollywood), outsider artist Howard Finster, Ralph Steadman and a number of contemporary Swedish artists are on display.
There's also a small gallery for visiting exhibitions.
But the real interest of the museum – which has conference and tasting rooms – are the installations and displays upstairs where you can walk through Sweden's sometimes troubled encounters with hard liquor.
You may sit in a room designed to replicate a hangover (not too bad but you need to supply the dry mouth, headache and regret yourself) and can sniff various herbs and ingredients used to give an otherwise bitter, clear and brutally powerful liquor some semblance of taste.
All this seems rather ambiguous: visitors appear to be counseled about the dangers of over-imbibing, in other other places images of drunk people show them having a very good time indeed. A recent exhibition celebrated 150 years of clubbing until dawn.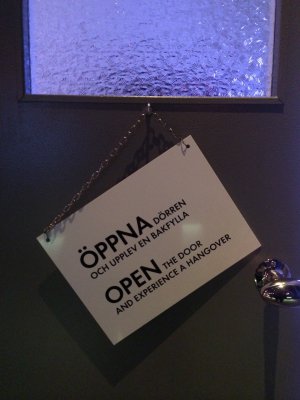 Sweden has a curious relationship with alcohol. It has a highly regulated system overseeing the production, distribution and sale of alcohol – only low-alcohol beverages in supermarkets – and the liquor shop chain Systembolaget is a government-owned monopoly and isn't allowed to advertise. The emphasis is on moderation and many Swedes seem happy with low-alcohol options.
So maybe that Spritmuseum room with the sign reading "open the door and experience a hangover" is for the curious lucky enough never to have had one.
After a pleasant lunch of herring and aquavit downstairs in the Spritmuseum while looking at the black water of the harbour under a slate grey Stockholm sky, I'll never hear Fairytale of New York in quite the same way again.
Skal.
For more information on Stockholm's Spritmuseum see here