Graham Reid | | 5 min read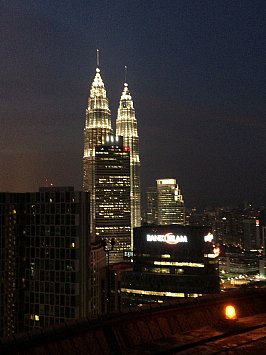 The view across Kuala Lumpur at sunset from here – 35 storeys up – is spectacular. Over there, glistening gold in the last sun-flecked flickers of this typically humid day, is the chandelier-like Petronas Towers which are the most obvious eye-catchers. But in any direction the cityscape of office blocks, apartments, domes of mosques and distant hills seem gloriously romantic at this hour.
And, despite the altitude, on this warm evening there is barely a breath of wind as we nurse our drinks and turn to face another direction for a whole new vista.
Up here there are perhaps fewer than 60 people, most of them fashionable locals with just a smattering of tourists.
Quite rightly, the Heli Lounge Bar a floor below bills itself as "KL's best kept secret". Which is hardly surprising because the Menara KH building which houses it is, at ground level, just another highrise in a city full of them. Even at the entrance the signage is so discreet as to be barely visible.
The Heli Lounge Bar – and better, that open air helipad by day/bar by evening a short staircase climb above – isn't something you stumble on easily. It takes local knowledge and one of my sisters alerted me to it.
Although we might miss family or friends who live overseas, they become invaluable guides in their adopted homes when we visit.
They can take us places we might never otherwise have known about and give us a few key lessons on how locals live.
So it was for me in Kuala Lumpur, where my sister and her husband have lived for many years.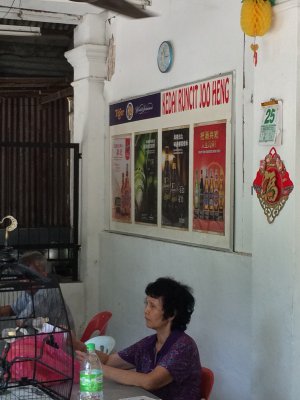 On the same day we took in that sunset on the helipad – where staff will bring drinks and snacks from the bar below while security people make sure you don't stray too close to the un-railed edge – we had enjoyed an early afternoon beer at Kwong Tong cemetery, the only graveyard I've ever been in where you can have a beer under a ceiling fan.
A cold beer where old bones are buried? That's local knowledge.
At the centre of Kwong Tong – the largest and oldest Chinese cemetery in Malaysia -- there's run-down but amiable place (where the owners don't speak English) offering cheap Tiger beer . . . and you certainly don't see tourists there.
Just a few elderly Chinese and mostly a lot of untended gravestones.
Geez. Death in the afternoon on a hot day?
Time for a beer, I reckon.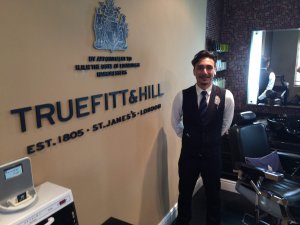 And that's the other advantage of family and friends in far-flung parts: they know your taste and aren't going to drag you around on some version of a family-framed package tour.
My sister knows me well enough to consider a beer on a hot day is perfect . . . but also that whisky and cigars are a very good option. And she also knows my habit of having a shave in different countries.
I've been shaven on a street stool in a village in Vietnam to the delight of dozens of kids and a few curious and hairless men, been slashed within an inch of my life in Melbourne when my cut-throat man got into a raging argument with one of his employees and I was closer, and had an old man in Essaouira in Morocco pay attention to every bristle with individual care.
In Kuala Lumpur my sister put a shave, whisky and cigars together in one package at the beautifully renovated and historic Hotel Majestic which opened in 1932, just around the corner from the city's massive mosque.
"Women often get luxury treatment," she said over drinks in the bar later, "but you rarely see it for men. That's why I thought of this place for you."
So she booked her husband Jan and I into Truefitt & Hill, a sophisticated and very gentlemanly grooming institution ("by appointment to H.R.H Duke of Edinburgh") in KL's Majestic. Here the immaculately dressed Aras from Iran gave me a beautiful beard trim while Jan was shaved clean and had a haircut.
Men being pampered? That's alright by me, and my sister said her friends go for high tea or cocktails anyway so . . .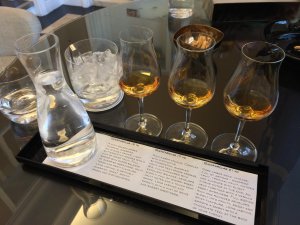 Afterwards Jan and I met her in the elegant bar – convinced we were looking at least six years younger – where we were given a tasting of three single malt Glenfarclas (aged 15, 17 and 21 years).
This Scotch and Shave package came in at less than $60 and we – more handsome than 30 minutes ago - considered it money and time well spent. And my sister said high tea, dinner and even rooms are much cheaper at the Majestic than the elegant décor might suggest.
Anyway, we reasoned we'd saved by having cheap drinks at the cemetery, and would also later that night when we went to the excellent outdoor/indoor Medan Selera Food Court where the superb dumplings, seafood, grilled chicken wings and beers were so cheap I'd be too embarrassed to say a price.
Of course in Kuala Lumpur you should do the tourist things like go to the top of the Petronas Towers (you need to book ahead) or climb up the sheer steps at Batu Caves to see the Hindu temples.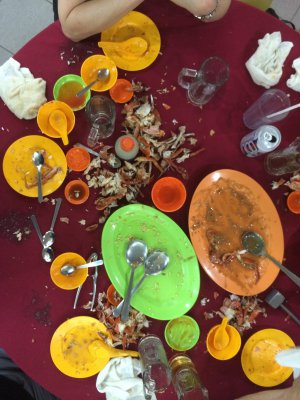 But there is just as much fun to be had going to a place like the multiple award-winning Restoran Fatty Crab 2 Jalan SS24/13
 Taman Megah 
Petaling Jaya where piles of their signature dish of sweet and sour crab arrive at your table which you crack open with a small hammer and – this is expected – you just toss the shells and debris onto the tablecloth.
The minute you've finished the whole cloth is folded up, another is spread out and new patrons are seated immediately. There's always a queue so arrive early, and afterwards wander down the road and check out the manga DVD library one flight up.
Or for a different experience again, try the Coliseum Cafe on Jalan Tuanku Abdul Rahman which – after 93 years in operation – has been named in the Guinness Book of records as the "longest-operating Western Colonial Themed Restaurant" in the world. This is very old school with white tablecloths, waiters, worn tile floors, dark and polished wooden doors and uncomfortable antique furniture. It's not as upmarket as it sounds – it's pleasantly rundown in places actually – and is just the place if you fancy cucumber sandwiches at lunch or a steak dinner when you've wearied of Malay food.
And just cross the road and cut through an alley and you are in the middle of Masjid Jamek which used to be Little India before it moved to Brickfields. It's still a very large "Little India" area where you can buy colourful fabrics, sweets and all manner of Indo-kitsch.
And that's KL right there: side-side you have an old colonial-style bar and restaurant with bustling Indian merchants, a bar in cemetery, around the corner from the mosque a swanky hotel with a uniformed doorman wearing a pith helmet ,and on the top of a non-descript building a rooftop bar open to the elements.
As my Dad always used to tell my sisters and me, "It ain't what you know, it's who you know."
I knew my sister would know . . . and now you do too.
FOR FURTHER INFORMATION
Heli Lounge Bar: Bukit Bintang 34th Floor, Menara KH, Jalan Sultan Ismail. Ph 03-2110 5034‬
Hotel Majestic: No.5, Jalan Sultan Hishamuddin, City Centre. Ph 03 2785 8080
Fatty Crab: 2 Jalan SS24/13, 
Taman Megah
, Petaling Jaya. Ph 03 7804 5758 Closed Mondays, opens 5.30pm
Coliseum Cafe: 98 Jalan Tuanku Abdul Rahman, 50100 Kuala Lumpur, Wilayah Persekutuan. Ph 03-2692 6270

.