Graham Reid | | 3 min read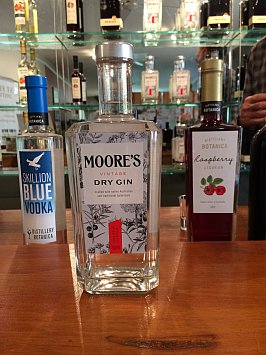 When a micro-brewery is called Six String and the company logo is a guitar pick you do feel slightly stupid having to ask.
"Ah, that's my business partner Chris," says amiable Ryan Harris. "He plays six string bass."
Which also explains the tiny stage set up in their small brewery-cum-bar in Erina, just 80km north of Sydney.
Opened in 2012, the Six String Brewing Company is the Central Coast's first 100 percent homegrown microbrewery and on weekends they have acoustic sessions for visiting musicians and a Cajun kitchen serving up Southern-style meals and snacks.
Which is all well and good, but the reason for finding Six String up a small side street in Erina's light-industrial area near Gosford is their excellent range of beers.
They specialise in four brews, the most popular being their slightly floral and fruity Pale Ale, Harris' own favourite the Dark Red made with caramel and chocolate malts (he's right, it's a 6% gem), the German-style Hefeweizen made with 50:50 wheat to barley ratio and their Golden Ale (which speaks for itself).
Business is certainly good because on the day I arrive – unannounced, just bowling up around 11am – they are about to replace their tanks with larger ones.
"Yeah, the new ones arrived early and when does that ever happen?" laughs Harris. "But it'll just take us two days to drain the others and set these ones up. Meantime we're still packing the cans we've already got."
In the mighty crowded beer market in Australia, Six String have been making good inroads to local restaurants and independent bottle shops, and shipping as far away as Brisbane. But they do considerable sales across the counter, have guided tours on Saturday at 11am for groups of 15 or more, and are now part of the popular Dave's Brewery Tours out of Sydney which takes groups around craft beer and microbreweries.
Six String offers a small tasting paddle of their four main beers (A$10), but even blackboard menu prices seem modest: a large glass comes in at between $4.50 and $8 depending on your tipple. And if you just want lemonade they make their own too.
The mango and lychee Hefeweizen sounds interesting.
"Yeah, we do everything here except the vodka and the raspberry liqueur; they come from Phil up the road. Mate, you should go see what he does.
"He's amazing, like some mad scientist."
The quietly spoken Philip Moore – whose Distillery Botanica is literally around the corner – proves not to be like that all, although this former nursery-owner (who established Renaissance Herbs, the country's largest wholesale herb nursery) does have a passion for experimenting with flavours.
And long may he do so because at his boutique distillery – with a magnificent but understated cellar-door sales point – he has been quietly creating award-winning liqueurs. And a superb dry gin with subtle herb and juniper fragrances which, when taken in a small neat sip, evaporates in the mouth like the finest grappa. He also makes a vodka, a raspberry liqueur, a wonderful Aniseed Myrtle Liqueur and more. The absinthe wave seems to have passed, he smiles, but they still make some.
Located on a beautifully protected 2.5 acre hillside property full of flower beds and herbs which Moore has established (the old sign above the gate reads "The Fragrant Garden"), Distillery Botanica is pure style. From the elegantly stylish bottles to the subtle and refined tastes of their contents, you can see the love and thoughtfulness which Moore brings to his passion.
Clippings from the local papers attest to the European success of Moore's blends: his Lemon Myrtle Liqueur was awarded one of only three Golds in the 2013 International Wine and Spirit Competition in London, and his Absinthe Reverie picked up a Silver, the highest medal in its class.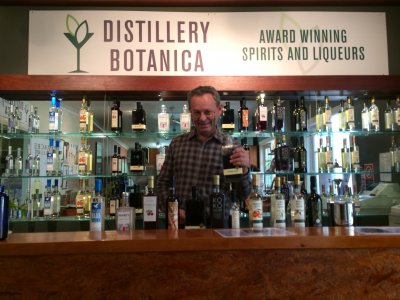 But it is his exceptional Mr Black coffee liqueur in a handsome bottle which is rapidly becoming their signature product.
He laughs about Kahlua which he describes as the juvenile delinquent of coffee liqueurs "and ours is for consenting adults in private".
To get Mr Black off the ground they crowd-funded for $26,000 last year and the success was immediate: a Gold in the international competition.
Moore bought the property in 2005 – "then pretty run down, an overgrown mess actually" – and after a flirtation as a distillery under another name ("No, St Fiacre Distillery was never going to work, people couldn't pronounce it") it was relaunched as Distillery Botanica, a fitting name given everything they make is 100 percent sourced from native Australian plants.
There is a purity about Moore's work and products, and it's with quiet pride that he shows me the copper pot still, and takes me around the property pointing out the flourishing myrtles he sources from and the garden (where they also host weddings).
The work at Distillery Botanica – as at Six Strings a few hundred metres away – may take place in a small industrial plant of polished steel and copper, but the real magic is intangible, it's the passion the makers bring to their creations.
It's the taste of love turned into liquor.
For further information on Six String visit www.sixstringbrewing.com.au
For further information on Distillery Botanica visit www.distillerybotanica.com