Graham Reid | | 4 min read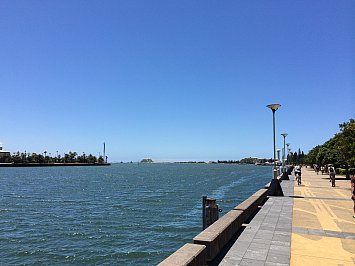 It's only when you get to Newcastle – which few New Zealand tourists do – that you're impressed by it. As I learned, this is the Australian coastal city – about 90 minutes drive north of Sydney – which gave the world coal and steel, Arnott's biscuits and the rock band silverchair.
I also didn't know the famous Star Hotel – which closed with a riot in September 79 and was immortalised in the Cold Chisel song – had been in Newcastle.
I'd always presumed it was in Sydney.
And I swear Harry's Cafe de Wheels takeaway in an old tram on Wharf Road is the one on the cover of Peter Blakeley's 1990 album of the same name (although it could be the one in Woolloomooloo).
So it's funny what half an hour in the local museum and a bit of a walk can alert you to.
Newcastle – population around 350,000 – isn't a tourist destination and I certainly went expecting . . . Well, I didn't know.
I went to breeze around, relax and . . . hmmm, that would be about it.
I'd been told of a couple of things worth looking at but was lazily open to anything.
I certainly couldn't have anticipated a balcony-seat room in the Crowne Plaza above the harbour. At day's end I opened a bottle of wine and watched as cosseted-white pleasure craft, thuggish tugs and muscularly rust-iron working vessels went by my window. My late-avo took a slow pace and, as the sun sank into dusk, the thick water went blue-brown to black as buildings opposite shone with a golden-green hue.
I felt utterly relaxed . . . and deserved to be. I'd had an unexpectedly busy day in Newcastle.
I'm a man who considers visiting the letterbox a strenuous workout, but here I'd been on my feet for six hours straight since that morning when I left my bags at reception.
A friend told me I should go to the museum and I'd heard the Newcastle Art Gallery was excellent so, carrying a bottle of water and lacquered in sunblock, I boldly strode under a cloudless sky on a 26-degree day.
It was in the museum I learned the Scottish pastry cook William Arnott moved to Newcastle in the mid 19th century and established his biscuit-making business (over 80 varieties, a couple of recipes on display too); and the story behind the Star Hotel riot. An extraordinary number of footie heroes came from around here, and footage of their 1989 earthquake looked eerily familiar.
There was also a huge wing dedicated to their primary business, The Broken Hill Proprietary (BHP) steelworks.
The nearby art gallery through Civic Park didn't disappoint (an exceptional retrospective by Patricia Piccinini, early feminist photography in Australia), but then I got into Serious Adult Out'n'About Mode and struck out along the boardwalk for what I took to be historic Fort Scratchley in the distance.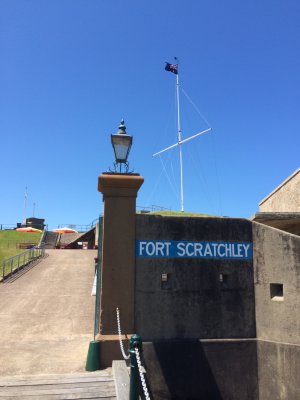 I'd been assured by a passing civilian that handsome near-distance edifice was the Fort – it looked like one on the headland, with a lighthouse behind it.
Half-a-hot-hour later I stood at the closed gates of something called Camp Shortland (so, not Fort Scratchley?) but by that time I was so close to the distant lighthouse I pressed on. Fort Scratchley was probably the place marked "Fort Scratchley" on the map I was carrying. It transpired I'd find it later after a bracing walk, then a brief lounge-around watching surfers at white-sand Nobby's Beach, and at least two beers in coolers.
The fort on the headland above Nobby's has a long history. Designed by the gifted 19th century British engineer-soldier Peter Scratchley – his report written with Major General Sir William Jervois – formed the basis for a series of coastal forts around Australia, and was adopted in New Zealand also. Hence Devonport.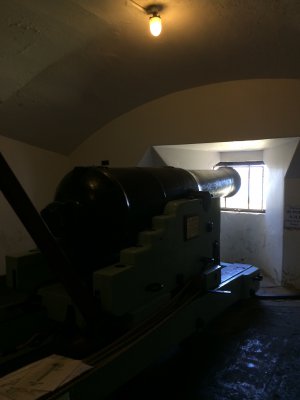 When John the guide , a lovely but serious Second World War veteran, asks his tour party (a journalist girl, her boyfriend and me) why Australia in the 19th century might have been of interest to the post-Crimea Russians she replies enthusiastically, "Because it's awesome".
Journalism has changed, I think.
Fort Scratchley – to its own surprise – wrote its way into Australian history when, on the night of June 8 1942, a Japanese submarine -- returning from dropping off two mini-subs in Sydney Harbour – let loose a volley of shells into the city.
John, conducting a fascinating tunnel tour, says returning fire from the battery at Fort Scratchley was the only time rounds have been deployed at a waterborne assault in Australian history. The Japanese shells did little damage and no one was seriously injured, and two volleys back allowed the gunners to get the range for the third shell which doubtless would have hit the sub.
But a nearby vessel furiously steamed back to port to get out of the way and its smoke blurred the gunners' view . . . so the sub slipped away.
It was a strange and fruitless encounter for both parties.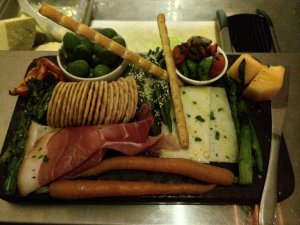 My encounter with Newcastle was much more profitable and enjoyable.
After my wine'n'view in my room at the end of my day I went to a restaurant nearby for superb scallops and steak – smart casual for men is your good Jandals and other walk-shorts – and then repaired to the "secret" Coal and Cedar bar on Hunter Street .
It has no signage but offers a speakeasy ambience, whiskey, taxidermy and fine food. Yes, I kid you not: taxidermy décor.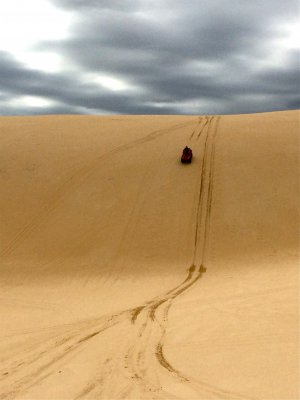 Two whiskeys and a late-night antipasto plate so brimming I had to leave most of it, and I was done in by Newcastle.
For a man who doesn't walk I'd happily stretched it out around the city, learned a lot (Arnott's biscuits, who knew?), saw fascinating art, heard good yarns and got a tan.
The next day I would be riding a quad bike on the massive sand dunes visible just up the coast.
Yeah, when you get to Newcastle you're impressed by it.
For further information on Newcastle: www.newcastlenow.org.au
Crowne Plaza Newcastle: www.crowneplazanewcastle.com.au
Newcastle Art Gallery: www.nag.org.au
Newcastle Museum: www.newcastlemuseum.com.au
Fort Scratchley: www.fortscratchley.com.au/
Coal and Cedar: http://coalandcedar.com/