Graham Reid | | 2 min read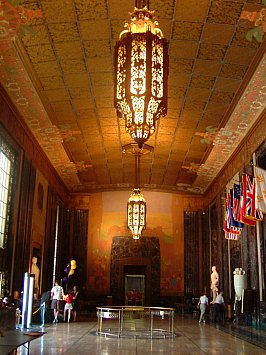 The bullet holes from the shoot-out are still there. It's a narrow corridor so you can imagine what the gunplay must have been like: shots echoing around, one man falling from his wounds and the other shot dead, the shouting and clack of heels resonating off the marble floor . . .
Today of course all is quiet, just a few people getting in and out of the hissing lifts or going about their political business.
But the place in the Louisiana State Capitol Building where Dr Carl Weiss shot Huey Long -- known as The Kingfish -- still pulls any number of sightseers, mostly because Long was such a powerful figure in American life in the Thirties.
Long was an unashamed populist who berated the rich for their greed and wealth, stood up for the little guy, and glad-handed his way into the governorship of Louisiana in 1928 on the back of his slogan, every man a king, but no one wears a crown.
Long was a flamboyant character at a time when poverty and unemployment wracked the South: he wore white linen suits, used radio to get his message to the poor folks, published an autobiography Every Man A King in 1933, and when he came to office in a landslide victory he ruled like dictator.
Some called him a communist for his social programmes, others said he was a fascist for the way he wielded power in the state.
He might have bad mouthed the wealthy, but Long also shook their hands and lived among them. His programmes like Share Our Wealth naturally had great appeal during the Depression, and with his quick lawyer's mind he negotiated through legislation that allowed him to appoint all state employees in 1934.
By that time he was a senator in Washington and had left behind his puppet governor Alvin Olin King.
Long has been celebrated in song, most notably by Randy Newman whose Good Old Boys album of 1974 included Kingfish: Who built the highway to Baton Rouge? Who put up the hospital and built you schools? Who looks after shit-kickers like you? The Kingfish do.
On the same album Newman also covered the campaign song that Long co-wrote: Why weep or slumber America, land of the brave and true. With castles and clothing and food for all, all belongs to you. Every man a king, every man a king.
These sentiments infuriated his enemies and on September 8 1935, while standing in a narrow corridor of state capital building in Baton Rouge the Kingfish met his end.
Stories abound as to why Weiss shot Long -- and there is a body of evidence to say he didn't, that he only punched Long who was then cut down by bullets from his own bodyguards while shooting Weiss dead.
Most believe that Weiss was enraged that his father-in-law, a well-known judge, was being levered out of his position by Long. But we'll probably never know, Weiss died on the marble floor.
Long lived a couple of days more -- later there were persistent rumours that the doctors had a hand in his death -- and legend has it that his final words were, Don't let me die, I have got so much left to do.
For those who loved him Long never really died: there are bridges and roads all over Louisiana named for him, and there is a statue of him in a quiet garden outside the magnificent Art Deco capitol building he ordered.
In a typically grand gesture Long said no building should be constructed to rise higher than this 27-storey monument to himself.
And from the top floor with its view across the Mississippi River -- where you can see the bridge Long insisted be built so low as to prevent big ships going any further than Baton Rouge -- the Kingfish could truly whisper to himself that he was the king of all he surveyed.
For other travel stories by Graham Reid, see here for his two award-winning travel books.